吃瓜群众   |   Chī Guā Qǘn Zhòng 
CHINESE WORD PHRASE STUDY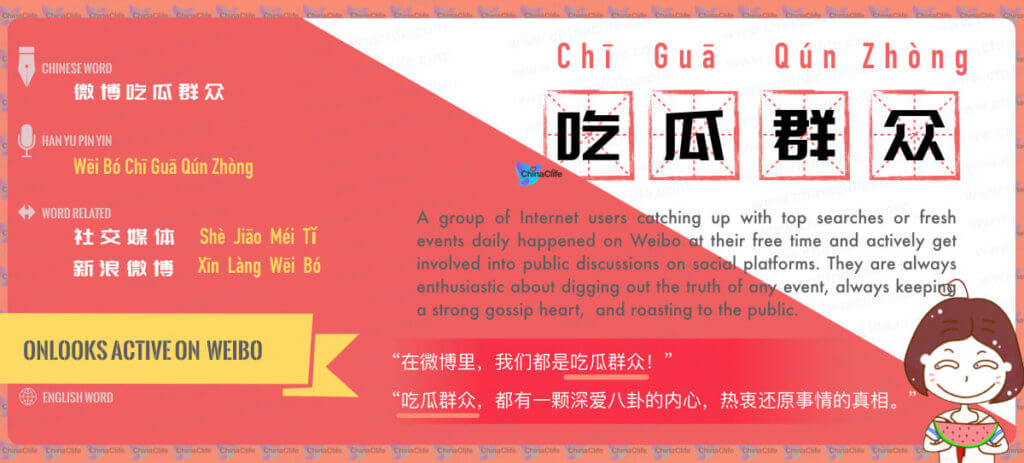 Chi Gua Qun Zhong, Onlookers actively on Chinese Social Platforms, is a group of Internet users catching up with top searches or fresh events daily happened on Weibo at their free time and actively get involved into public discussions on social platforms. They are always enthusiastic about digging out the truth of any event, always keeping a strong gossip heart,  and roasting to the public. 
EXTENDED READING
Click to Read the Story about bilingual introduction of Sina Weibo 2019…
Learn How to Register An Sina Weibo Account for Overseas in 2019?
See u soon… : )
COPYRIGHT & DISCLAIMER
All content on this page, including but not limited to text, images, photos, audios, videos, are all subject to copyright and other intellectual property protection, and should NOT be copied or reproduced in any manner whatsoever without prior written permission from the author or authors.
Some of image or photo materials might be sourced from the Internet the copyright of which might belong to its original creators as same as the signatures offered. However, some sources could not find the original creators. If you find your creation appeared on our website without your authorization, please contact us immediately, we will delete it in 48 hours or put your name on your creation as soon as possible after confirmation. We do apologize for such a case if it might happen. However, we do not accept any legal liability and legal duty. Thank you for your understanding.