"The latest official financial data released in March 2019 showed that the number of Sina Weibo's monthly active users in December of last year has reached 462 million, surpassing Twitter. A lot of international netizens have logged in and posting on Weibo to attract Chinese followers. If you haven't got a clue yet about Weibo in China, please read the following introduction about Sina Weibo 2019. Hope it helps. "
BILINGUAL INTRODUCTION OF SINA WEIBO  
| 双语介绍:新浪微博
English Words:       China's / Chinese Sina Weibo

Chinese Pinyin:      Zhōng Guó Xīn Làng Wēi Bó

Chinese Characters:  中国新浪微博

Related City: 
    北京 (Běi Jīng) | The Capital City of China
Related App: 
    微博App (Wēi Bó)| Official Sina Weibo app's standard version.
    微博国际版(Wēi Bó Guó Jì Bǎn)| Official Weibo app's international version.

What is "Weibo" in China?
| 在中国,什么是"微博"?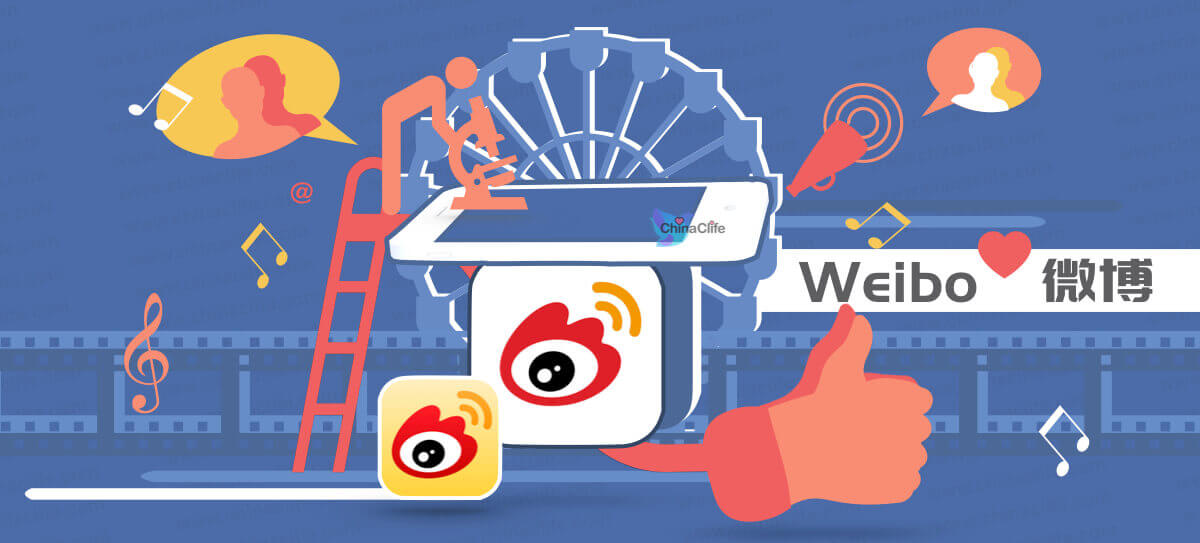 Sina Weibo, initially known as China's Twitter, until now is still one of the biggest and the most popular social media platforms/apps in China. It was launched by Sina Corporation on August 14, 2009. The latest version of Sina Weibo, is not just another copy of Twitter or micro blog only, but more seems like a super social and media tool combining with more rich multimedia information & resources sharing, various ideas/thoughts exchanging as well as online communication.

新浪微博最初被看作是中国版的Twitter, 由新浪公司 2009 年 8 月 14 日推出的社交产品,至今为止依然是中国最大最流行的的在线和移动社交媒体平台之一。但如今的微博已远不再是中国版的 Twitter 了,而是一个集合了更加丰富的多媒体资源、可以在线分享各类信息,交换灵感和想法以及在线交流的超级媒体加社交工具。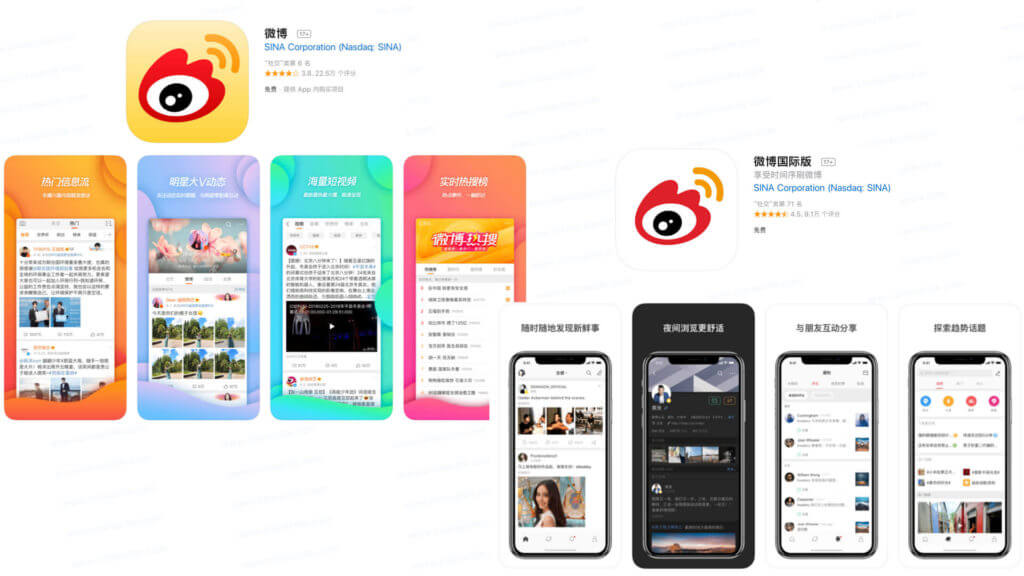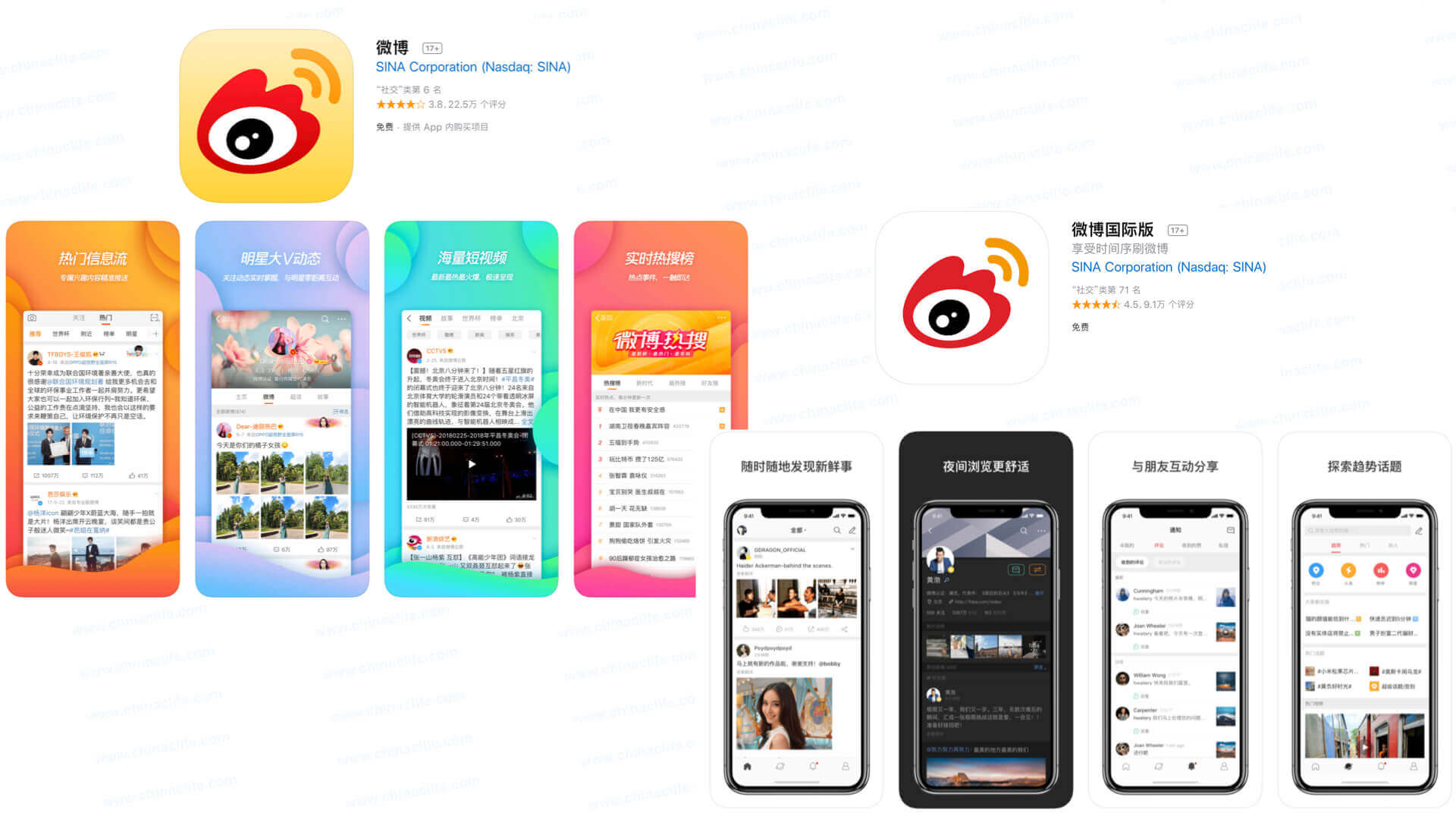 Weibo users can read or share almost all types of resources after sign-in, directly in the Weibo app without jumping outside, such as browsing or sharing photos, GIF animations, videos, audios, text, and so on. They can also be involved in Q & A, Polls, and various activities held between super fans and pop stars. As a Weibo-er, you watch any videos or animation clips shared by others directly, or even go online discussion or group chatting with new friends found on Weibo that both of you may have some interests in common but unfamiliar with each other, after joining in the same groups on Weibo.

登录新浪微博后,用户可以直接浏览或分享照片、Gif 动画、视频、语音、文字等,参与问答、投票、以及追星等等活动。在微博 app 内,你可以直接观看其他用户分享的视频或动画,甚至加入超话货群组,与陌生但有共同兴趣的新朋友直接在线交流。

Meanwhile, because of Sina's previous product "Sina Blog Platform" with high-traffic in China, it is also available for users to read long-length blog posts on Sina Weibo.  

由于新浪的上一个高流量产品是新浪博客,所以你也能在新浪微博中看到来自新浪博客博主门撰写的长博文。

Next, Sina Weibo opens to various mediums, offering channels to superstars, studios, traditional/new media, we-media, startups, firms, governments, and any role you can imagine for marketing and promotion.

其次新浪微博对各路媒体开放,为明星、工作室、传统媒体、新媒体、自媒体、创业团队、企业、政府等等各种你能想象到的媒体提供各类内容传播和推广的渠道。

If you are asking for self-promotion, and want to obtain a great number of followers quickly in a short time, or to say, becoming an Internet Celebrity (Wǎng Hóng in Chinese, 网红); or you are willing to make new Chinese friends, has to say, Weibo could certainly be your top choice.  

如果你想在中国的互联网中迅速地推广自己,获得粉丝,成长为一名网红;或者你希望在中国的网络上快速交到陌生但志同道合的新朋友,新浪微博可以说是你首选的工具。

Sina Weibo's Slogan:
"Find the latest and the most comprehensive information here and learn about the up-to-date trend you're following…Weibo will guide you through every splendid moment all over the world, and show you every story behind the screen. Share anything you want, let the whole world hear your voice."

"随时随地发现新鲜事!微博带你欣赏世界上每一个精彩瞬间,了解每一个幕后故事。 分享你想表达的,让全世界都能听到你的心声!"
The active Weibo users have given themselves an interesting name "Onlookers" 吃瓜群众 (Chī Guā Qún Zhòng) in Chinese. It describes a group of Internet users catching up with top searches or fresh events daily happened on Weibo in their free time and actively get involved in public discussions on social platforms.

那些日常活跃在微博上的玩家们,为自己赋予了一个有趣的名字,叫"吃瓜群众 (Chī Guā Qún Zhòng)"。描述的是每天有空就在微博上追看新鲜事或热搜榜,并积极参与社交平台上的公开讨论。

They are always enthusiastic about digging out the truth of any event, always keeping a strong gossip heart, and roasting to the public. The whole process makes them feel so good and pleasant, like the mood that eating an iced watermelon in the hot summer, and that's why such a Chinese word "吃瓜" 群众 goes popular on the Internet.

他们热衷于挖掘新鲜事的真相,永远保持一颗强烈八卦的内心、有槽不吐不快。这样的过程让他们的心情畅快无比,仿佛在炎热的夏季吃上冰西瓜般畅爽,因此而得名"吃瓜"群众。

For those people or businessmen expecting viral spreading and promotion on Weibo, they have a name called "Big V (大 V)", meaning Big VIP members. There are clear VIP icons at the right bottom of their avatar on Weibo under different colors. Generally, to become Weibo's Big V, you must have at least 500K followers and must get verified by Weibo.

对于借助新浪微博来做内容推广的群体,也被赋予一个名字,叫"大V(Dà V)"。在微博头像上呈现为不同颜色等级的 VIP 标志。这样的群体,通常是指拥有至少 50 万粉丝的微博已认证用户。

For the common people, not professional stars, they exposed and promoted themselves frequently on Weibo and other social platforms, followed by a large number of fans. They also got the name Internet Celebrity "网红 (Wǎng Hóng)" in the Chinese language.

对于在微博上推广自己博得眼球,迅速积累粉丝的非专业明星群体,称作"网红 (Wǎng Hóng)"。

WHAT IT MEANS TO CHINESE?
Sina Weibo's Real Name Registration Policy
| 关于新浪微博: 实名注册制
Since September 2017, Sina Weibo has required all registered and new users to verify their accounts by submitting their mobile phone numbers, which have to be registered with real names. Those accounts without real-name verification won't be able to post or comment anymore.

自2017年9月起,新浪微博要求所有注册用户和新用户需提交电话号码来验证其账号的实名信息,微博账号必须使用真实姓名进行注册登记。

Accounts without real-name verification will be restricted on the usage of Weibo, such as, unable to post or comment anymore.

没有经过实名验证的账号,使用的功能将受到限制,比如,无法发微博或评论微博。

For new users overseas, a list of limited countries is provided in Weibo which allows International mobile phone numbers to be used to register Weibo and also receive the verification code during Weibo's sign-up process. Please click to read the story about how to register a Weibo account overseas.

对中国以外的新用户,注册新浪微博时可以从微博已支持的国家或地区列表中选择国家或区域代码,然后输入与之相符的手机号码用以接收免费验证码来完成微博的注册。 请点击链接阅读怎样在海外注册新浪微博账号的故事。
Sina Weibo's Kid Protection Policy
关于新浪微博: 儿童保护制度
Since November 2018, Weibo never allows kids under 14 years old to register new accounts of Weibo.

自2018年11月起,新浪微博不允许14岁以下的儿童注册新账户。

It is committed to creating a "clean, healthy, civilized, and orderly" environment, in order to protect kids' safety on the internet.

此举是为创造一个"干净,健康,文明,有序"的网络环境,以保护孩子们在互联网上的安全。
Latest Weibo Statistics
| 微博最新数据
According to official financial data released in March 2019, Chinese Sina Weibo's Monthly Active Users (MAUs) in December 2018,  has reached 462 million (already surpassed that of Twitter), net-increased by approximately 70 million from the same period of last year. 93% of the increase comes from mobile end-uses.

根据 2019 年 3 月官方公开的财报数据显示,2018 年 12 月中国新浪微博的月活跃用户数 (MAUs) 较上年同期净增约 7000 万,达到 4.62 亿(已超过Twitter月活跃用户数),其中 93% 为移动端用户。

This is also the third year that China Weibo has continually maintained a net increase of at least 70 million active users.

这也是微博连续 3 年保持同比 7000万 及以上活跃用户净增长。

Free Sign-in to Unlock Full

Tips: The full content to show for Free Logged-in and Premium residents only. Please click Log-In / Sign Up for Free button on the top right to unlock them.

For Logged-In Members Only

Tips: The full content to show for Free Logged-in and Premium residents only. Please click Log-In / Sign Up for Free button on the top right to unlock them.

For Logged-In Members Only

READ NEXT
More to Be Continued...^_^