HOW-TOs: MOBILE TUTORIAL
LATEST STEPS OF SINA WEIBO SIGN UP/LOGIN WITH TENCENT'S WECHAT OR QQ ACCOUNT OUTSIDE OF CHINA
|  手机端最新教程:用微信或 QQ 号快速注册并登录新浪微博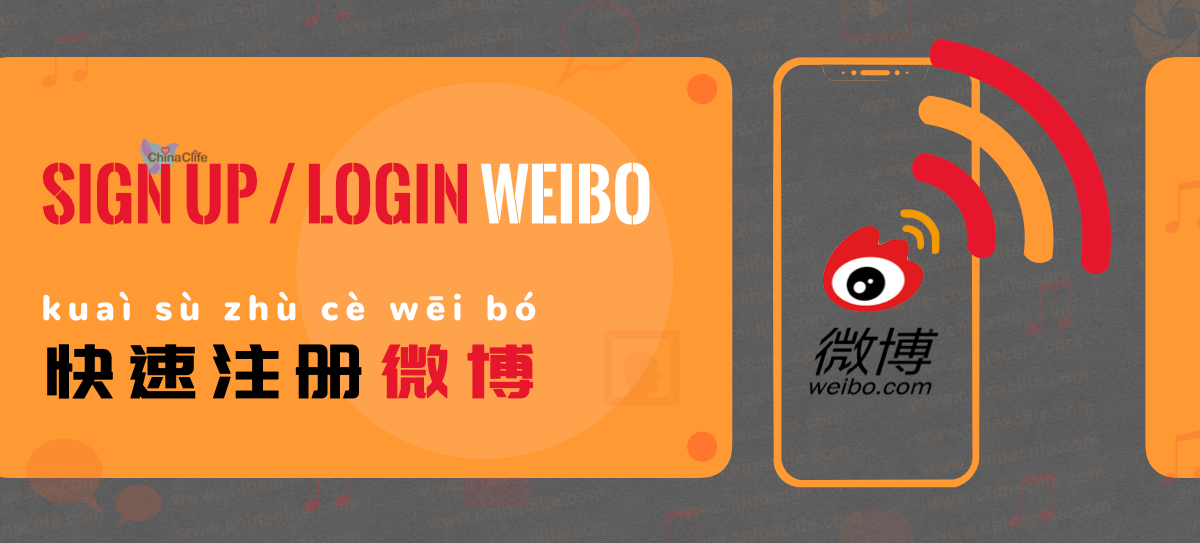 Table of Contents
What Is "Sina Weibo" or "Weibo"?
| 什么是"新浪微博"?
Sina Weibo, widely known as "Weibo", is China's one of the most popular social media platform to enable anyone to post thoughts, ideas, photos, videos and other rich content to share with others online.

新浪微博,简称"微博"被大众所知,是中国最热门的社交媒体平台之一,支持任何用户在线发表自己的看法、想法,与其他人分享照片、视频或者其他更丰富的内容。

"Weibo" is actually a transliterated word from its Chinese word "微博 (wēi bó)" regardless of the Chinese tones, while "Sina" is the brand name equivalent with Chinese word "新浪 (xīn làng)". To split the words, you could get its meaning literally since "微" is generally used to describe micro things, and "博" is the representative word of blog here.

事实上,"Weibo"一词是从汉语词语"微博"音译过来,去掉了声调后的产物,而"Sina"则指的是"新浪"这个品牌名称。将"微博"拆分来看,"微"在字面上通常形容的是微小的事物,"博"在此处指的是博客。

To get more about Weibo, you can read a bilingual Weibo story from our Sina Weibo's brief Introduction and take a look at the benefits you may get if you start registering a Sina Weibo account.

欲了解更多关于微博的故事以及注册微博的优点,可以点击阅读新浪微博的双语简介和注册微博账号的教程。

If you haven't yet got a Sina Weibo account, you can check out the guide teaching you to register a Sina Weibo account at Weibo's official website from your desktop.

若尚未拥有新浪微博的账号,你可以访问这篇教你如果在桌面端通过新浪微博的官方网站注册微博账号的故事。

Also for PC/desktop users, free to check out desktop social login tutorial about how to login in Weibo Website through QQ ID, Taobao account and more.

同样适用于电脑端用户的教程,还可参考这篇关于怎样在电脑端通过 QQ 号、淘宝账号等第三方账号快速登录微博的故事。

If you are looking for a quick solution to sign up a Sina Weibo account from a mobile phone or tablet, we suggest you reading the story below which tells you how to sign up and login Sina Weibo with Tencent's WeChat or QQ account you may have already got.

若你想要更快的微博注册方法,建议阅读以下教程,教你如何用已有的腾讯微信号或 QQ 号来注册和登录新浪微博。
Who Is Applied To This Guide?
| 本教程适用的群体?
The following guide may applies to:

以下教程适用于:

A. Those who haven't yet obtained a Sina Weibo account.

A. 尚未拥有自己的新浪微博账号;

B. Those who have already registered a Tencent's WeChat or QQ account.

B. 已注册并拥有了腾讯的微信号或 QQ 号;

C. Those who are using a mobile phone with WeChat app installed, regardless of the mobile operating system.

C. 拥有一部智能手机,且安装了微信应用。
Weibo or Weibo Intl.? Which One Is Better For Me?
| 用"微博"还是"微博国际版"?
If you are searching in the App Store with the keyword like "weibo", two different but with similar logo apps "Weibo" and "Weibo Intl." will appear in the searching result. They are different apps, although both can enable you to login in your Sina Weibo account for usage.

若你在应用商店里用关键字如"weibo"搜索时,搜索结果中会出现图标相似的两个应用:"微博"和"微博国际版"。尽管两者都允许登录你的微博账号和使用,但它们是截然不同的两个应用。

Obviously, as a foreign user outside of China or a Weibo beginner, the Weibo Intl app looks much cleaner and simple-to-use since it focuses on access to the main features and services that Weibo offers.

作为外国人,或者微博新手,微博国际版显然看起来界面更干净一些,且容易上手。这是因为微博国际版专注于微博的核心功能和服务。

However, a lot of features have been removed from Weibo Intl app which can be accessed in the official Weibo app. If you are a Weibo beginner, you can start with the Weibo International app. But if you want to experience the full function of Weibo as a Chinese does, you'd better install the official Weibo app before your Sina Weibo sign-up and login.

微博国际版里精简了不少官方微博版应用提供的功能。若你是微博新手,你可以从微博国际版开始上手。但是,若你想像中国人一样可以完整体验微博的各个功能,还是在注册登录前安装官方微博应用更好一些。

HOW TO DO?
Quick Steps of Sina Weibo Sign up with Tencent's WeChat or QQ Account
| 用微信号或 QQ 号快速注册微博账号
Take an iPhone device as an example. The steps are quite similar via other mobile phones.

以下步骤,以苹果手机为例。其他手机上的操作步骤与其类似。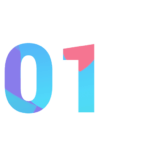 Step 01.   Launch Weibo on Mobile Phone
| 步骤一、 启动微博应用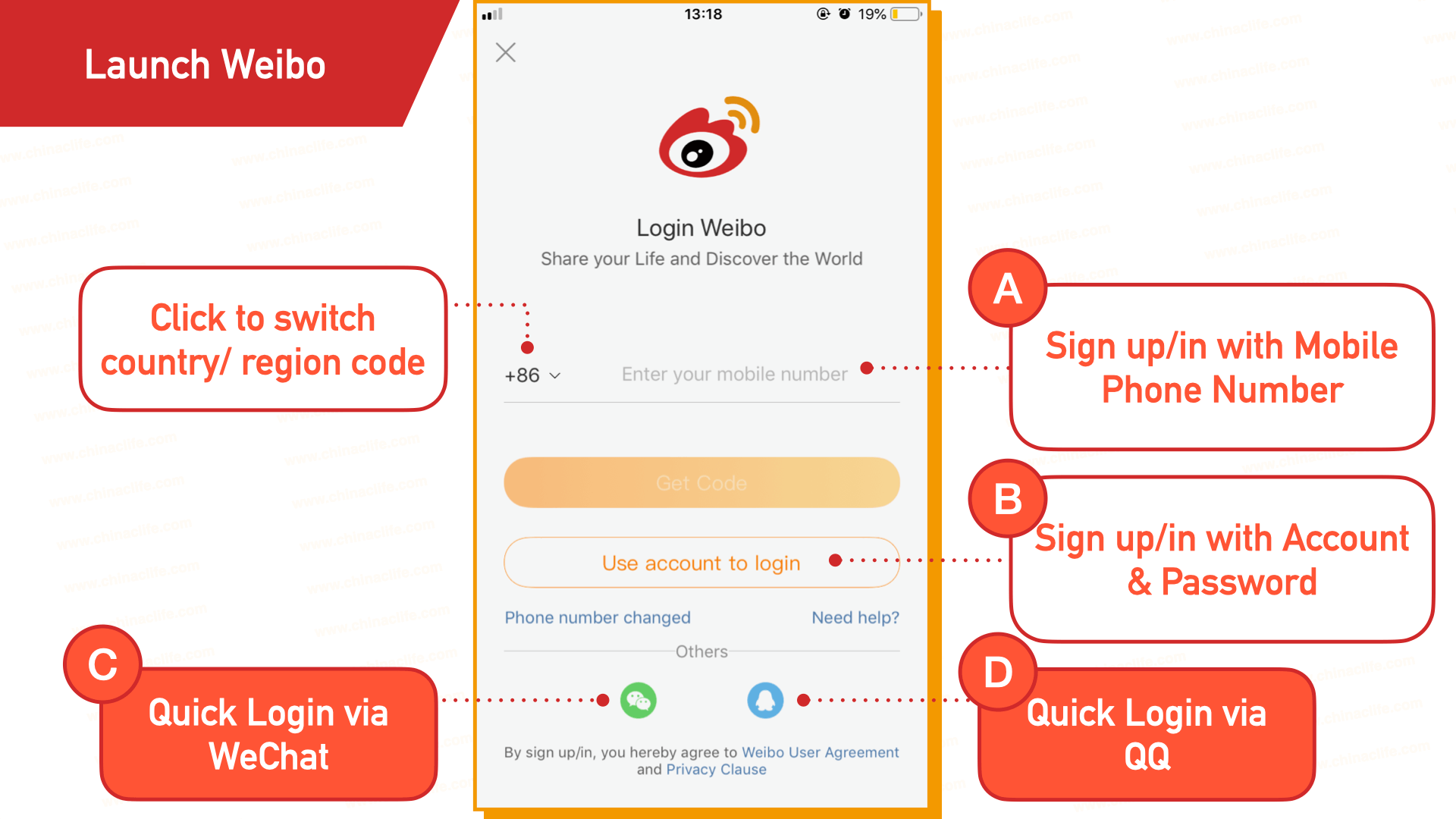 As we recommended above, you can install official Weibo app from App store. Then launch Sina Weibo app from mobile desktop.

如上所述,建议从应用商店安装官方的微博应用,然后从手机桌面启动微博应用。

You'll see from Weibo sign up interface that both Sina Weibo sign up and login are integrated into one interface.

从注册界面来看,微博的注册和登录流程集成在同一界面中。

Generally, there are several ways to help you sign up/in Sina Weibo: sign up/in with a phone number, with an email/mobile phone account & password, via Tencent's QQ ID or WeChat ID.  Especially the last two methods will benefit more Chinese users for quick login to Sina Weibo.

通常来说,有四种方式可供完成微博注册/登录,分别是:用手机号、用账号密码、用腾讯的 QQ 号以及微信号。后两种方式尤其方便中国用户能更快登录微博。

Free Sign-in to Unlock Full

Tips: The full content to show for Free Logged-in and Premium residents only. Please click Log-In / Sign Up for Free button on the top right to unlock them.

For Logged-In Members Only

Tips: The full content to show for Free Logged-in and Premium residents only. Please click Log-In / Sign Up for Free button on the top right to unlock them.

For Logged-In Members Only

READ NEXT
More Stories to Be Continued…