HOW-TOs
REGISTER SINA WEIBO ACCOUNT FOR OVERSEAS IN 2019
About Sina Weibo in China
The latest official financial data released in March 2019 showed that the number of Sina Weibo's monthly active users in December of last year has reached 462 million, surpassing Twitter. A lot of international netizens have logged in and posting on Weibo to attract Chinese followers.
Sina Weibo, initially known as China's Twitter,  until now is still one of the biggest and the most popular social media platforms/apps in China. It is launched by Sina Corporation since August 14, 2009. The latest version of Sina Weibo, not just another copy of Twitter or micro blog, more seems like a super social and media tool combining with more rich multimedia information & resources sharing, ideas and thoughts exchanging as well as online communications.
Click to read stories about 2019 Sina Weibo's brief introduction here.
If you have not got an Sina Weibo account, you can follow the steps here to sign up Weibo now.
PC or Mobile Versions?
Register an Weibo account from PC platform or Mobile Apps
You can go to visit weibo.com and start signing up on PC platform.
Or you can take out your mobile phone, download and install Weibo app and then reciter it.There are two types of Weibo app, the standard version as well as the International version.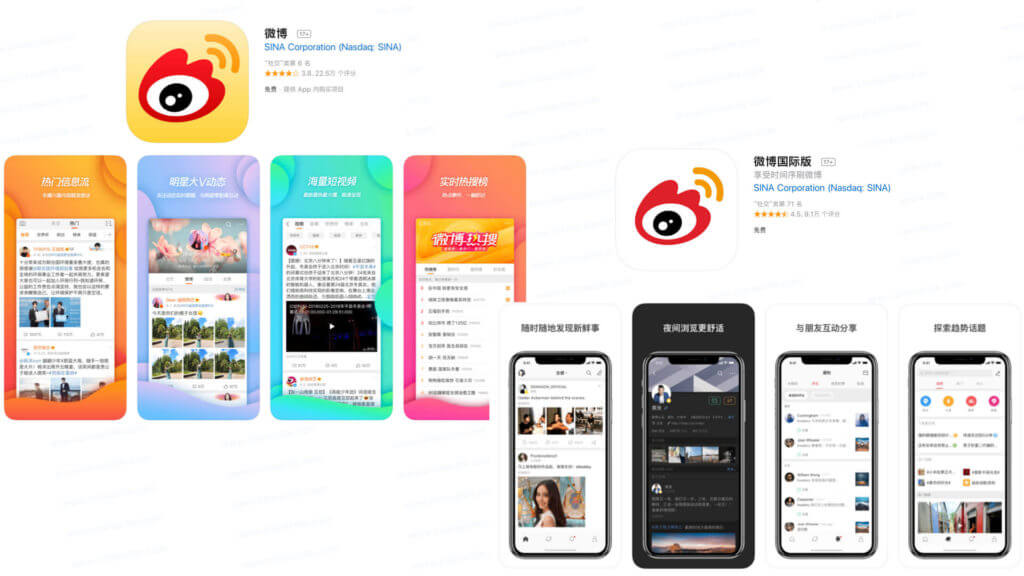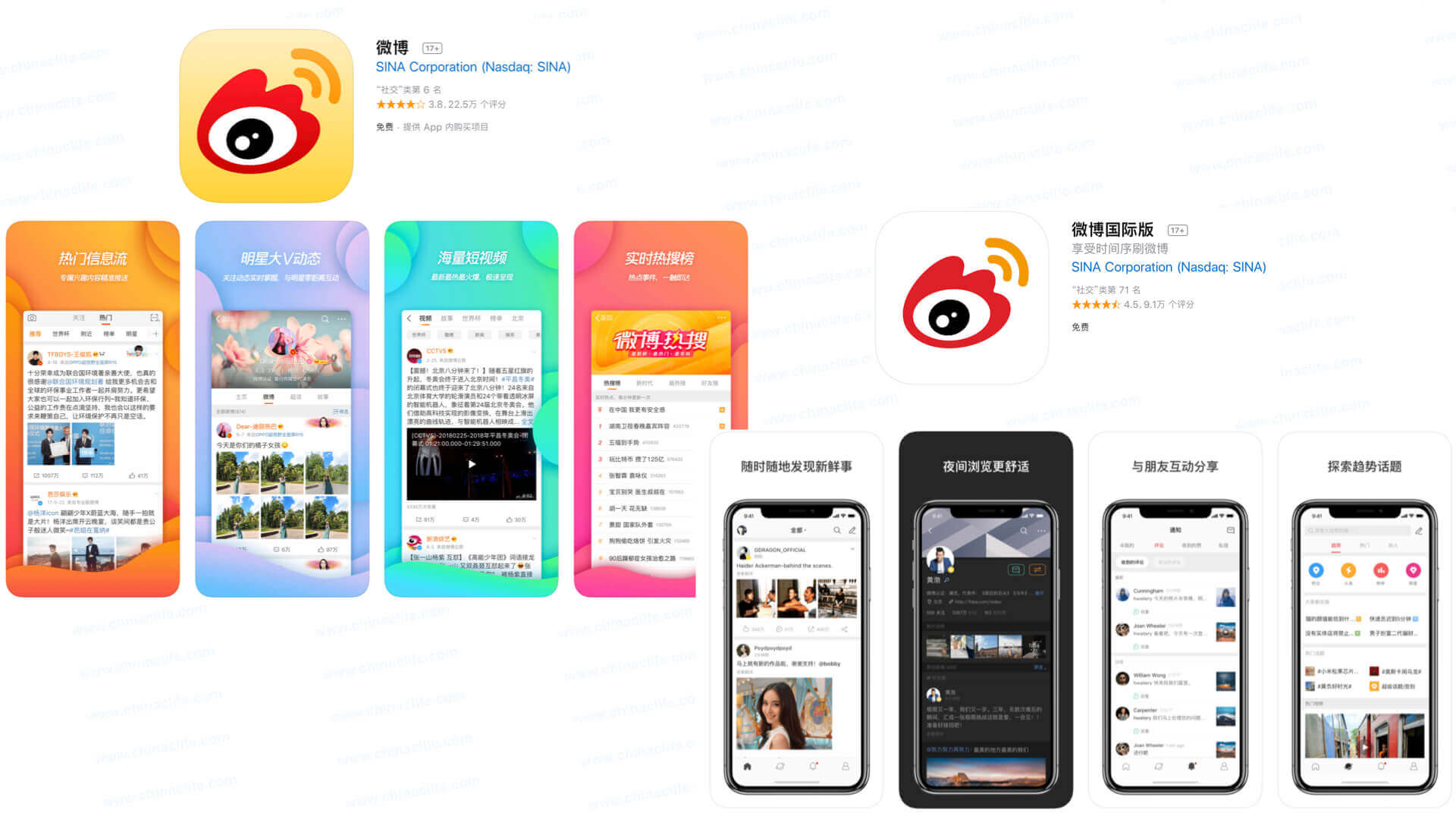 The standard version is the most of Chinese people get used to installed, with rich features and dazzling interface, while the international version of Weibo is much cleaner and simple to get started with. 
After that, you can start your registration tour as follows.
HOW-TOS & STEPS
Steps to Sign up Weibo Account with Mobile Phone Numbers from Your Country / Location
Take PC platform as example.
Step 1.

 

Visit Sina Weibo's official Website.
Browse and visit weibo.com website, click on the top right and find a link text like "立即注册(Lì Jì Zhù Cè)" if your interface is in Chinese language. The link text in Chinese means "Sign up now!" Click it and jump to the registration page.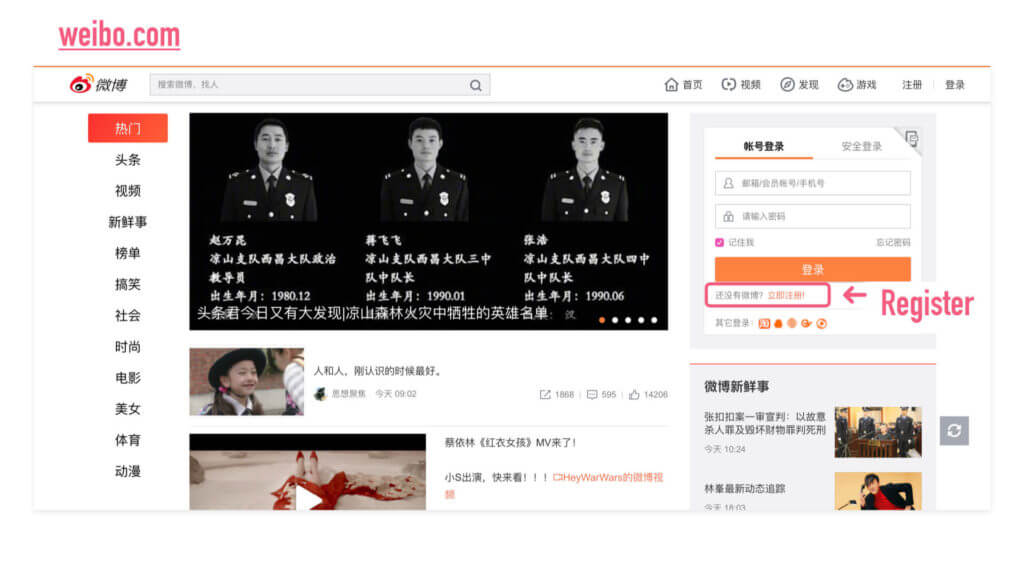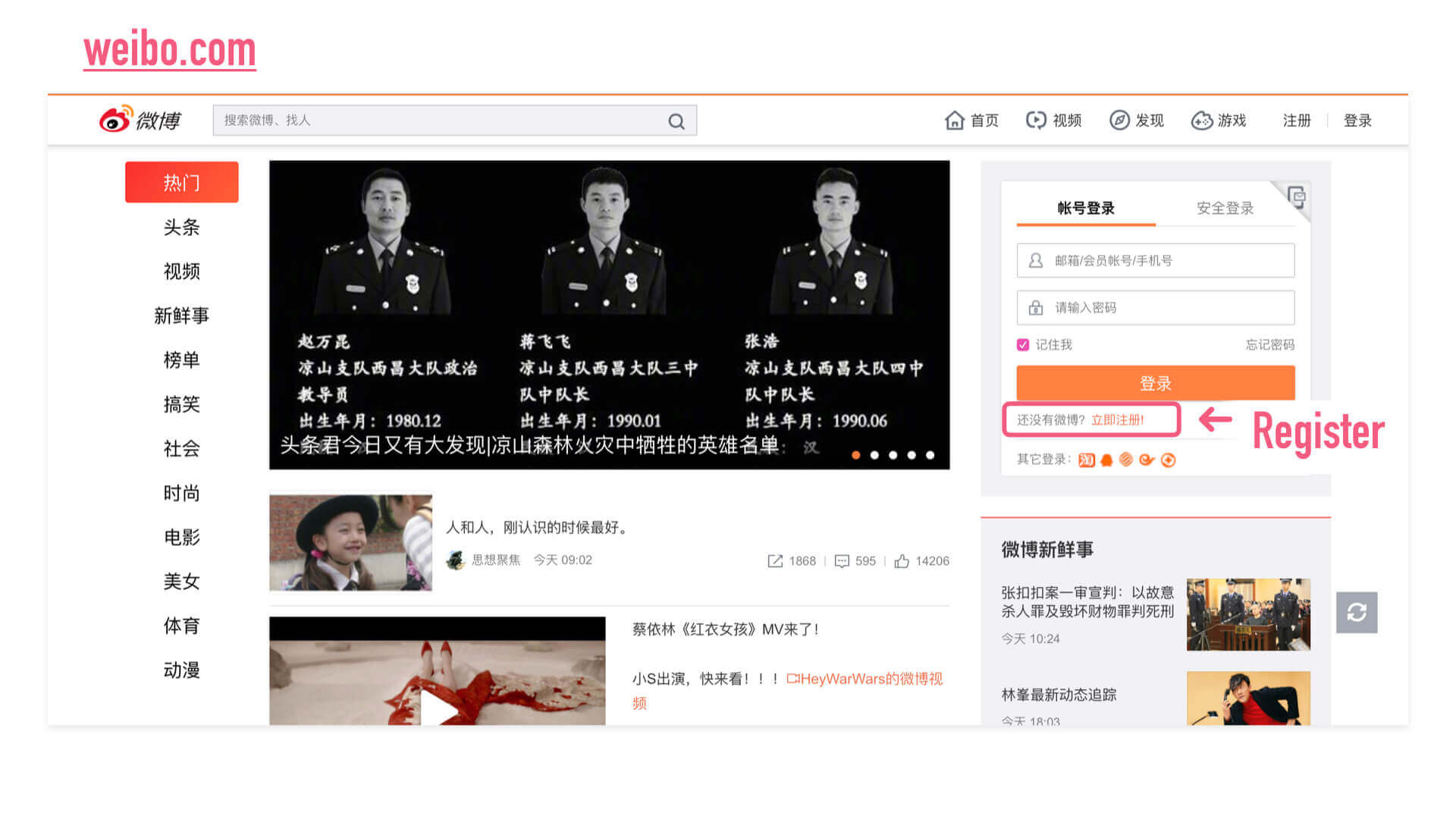 Step2.

 

Change language into English.
You could find a drop-down menu on the right-bottom of the page. Click it and select English language as you wish.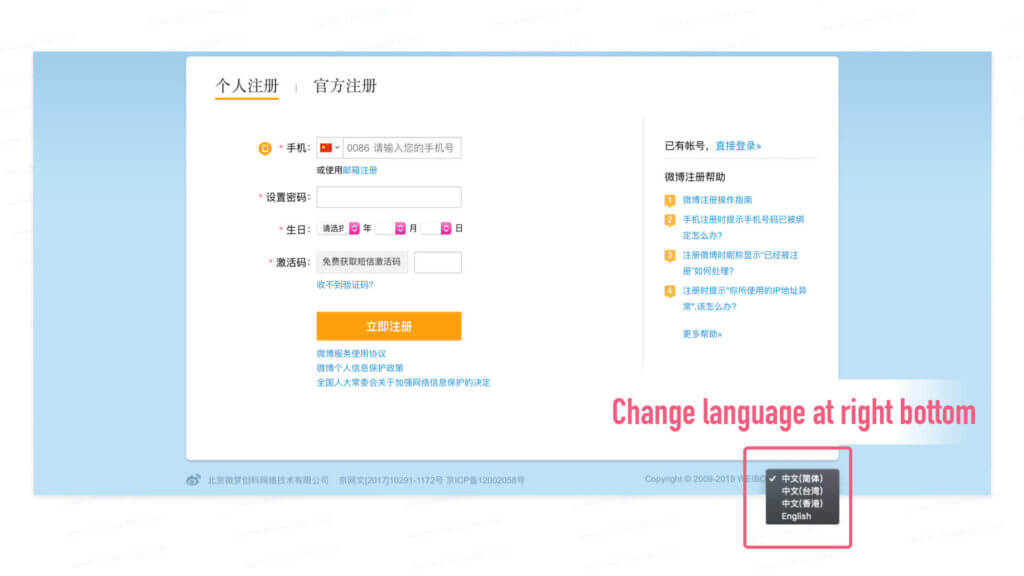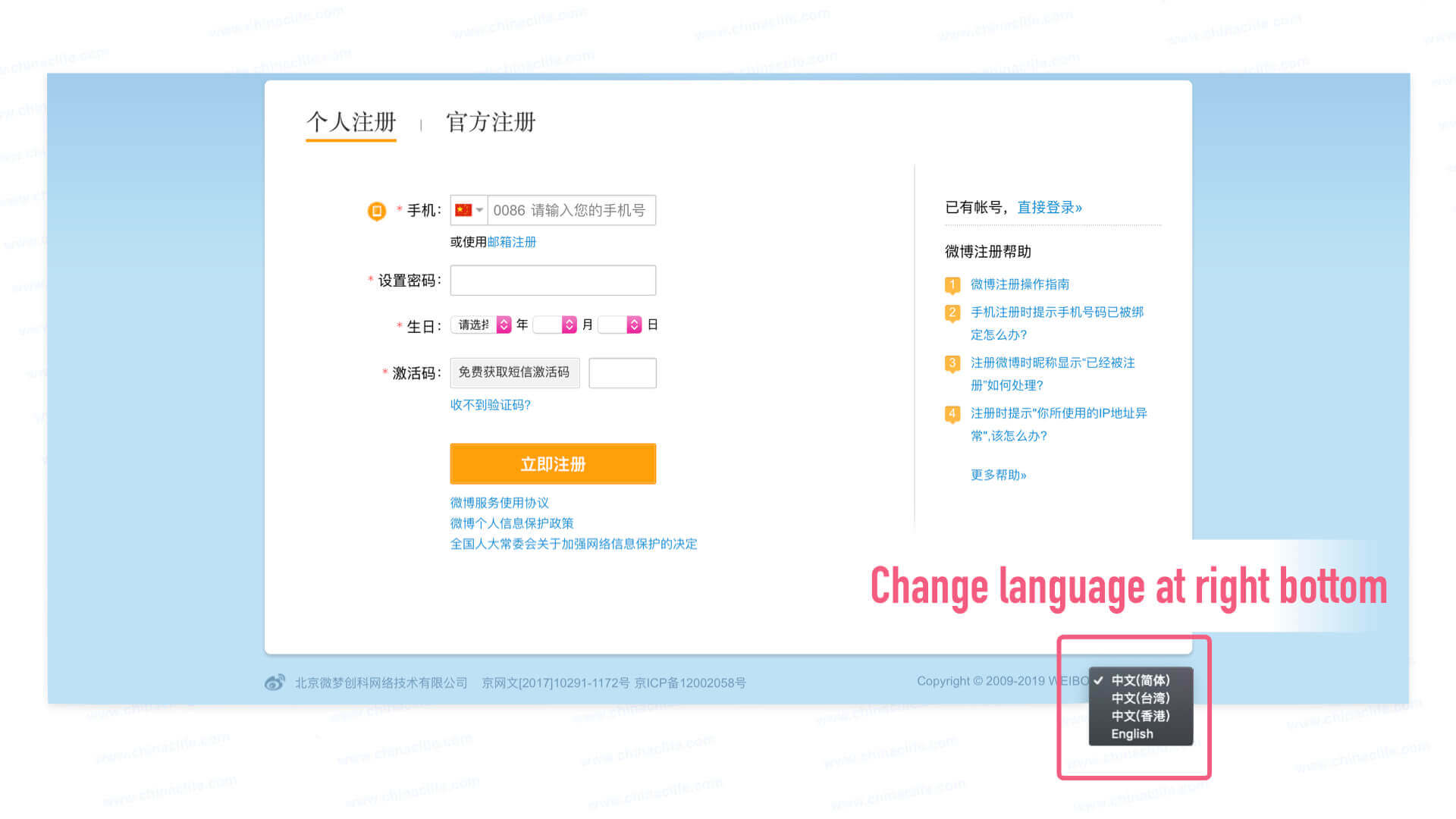 If you don't have too much patience to know above, you can go directly the webpage at:
Sign up Sina Weibo 2019 in English : )
Step 3.

 

Select the location.
Select the location where your mobile phone supported, input your phone number, password you wish, birthday info and the verification code.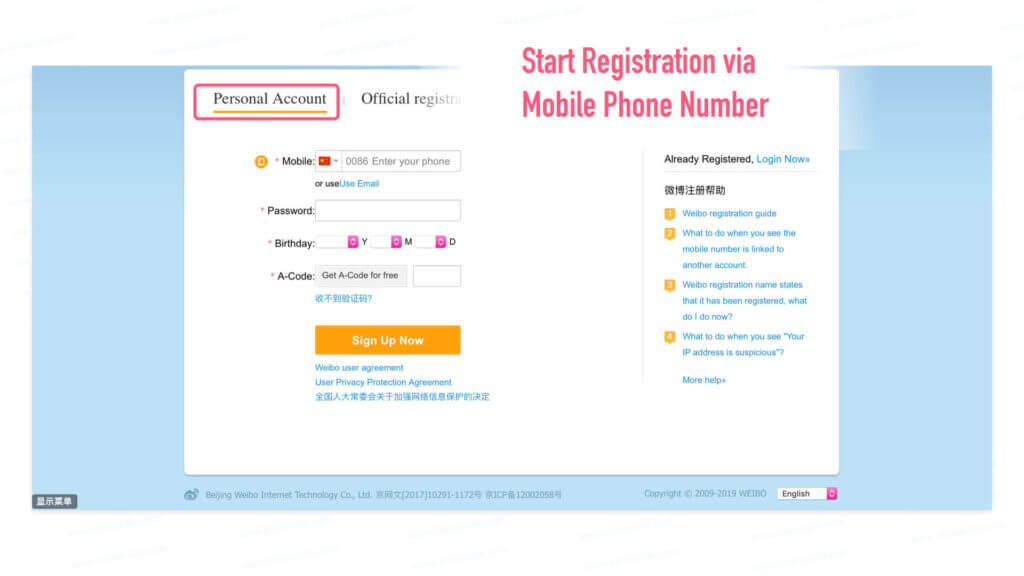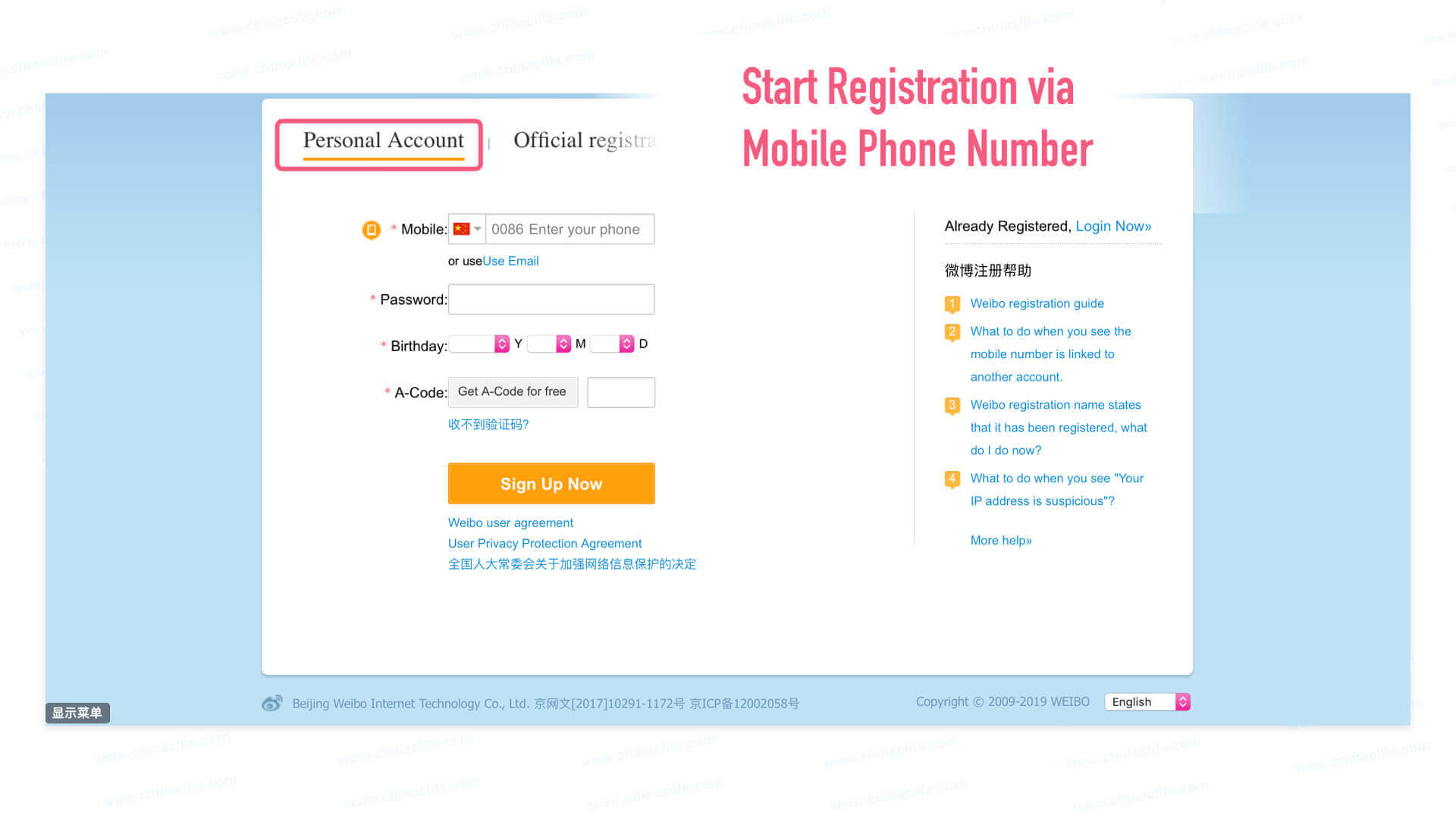 Due to Weibo's real-name policy in China since 2017, users won't able to register , comment or publish social content without real-name verification. So the phone number you provided is used to receive a free A-code to get verified.
The birthday info is helping to  get birthday wishes from social friends and you can certainly change it to be viewed only by yourself.
The locations for sending mobile phone's SMS message currently are supported as below: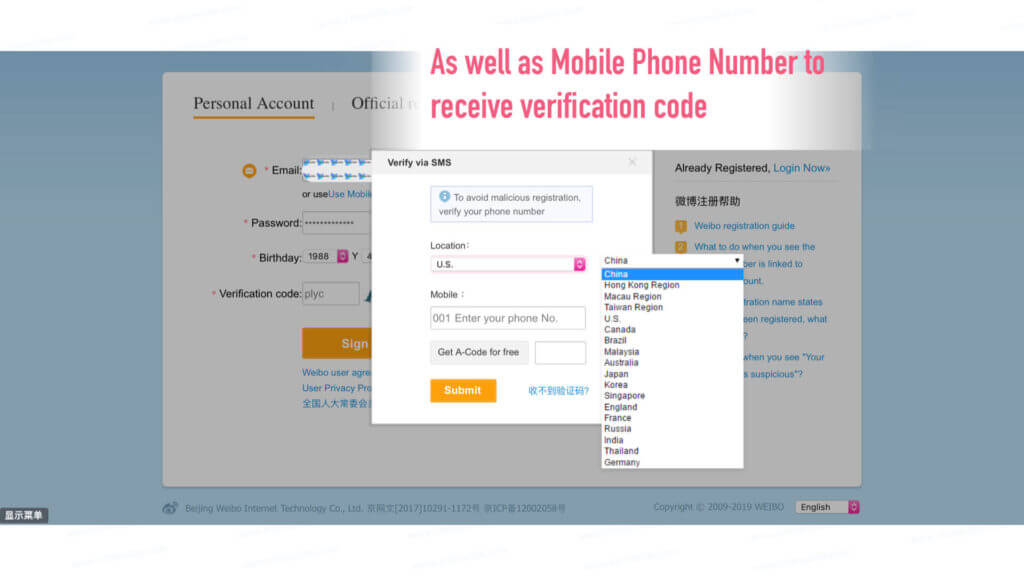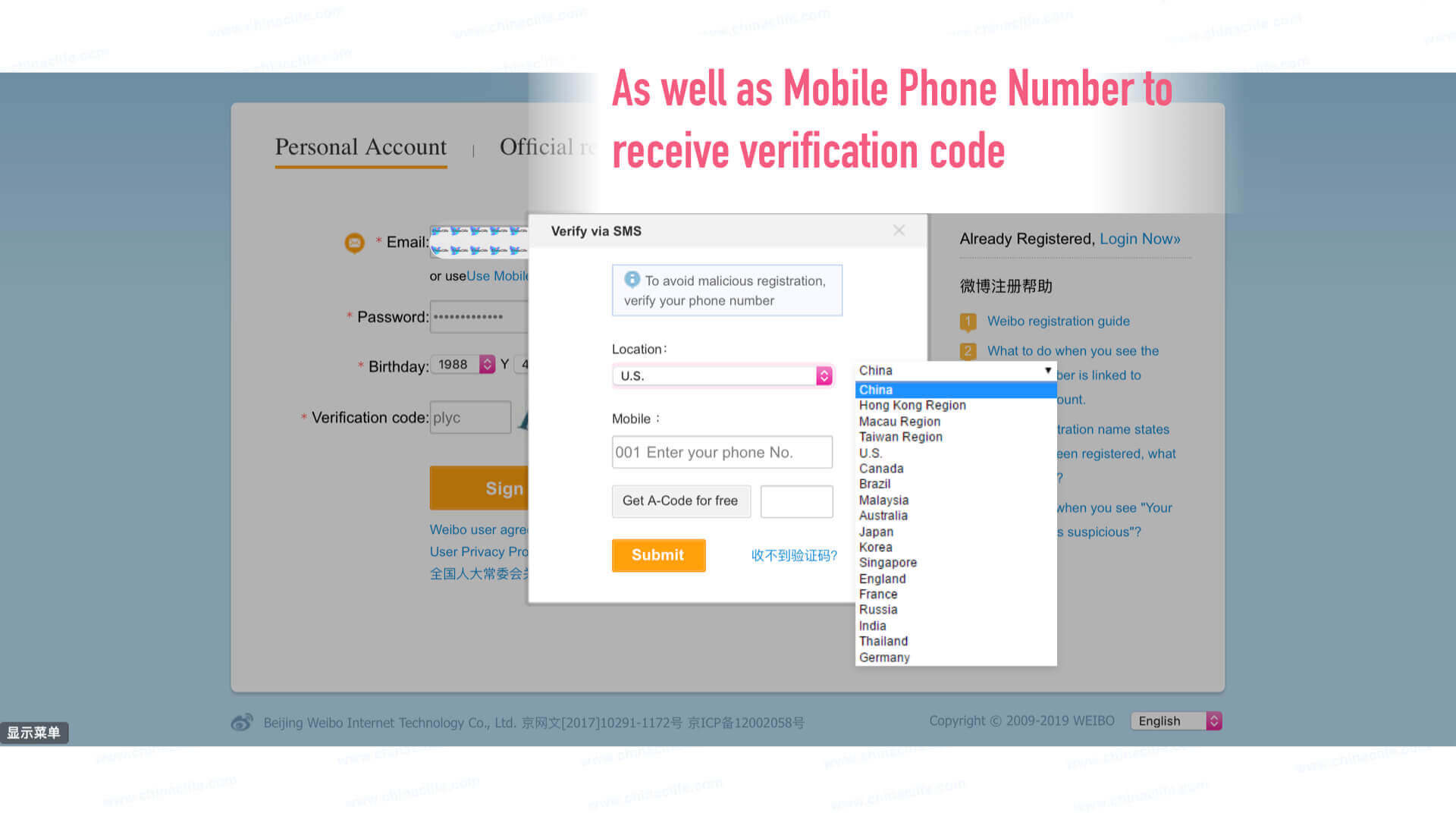 After getting verified successfully!
Congratulations!  One last step left now.
Step 4. One last step.
Input nickname, gender and location as well as your interest.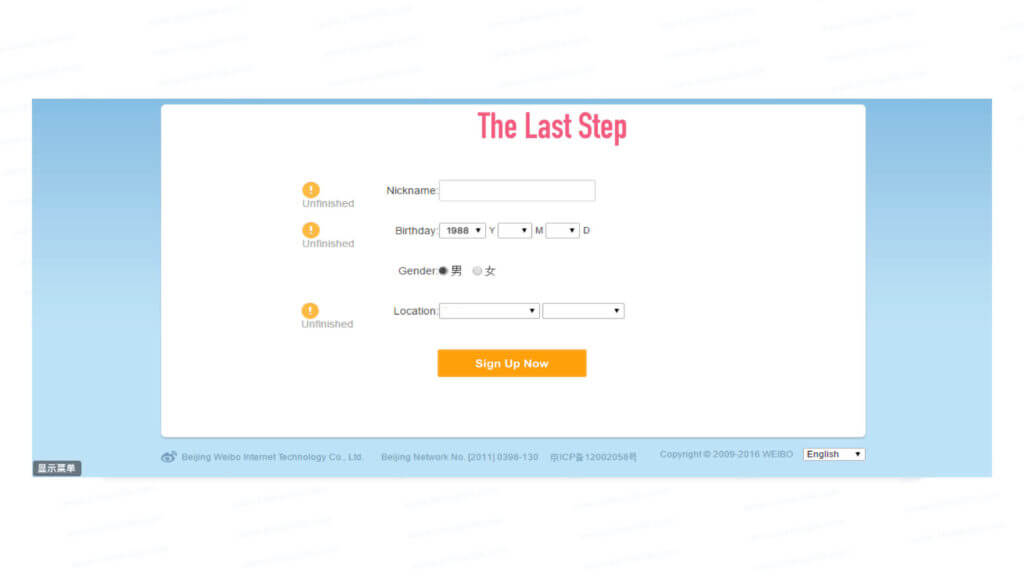 Then you can enjoy your Weibo now.
WHAT'S MORE?
More Stories to Be Continued…
See u soon… : )
COPYRIGHT & DISCLAIMER
All content on this page, including but not limited to text, images, photos, audios, videos, are all subject to copyright and other intellectual property protection, and should NOT be copied or reproduced in any manner whatsoever without prior written permission from the author or authors.
Some of image or photo materials might be sourced from Internet the copyright of which might belong to its original creators as same as the signatures offered. However, some sources could not find the original creators. If you find your creation appeared on our website without your authorization, please contact us immediately, we will delete it in 48 hours or put your name on your creation as soon as possible after confirmation. We do apologize for such a case if it might happen. However, we do not accept any legal liability and legal duty. Thank you for your understanding.