"Do you like tattoos? Have you already got one on your body? What about considering getting a Chinese Word Tattoo that would make you look cool and unique? Before you get started, it's quite important to realize the meanings of those Chinese tattoos, so that you can keep away from the stupid ones but pick up the best cool Chinese words tattoos wisely. The following story will introduce you tattoos in Chinese and English,  and give you plenty of best cool Chinese tattoo ideas, with the Chinese words & characters included and their meaning, for your reference."
BEST COOL CHINESE WORDS & CHARACTERS TATTOOS WITH THEIR MEANINGS 2020
|  最新最酷的中国字纹身创意及含义
English Words:       Chinese Words Tattoos, Tattoos with Chinese Words & Characters

Chinese Pinyin:      Zhōng Guó Zì Wén Shēn

Chinese Characters:  中国字纹身

Similar Chinese Words:   
    文身 (Wénshēn)| The behavior of tatooing.
Related Chinese Words:   
    刺青 (Cìqīng)| A traditional common name for tattoos in Simplified Chinese.
    汉字 (Hànzì)| Chinese characters and words.
    书法 (Shūfǎ)| Calligraphy, the art of writting Chinese characters. 
    图案 (Tú'àn) | Here specifies the Chinese tattoo patterns and designs.

Table of Contents
How to Say "Tattoos" or "Chinese Tattoos" in Chinese?
| Tattoos 的中文说法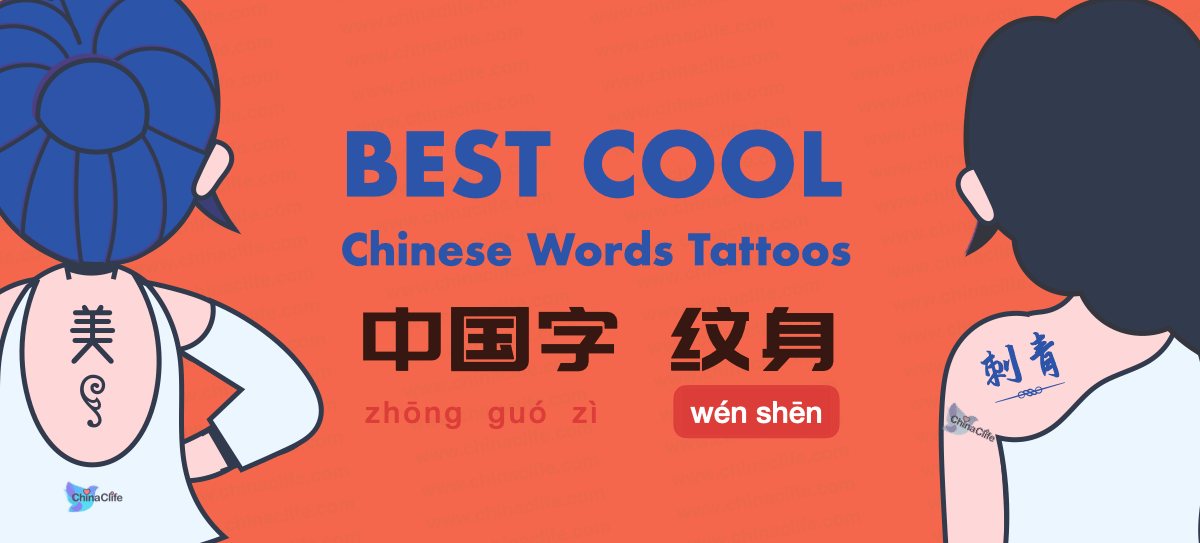 In the Chinese language, there are usually three different Chinese words to describe Tattoos or Chinese Tattoos. They are called "纹身", "文身" and "刺青" respectively in Simplified Chinese.

在中文里,有三个不同的汉语词语都可用来描述 Tattoos 一词,分别是:"纹身 (wén shēn)"、"文身 (wén shēn)"及"刺青 (cì qīng)"。

To be specified, the first Chinese word "纹身 (wén shēn)" is currently the most popular modern expression of saying Tattoos in China. Generally, it is often used as a static noun, but the usage is not too strict now.

具体来说,"纹身"一词是目前中国国内最流行的现代通俗说法。它常常用作静态名词,但是在用法上并不十分严格。

For example, you are free to say "你纹身了吗 (Have you tattooed before)?" or "你有纹身吗 (Do you have a tattoo)?" in Chinese, because both of them are correct and expressing the same meaning.

例如,你可以用中文说"你纹身了吗?"或者"你有纹身吗?"。这两种说法都是正确的,它们都可以表达同一种含义。

The second Chinese word "文身 (wén shēn)" is a pretty concise Chinese word sourcing from ancient China. It is pronounced as same as the previous Chinese word "纹身" but written differently since the beginning character of the word "文" here works as a verb to describe the behavior of "to tattoo" or "to stick and poke a tattoo". So you are only able to say "你文身了吗 (Did you tattoo)?" in Chinese instead of "你有文身吗 (Do you have a tattoo)?".

第二种说法"文身"是一个十分简洁的汉语词语,源于中国古代。它的发音与前一个词语"纹身"完全相同,仅汉字写法不同。因其出现的第一个汉字"文"字在这里用作动词,描述纹身这一行为。因此,你只能用"你文身了吗?"这种说法来表达,而不能说成是"你有文身吗?"。
A More Literary Term for Chinese Tattoos
| "刺青",更文艺的中国纹身说法
The third Chinese word "刺青 (cì qīng)" is also a Chinese term derived from ancient times of China, but it sounds more elegant and literary in the modern Chinese. This Chinese word specifically refers to the black or blue-cyan-color tattoos stabbed and poked with needles or similar tools.

第三种汉语词语"刺青"同样也是源自中国古代的一种说法,但在现代听起来更优雅文艺些。在中文里,刺青一词专指用刺针或类似工具刺画而成的黑色或蓝青色纹身。

In ancient Chinese history, 刺青 was initially used as one of the common punishments to mark and identify criminals. Later, it was developed to be a culture of giving certain personal wishes through tattoos, to achieve kinds of purposes like commemoration, cautions, or encouragement in China.

在中国古代历史上,刺青最早曾作为常见的刑罚之一,用来标示有罪的犯人,后来古人们也通过刺青赋予某种个人意愿来达到如纪念、警示或激励的目的。

Strictly speaking, "刺青" belongs to the field of "纹身" (tattoos), but now the word of 刺青 is still used broadly in China. For example, nowadays, many Chinese tattoo artists called themselves "刺青师 (Tattoo Masters)" and their tattoo works "刺青 (Tattoos)", to show their respect and inheritance of traditional Chinese tattoo culture, and add more literary color and unique charm to their tattoo designs as well.

严格说来,刺青属于纹身领域的一种,但现在,刺青一词仍在中国被广泛使用。例如,如今中国有不少纹身师自称"刺青师",并用"刺青"来描述自己的纹身作品,既体现对中国传统刺青文化与艺术的尊重和传承,也赋予更多文艺色彩和独特魅力。

WHAT IT MEANS?
Recommend Best Cool Chinese Word Tattoos and Meanings
| 推荐超酷的中国字纹身创意及其含义
Best Cool Single-Word Chinese Tattoos and Their Meanings
超酷的中国单字纹身
As the name suggested, a single-word Chinese tattoo idea only contains one Chinese character. Generally, they are designed based on Chinese calligraphy art in which Chinese characters are written in traditional or simplified Chinese style with a Chinese writing brush, united with traditional Chinese Black-and-White ink painting culture.

顾名思义,就是由一个中国汉字组成的纹身图案。常常以毛笔书写的繁体或简体的中国汉字艺术效果,并结合中国传统的水墨文化来完成设计。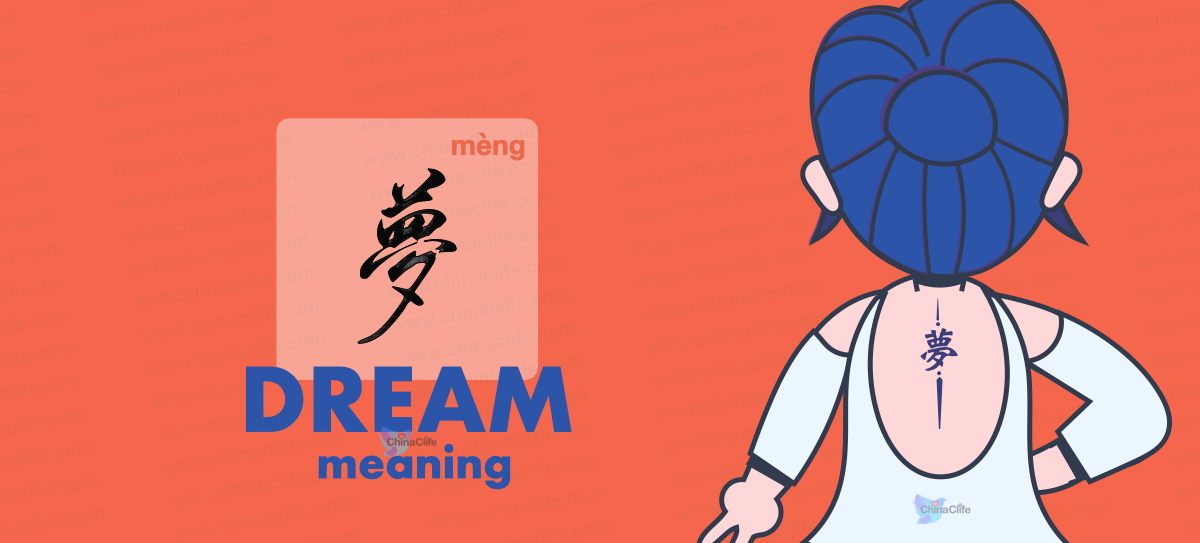 For example:
The single Chinese word/character, "梦 (mèng)", means dream and sometimes it is associated with cherished wishes. It's often tattooed with Chinese calligraphy style such as 隶书 (Official Script) and 草书 (Cursive Script), etc.
例如,中国汉字"梦",是梦、梦境的意思,有时也联想到梦想。纹身时常以隶书、草书等中国书法来表现。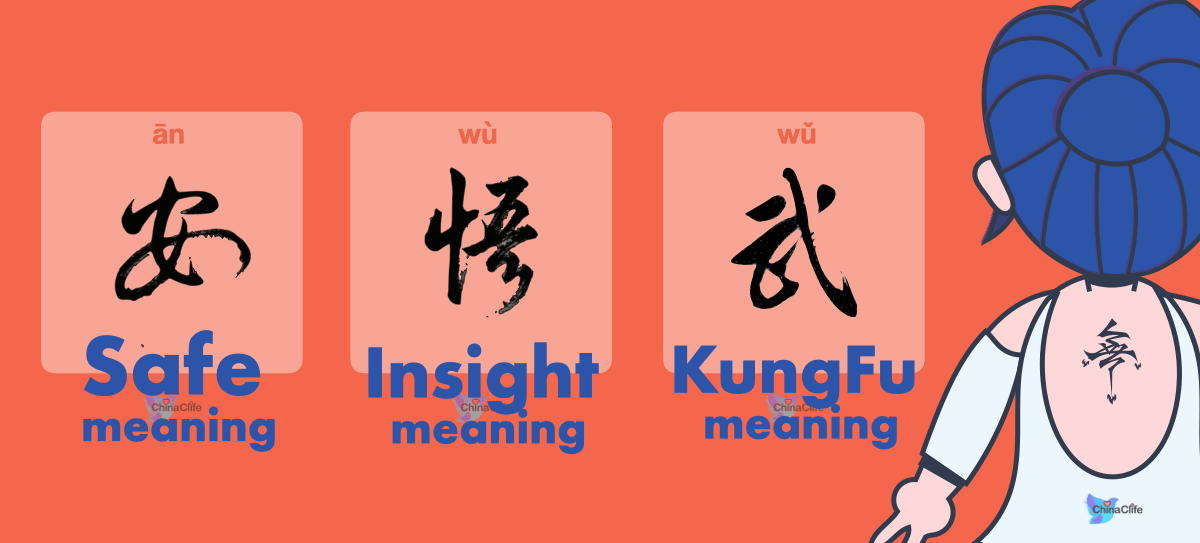 Other single Chinese Characters Tattoos like "安", "悟", "武" are also popular in Chinese Calligraphy Tattoos.

还有其他单个中国字也常常出现在热门的中国书法纹身中,如"安"、"悟"、"武"。
The first Chinese single-word tattoo "安 (ān)" means safe (to human) and peace (to environment).
第一个中国字"安"寓意平安(对人)和和平(对环境)。
The second Chinese single-word tattoo "悟 (wù)" describes someone who has understood and realized some principles and reason, and we say that the man has insight into something.
第二个中国字"悟"用来形容已经理解了和领悟了一些原则及道理的人,我们说这个人洞悉了某些东西。
The last Chinese single-word tattoo "武 (wǔ)", pronounced similar to the previous word, often refers to Chinese KungFu (Martial Arts) and is probably loved by men because this Chinese Word Tattoo could give the feeling of power and strength.
第三个中国字"武",与第二个汉字发音相似,常联想到中国功夫(中国武术),极可能受到男性的喜爱,因为武字能赋予力量感。
More best cool Chinese word tattoos are recommended as follows, with their means as well.

更多超酷的单字中国字纹身以及对应的含义,推荐如下。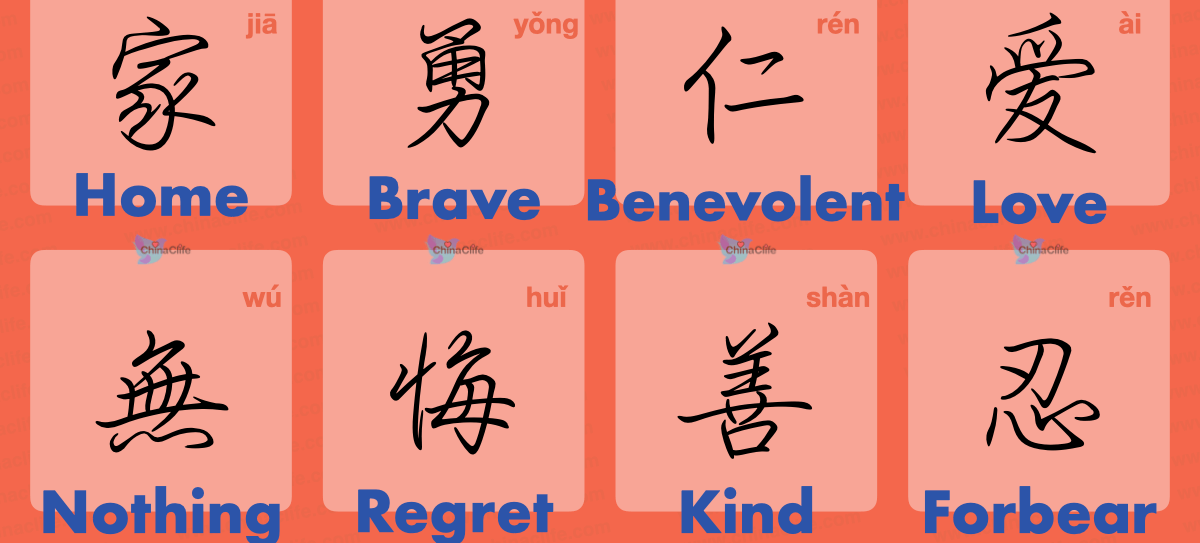 Free Sign-in to Unlock Full

Tips: The full content to show for Free Logged-in and Premium residents only. Please click Log-In / Sign Up for Free button on the top right to unlock them.

For Logged-In Members Only

Tips: The full content to show for Free Logged-in and Premium residents only. Please click Log-In / Sign Up for Free button on the top right to unlock them.

For Logged-In Members Only

READ NEXT
More Stories to Be Continued…
See u soon… : )