"Chinese pastries and cakes mean the snacks made with Chinese traditional process arts. This article introduces you the rest five of the top 10 delicious Chinese pastries and cakes."
TOP 10 BEAUTIFUL & DELICIOUS CHINESE PASTRIES AND CAKES    --- PART TWO
|  精致美味的十大中式点心  (下篇)
English Words:       Chinese Pastries and Cakes

Chinese Pinyin:      Zhōng Shì Gāo Diǎn

Chinese Characters:  中式糕点

Related Chinese Words:   
    酥点 (Sū Diǎn)  | Pastry, one type of Chinese pastries and desserts.
    糕点 (Gāo Diǎn) | Cake, one type of Chinese pastries and cakes.
    点心 (Diǎn Xīn) | Dim sum, the name of Cantonese snacks.
    甜点 (Tián Diǎn)| Desserts. 
    小食 (Xiǎo Shí) | Appetizers, Snacks.

Table of Contents
About Chinese Pastries and Cakes "中式糕点"
Chinese pastry is the traditional name for Chinese style desserts and snacks. In ancient times, it was referring to breakfast, or to eat some food for relieving hunger, and gradually evolved into the name of all snacks except dinners.

点心,是中国人对甜点、小食的传统称呼。古代最早用来指早餐,或者指吃点解饿的食物,后随时代变迁而逐渐演变为正餐以外的小食。

Chinese pastry, means the snacks made with Chinese traditional procedure arts. Click for more about Chinese pastries and as well as the top 5 delicious Chinese pastries recommended

中式糕点,是指用中国传统工艺加工制作而成的点心。 点击前一篇阅读更多关于中式糕点以及推荐的前五大美味中式点心。

Here we continue to the rest five of the top 10 most attractive and tasty Chinese pastries and cakes. Please check out the following.

以下继续列出其余五种颜值超高且美味可口的十大中式糕点。一起欣赏吧。

TOP RECOMMENDED?
Top 6.   Sweet Osmanthus Cake
| 六、 桂花糕  (Guì Huā Gāo)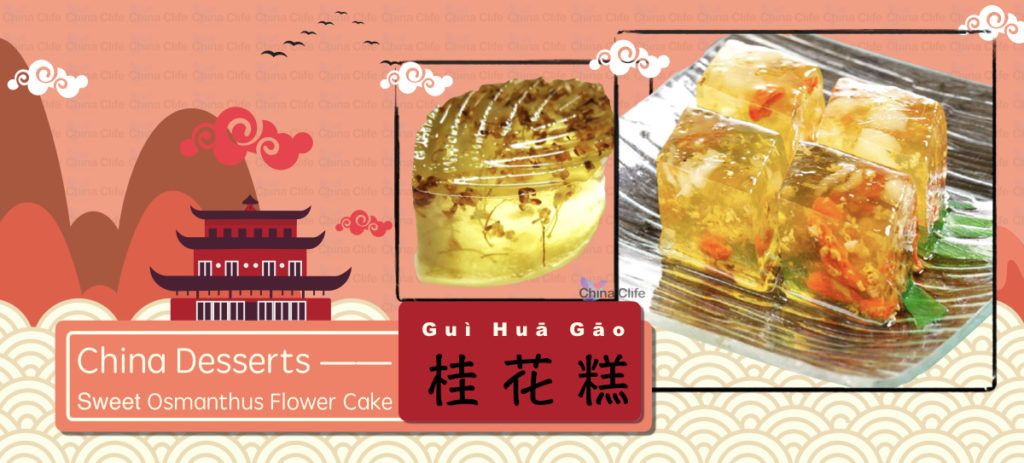 Many Chinese Pastries and cakes always contain sweet osmanthus flowers. So did the sweet osmanthus cakes.

中式点心中常常出现桂花的身影。桂花糕正是这样一种传统中式糕点。

Sweet Osmanthus Cake, the traditional Chinese pastry, is made of white sugar, glutinous rice flour, and sweet osmanthus flower, with an attractive appearance as transparent as a yellow crystal.

桂花糕是用白糖、糯米粉和桂花制作而成,外观甜美诱人,如黄水晶般透明。

As an amber did, the sweet osmanthus cake also sealed the whole fragrance and sweet taste of the osmanthus flowers inside.

仿佛琥珀一般,桂花糕封存住了桂花甜蜜的香气与味道。
Top 7.   Taro Pastry
| 七、 芋头酥  (Yù Tóu Sū)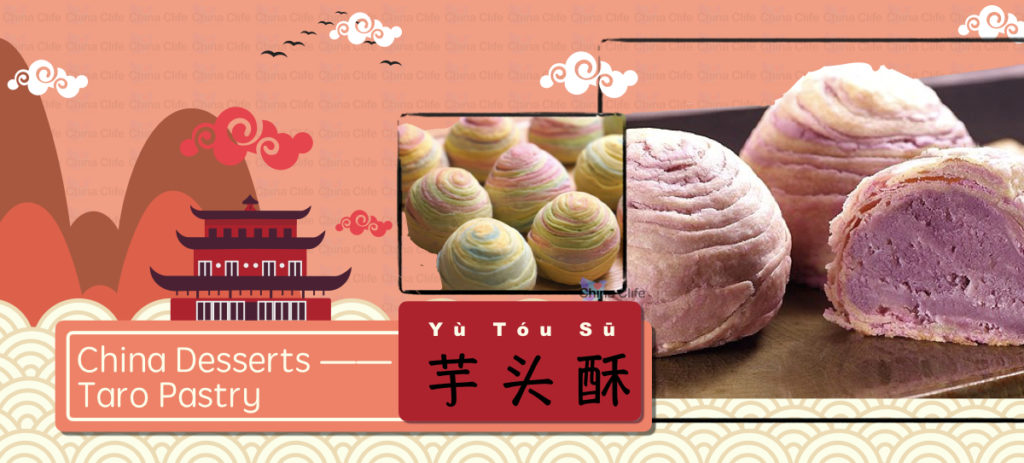 As its name suggested, Taro Pastry is made of taro roots as raw materials and imitated purple or colorful spiral patterns on surfaces like taro's appearance.

顾名思义,芋头酥是以芋头作为原料,并仿造芋头的外观制作出的一圈圈紫色或彩色螺纹式的花纹。

Taro pastry contains clearly spiral pastry skin, and sweet taro fillings, with crispy taste but not too greasy. That's why it becomes one of the most popular Chinese desserts after meals.

外呈紫色螺旋状饼皮,层次分明,内填绵密可口的芋头馅,香酥不油腻,一口咬下超满足。因此,芋头酥成为中国人茶余饭后最欢迎的中式甜点之一。
Top 8.   Salted Egg Yolk Pastry
| 八、 蛋黄酥  (Dàn Huáng Sū)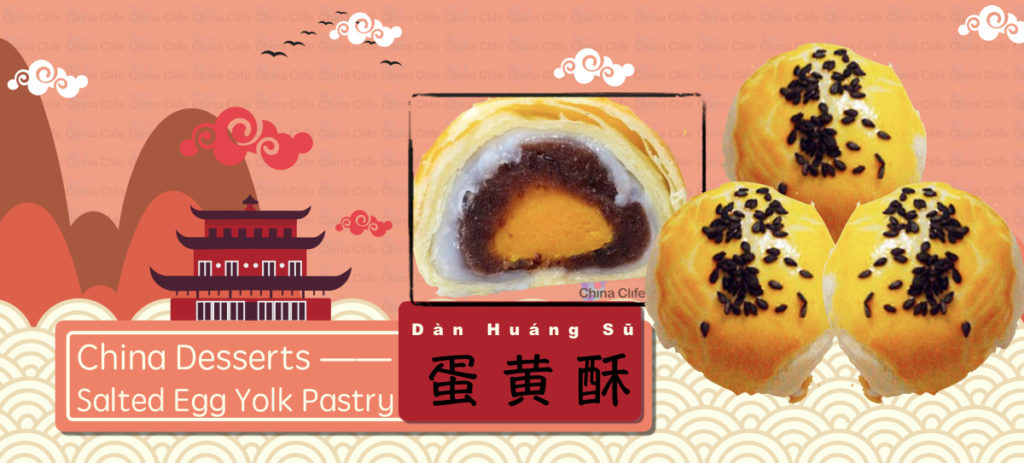 The name of Salted Egg Yolk Pastry is given due to its stuffing of egg yolk with a salty flavor. After baking, the outer skin of the salted egg yolk pastry becomes golden and crispy, while the inner is soft and sticky, all of which are mixed into a rich and delicate taste.

蛋黄酥,因精华为咸香口味的咸蛋黄而得名。经过烘培,其外皮渐至金黄,讨喜且酥脆,内里软糯绵密,内外混合成一种丰富细腻的口感。

A salted egg yolk pastry tastes great, but it's not easy to make. It is generally produced after six-step processes, including water-oiled-dough, oiled-pastry, stuffing, raw mixture, baking, and more. The final baked pastries are full of gritty, crispy, soft, delicate taste, with both sweet and salty flavor blended and complemented each other.

蛋黄酥尝起来美味可口,但做起来并不容易。一粒蛋黄酥通常经过油皮、油酥、制馅、生胚、烘烤等六道工艺精制而成。终极口感沙、酥、绵、密,咸甜互融,相得益彰。

Now the salted egg yolk pastry in China is not only one of the most traditional Chinese pastries, but also becomes a "viral" appetizing Chinese dessert spreading on the Internet.

现在,蛋黄酥在中国既是传统的中国糕点之一,也成为了广泛流传于互联网的中式美味"网红"点心。
Top 9.   Purple Sweet Potato Yam Cake
| 九、 紫薯山药糕  (Zǐ Shǔ Shān Yào Gāo)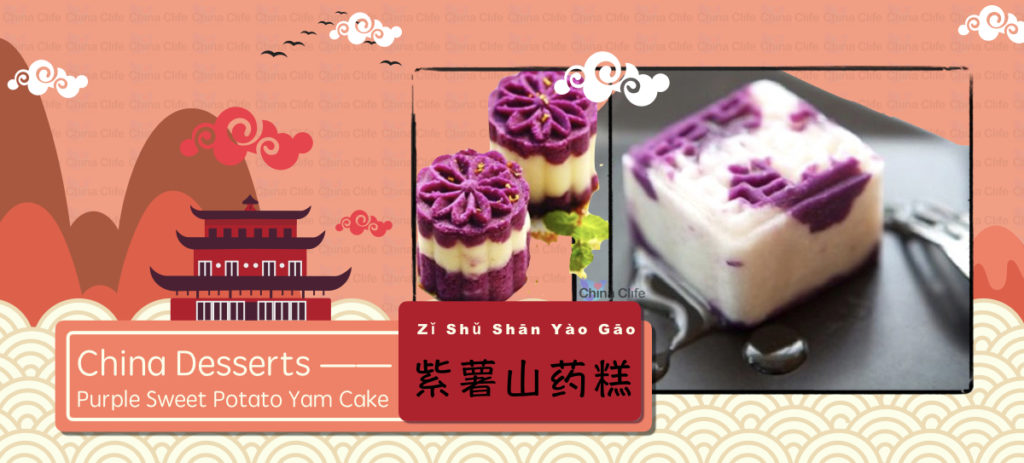 The Purple Sweet Potato Yam Cake is made with purple sweet potatoes and yam as two primary ingredients.

紫薯山药糕是一款以紫薯、山药为主要食材而制作的美味糕点。

Besides the rich nutrients and protein owned by ordinary sweet potatoes, this Chinese pastry is also rich in selenium, anthocyanin, and 18 amino acids and vitamins that are easily digested and absorbed by the human body.

除了具有普通薯类的营养成分和丰富的蛋白质外,它还富含硒元素和花青素以及18种易被人体消化和吸收的氨基酸和维生素。

Meanwhile, with gradient purple-to-white skin and texture, a soft and sweet taste, the purple sweet potato yam cake not only looks appetizing and attractive but also rich in nutrition and health benefits.

同时,紫薯山药糕,呈由紫到白的渐变色彩和纹理,口感软糯香甜,既味美诱人,又兼具丰富的营养和保健价值。
Top 10.   Rose Flower Cake
| 十、   玫瑰鲜花饼  (Méi Guī Xiān Huā Bǐng)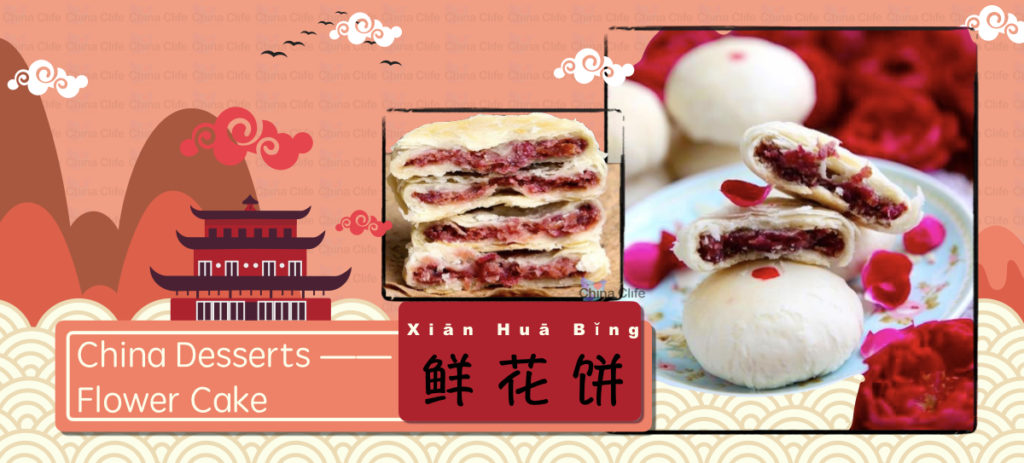 The Flower Cake is a special Chinese pastry originated from Yun Nan province in south-west China which is made from edible flowers such as roses as the raw materials.

鲜花饼,是中国云南省特有的、以可食用花卉如玫瑰花作为原料制作而成的中式酥饼。

The Yunnan province is well known as a "Flower Country" in China counting on its warm and comfortable climate, four seasons like spring, abundant sunshine, and great geographical location, all of which have provided excellent conditions for the growth of edible rose flowers.

云南省,依靠其四季如春的舒适气候,充沛的阳光日照,优越的地理位置,在中国素有"鲜花国度"的美誉,这些均为食用玫瑰花提供了优异的生长条件。

On the basis, Yunnan rose flower cakes are developing to be the representatives of distinctive Yunnan traditional desserts blending with "the flowers' fragrance plus the local Yunnan flavor".

在此基础上,云南人精致而成的鲜花饼,以"鲜花味、云南味"融合而成具有云南特色的中式经典点心代表。

The Flower Cake has a crispy taste, sweet but not too greasy, and a full bite of rose flower's fragrance. For this reason, it becomes an absolutely must-try Chinese pastry for any tourist coming to Yunnan.

鲜花饼尝起来口感酥脆饱满,甜而不腻,花香浓郁。也正因如此,鲜花饼成为了到云南旅游人士的必尝点心之一。

IN ADDITION

Have you got any tips from the bilingual Chinese story above?

Do you have any other questions or suggestions?

You are free to write down in the "Comments" section below.

Any thought from yours could be appreciated, valuable, and might help the rest of the residents on the planet. 😀

Additionally...

Did You Start Learning Chinese with Pinyin?

Continue to read our User-friendly Chinese-Pinyin version of this story

(Unlocked for Free Logged-in and Premium residents only).

Hope it Helps! : )

Tips: The full content to show for Free Logged-in and Premium residents only. Please click Log-In / Sign Up for Free button on the top right to unlock them.

For Logged-In Members Only

READ NEXT
More Stories to Be Continued...
See u soon... : )