HOW-TOs: PC/DESKTOP SOCIAL LOGIN TUTORIAL FOR INTERNATIONAL
HOW TO LOGIN IN WEIBO WEBSITE THROUGH QQ ID, TAOBAO, WECHAT ACCOUNT AND MORE?
| 电脑端快速登录微博网站的教程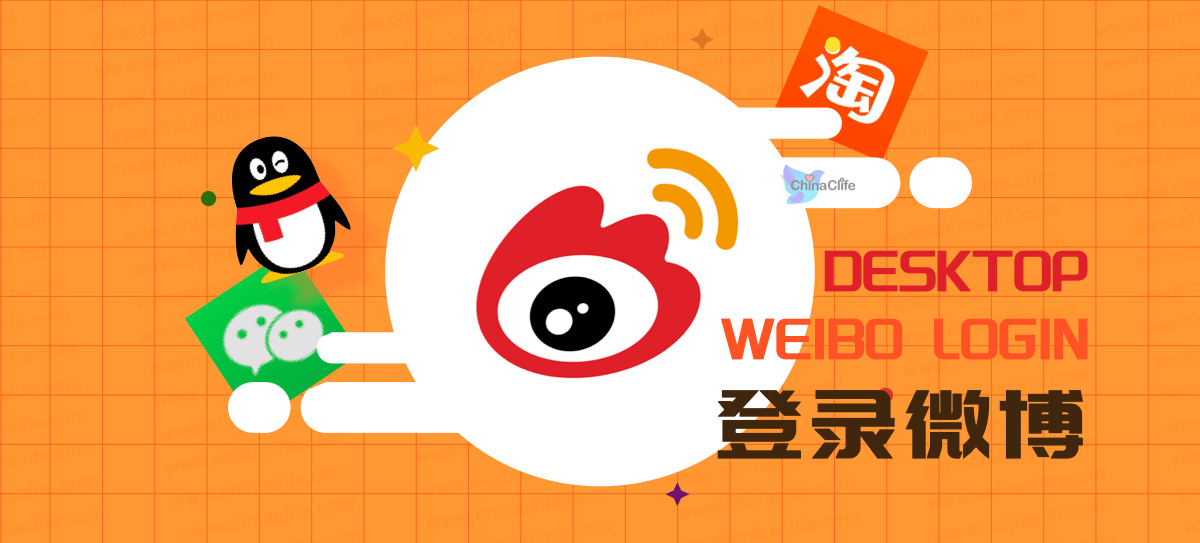 Table of Contents
May I Login in Weibo Through WeChat Account?
| 能用微信号登录微博吗?
The answer is yes, for mobile users. Sina Weibo supports login with WeChat and other social accounts like QQ and Taobao from mobile phone.

对手机用户而言,答案当然是能。新浪微博支持手机端用微信、QQ 类社交账号以及淘宝账号快速登录微博。

However, WeChat is an instant messaging tool developed based on mobile devices although it offers a Web WeChat solution for PC-client users, and it only allows the third-party websites to integrate QR-code scanning function for quick login through WeChat.

但是,尽管也存在网页版微信,但微信仍是一款基于手机端开发的聊天工具,且仅授权第三方网站平台通过集成扫描微信二维码的方式来实现电脑端的微信登录快捷入口。

As we can see from the Sina Weibo website, neither the WeChat login icon nor the QR-code-scanning-by-Wechat prompt appears there since Weibo only enables users to scan the QR code by launching their own Weibo App as a safe login entry without inputting a password.

正如在电脑端打开微博网站所见,网站上没有任何位置显示微信登录的图标或可扫描微信二维码的提示,微博网站仅支持从微博手机客户端里激活扫描功能扫描微博二维码来登录电脑端的微博平台。

Thus for PC/desktop users, please try to quick login in Weibo website through QQ ID, Taobao, or other supported accounts following the steps below, or Login Weibo via an existing Weibo account by either inputting your password or scanning a QR code via Weibo App.

因此,若用户从电脑端登录微博网站,可尝试的办法是按如下步骤通过 QQ 号、淘宝账号或其他支持的第三方账号授权登录,其次是通过在线输入微博账号/密码登录微博,或是通过启动微博手机客户端来扫描微博二维码完成电脑端登录。

As for the mobile phone and tablet users, it's certainly able to quickly login to Weibo through QQ, WeChat, or an existing Weibo account. Just check out Weibo's mobile login tutorial here.

而对手机和平板用户而言,就可以通过 QQ、微信和现有微博账号登录手机版微博了。点击这里可查看手机端登录微博教程。

HOW TO DO?
PC/Destop Steps on How to Login in Weibo Website Through QQ ID, Taobao Account And More
| 电脑端用 QQ 等账号快速登录微博网站的步骤
Take an existing QQ ID to login in Weibo Website on desktop as an example. Other social login steps for PC/desktop users are quite similar to the QQ-Login method.

以下步骤,以 QQ 号快速登录微博网站为例。利用其他社交账号登录微博网站的操作步骤与其类似。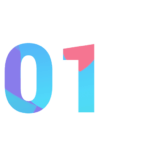 Step 01.   Open Weibo Website in a Browser on Desktop
| 步骤一、 在电脑端浏览器中打开微博网站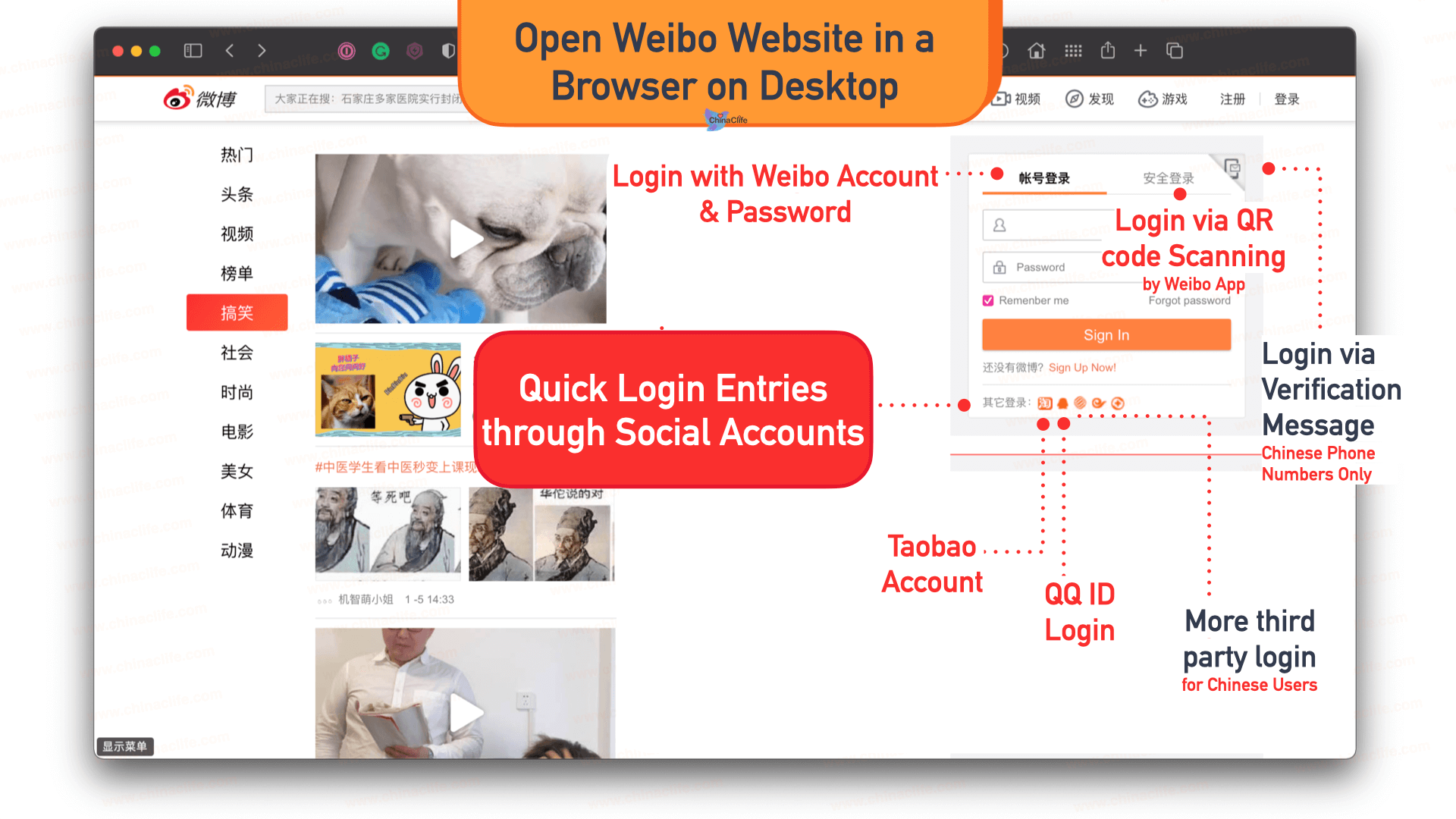 For Weibo users with an existing Weibo account already, in China or abroad, it's free to login in Weibo website either through the existing Weibo account and password or using a more convenient login method by activating the QR code scanning mode from the top-right of the "Me" interface after the mobile-side Weibo app launched.

已拥有微博账号的用户,无论在中国境内或海外,都可以自由选择使用现有的微博账号及密码来登录电脑端的微博网站,或者通过启动手机端的微博应用,进入"我的"界面,点击右上角的扫描图标激活相机的扫描功能,通过扫描网站上的二维码来安全登录。

In the case of scanning login method, make sure you have switched the desktop Weibo website into QR-code-scanning mode by clicking the text like "安全登录 (Safe Login)" so that a random QR code will appear on the PC as requested for scanning.

若选择第二种扫描二维码的登录方式,请确保已在电脑端将微博网站的登录入口切换成二维码扫描模式,点击"安全登录"字样即可看见一个供扫描登录的随机二维码了。

To "enlarge" the Login area on the desktop, you can bring up the bigger login popup by clicking the login button "登录 (Sign In)" on the top-right of the Weibo homepage.

若需放大电脑端网站的登录区域,可以点击微博首页右上角的"登录"文字按钮调出较大的登录弹窗。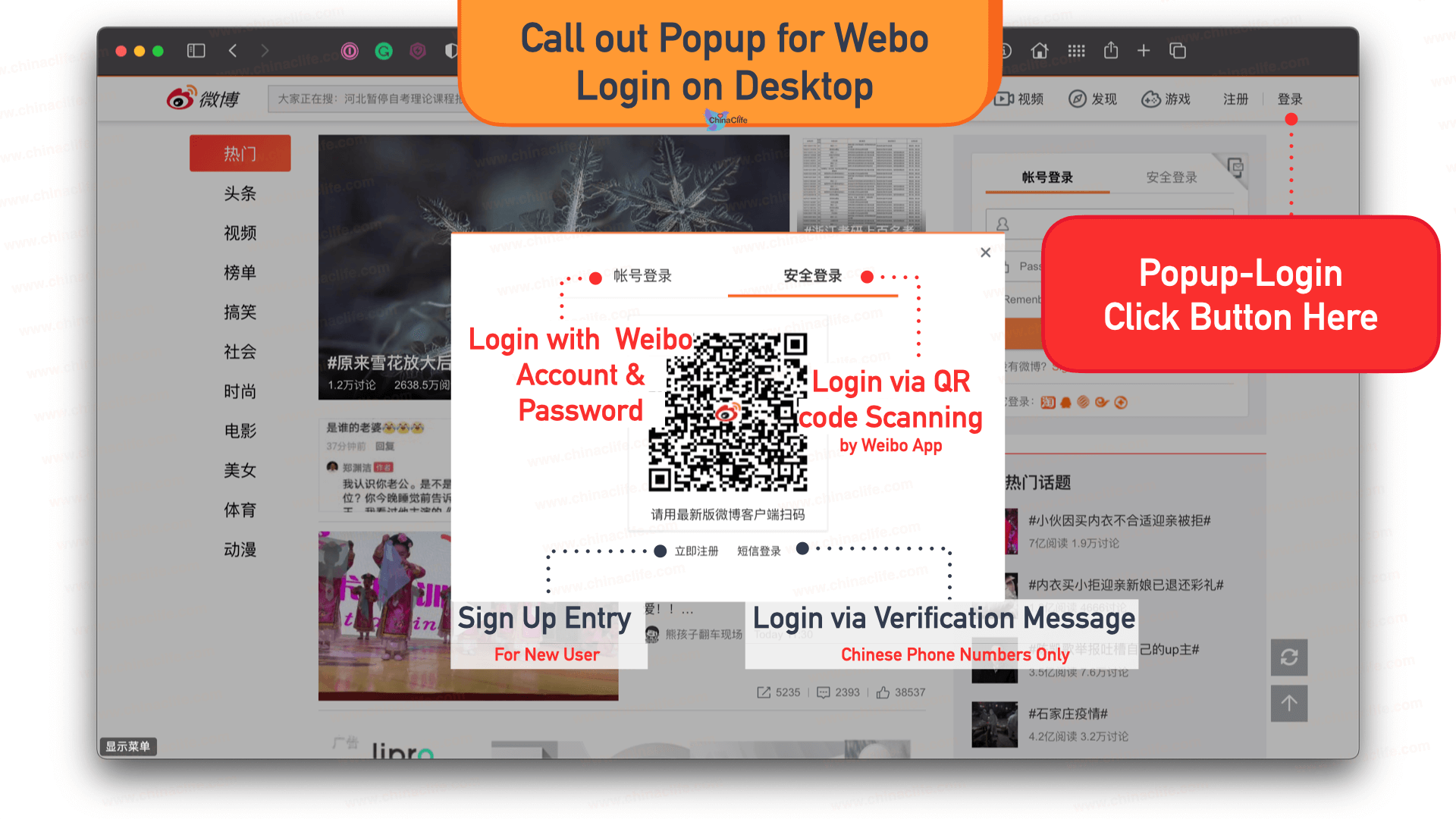 Click the following button to open Weibo Website from a new window of your browser.

点击下方按钮从浏览器新窗口打开微博网站。

Open Weibo Website In a Browser Now : )

For fresh International users, it's more convenient to login Weibo Website through QQ ID or Taobao account and binds the social account with a Weibo ID than sign up for a new one.

对新国际用户来说,直接用现有 QQ 号这样的第三方社交账号或淘宝账号绑定并登录微博,要比新注册微博账号方便得多。

Find out the social login area from Weibo Website indicating with text like "其他登录 (Other Login Methods)", and then click one of the third-party platforms' logos such as the social QQ (a cutie penguin) or Taobao icon (including a big Chinese character "淘") for quick login.

找到微博网站上的"其他登录"字样,即"用第三方社交账号登录"的区域,点击 QQ (小企鹅) 或 淘宝 (带"淘"字)的图标,选定该账号作为登录微博的快捷方式。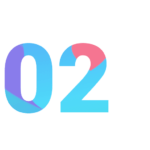 Step 02.   Click "QQ" Icon As the Quick Login Entry
| 步骤二、 点击 QQ 快捷登录入口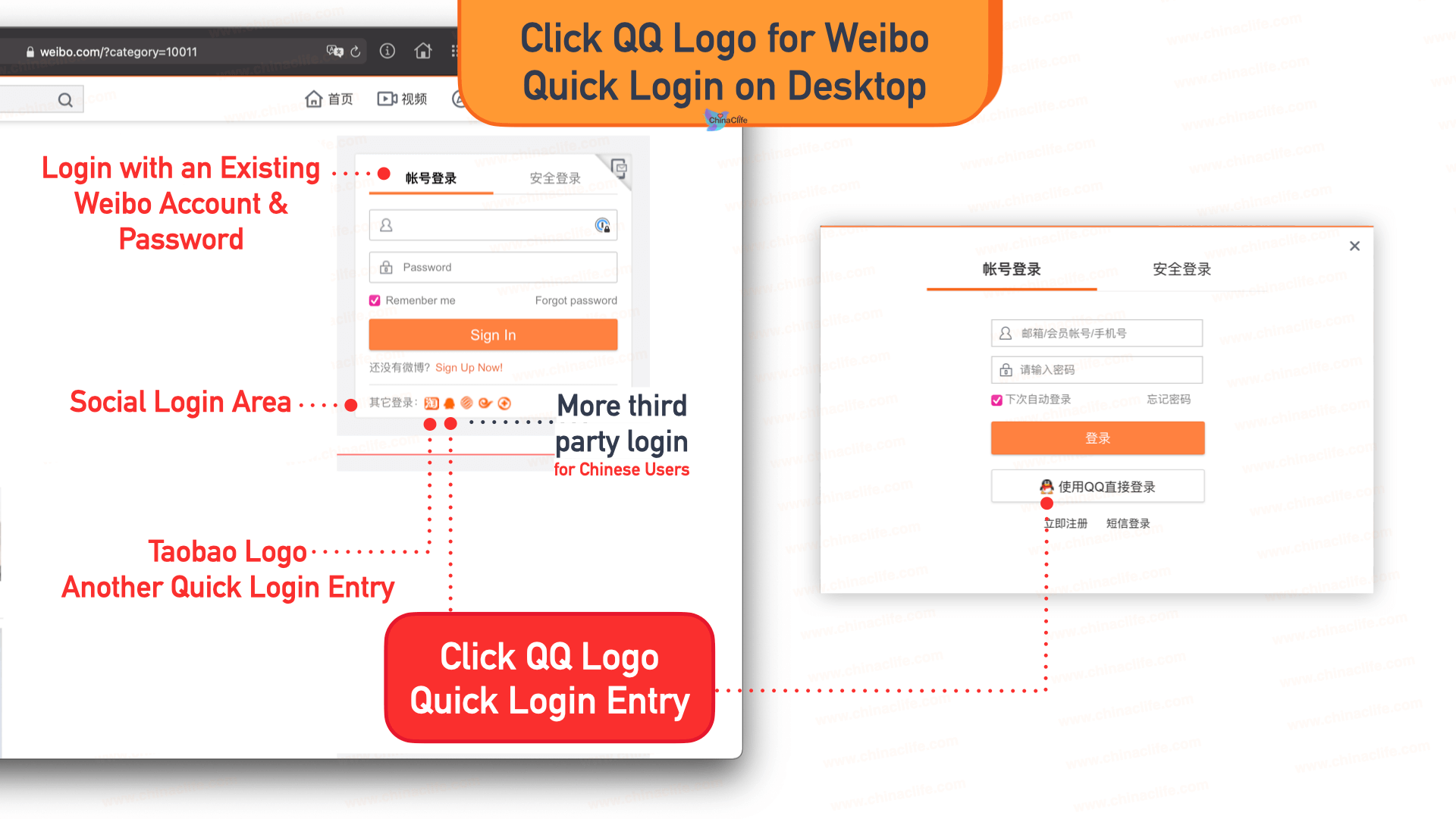 You can find a penguin-like QQ logo either from the right login area of the Weibo homepage or the Login popup. Click the QQ button and then you will jump to the QQ-login-integrated page requesting the authorization of Weibo Login through QQ ID.

无论在微博首页右侧的登录区域,或登录弹窗内,你都可找到企鹅样式的 QQ 图标按钮。点击这个 QQ 按钮即可跳转至集成了 QQ 登录功能的页面,在这里可以获得授权以 QQ 号方式登录微博网站。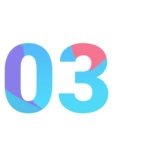 Step 03.   Get Authorization After QQ Login
| 步骤三、 通过登录 QQ 获得授权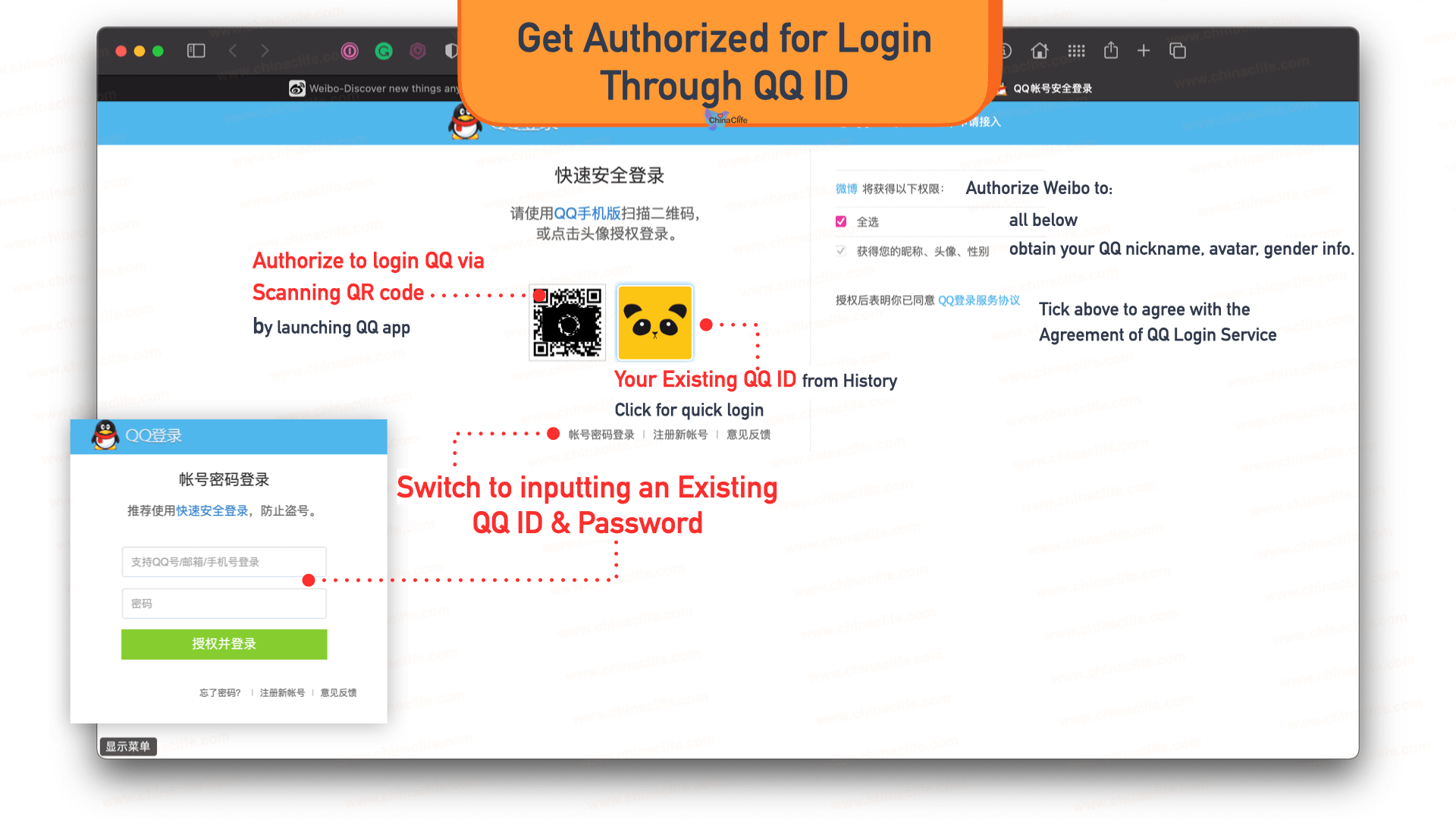 Generally, it's able to get QQ login authorization by two common methods for any Chinese or international QQ user: one is inputting an existing QQ ID & password for QQ login, while another is to launch the QQ app from a mobile client and activate the scanning function to scan the QR code for QQ login.

通常,任何 QQ 用户都可以通过输入 QQ 账号及密码,或调出手机版 QQ 的扫描功能扫描二维码来登录 QQ 并获得授权。

In addition, if you have already logged into QQ from your desktop, the QQ ID used before within the browser history will appear on the desktop screen as well as its avatar. Just click the existing QQ avatar, and then you can also login to QQ quickly and get authorized too.

另外,若你曾经在电脑端登录过 QQ 号,历史记录中存有的 QQ 号也会显示在屏幕中。只要点击这个已登陆过的 QQ 号头像,即可快速登录 QQ 并获得登录授权。

If everything goes smoothly at the time, you will be led back automatically to the Weibo homepage after successful authorization. Then you are free to surf on the Weibo website from the desktop now. Enjoy it!

成功获得授权后,将自动返回至微博首页。此时就能在电脑端上微博啦。

With similar steps to QQ login, you are also able to be authorized to login Weibo through an existing Taobao account as below:

C用同样的方式,你也可以通过登录现有淘宝账户来获得上微博的授权,淘宝授权界面如下: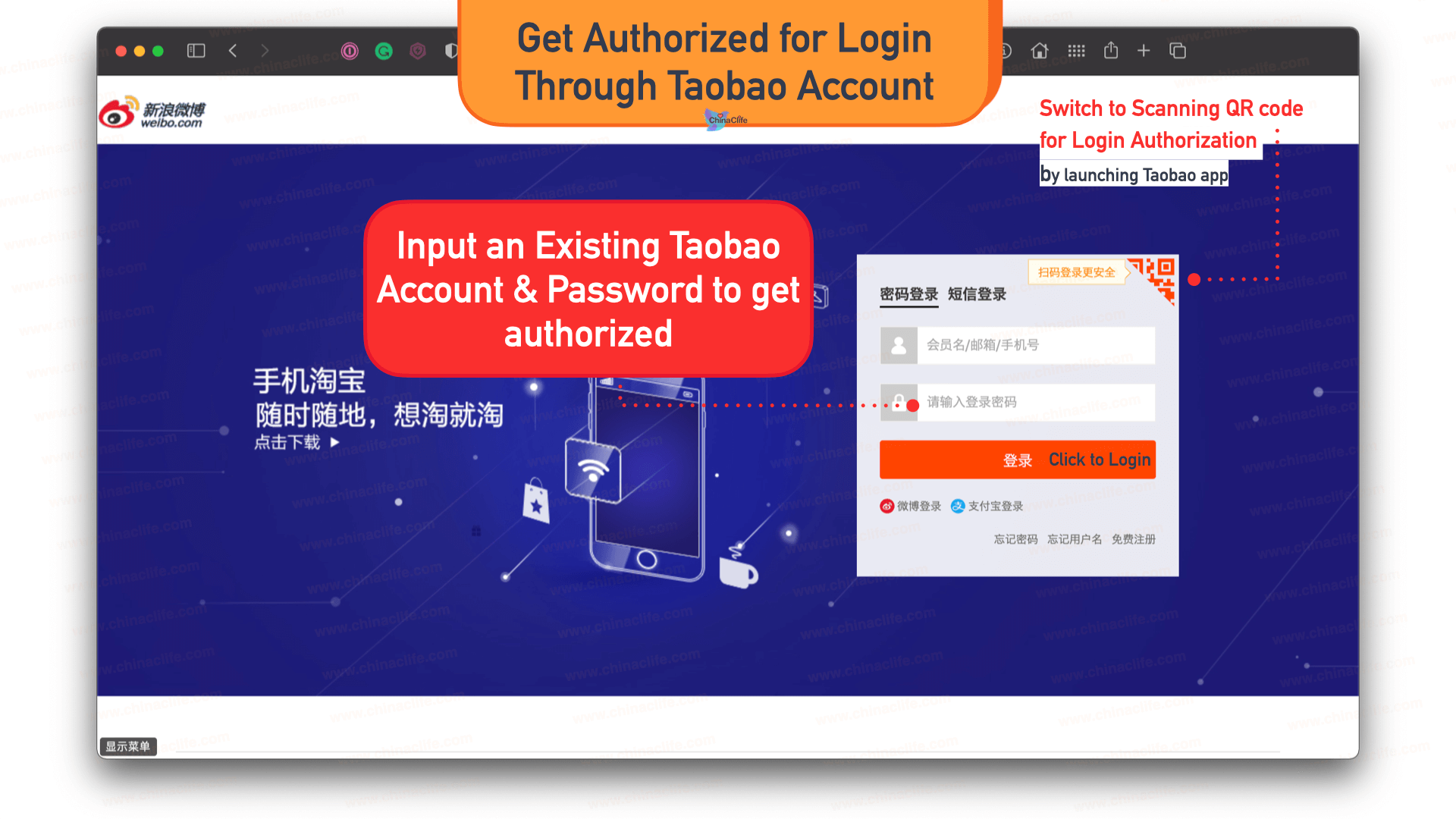 IN ADDITION

Have you got any tips from the bilingual Chinese story above?

Do you have any other questions or suggestions?

You are free to write down in the "Comments" section below.

Any thought from yours could be appreciated, valuable, and might help the rest of the residents on the planet. 😀

Additionally…

Did You Start Learning Chinese with Pinyin?

Continue to read our User-friendly Chinese-Pinyin version of this story

(Unlocked for Free Logged-in and Premium residents only).

Hope it Helps! : )

READ NEXT
More Stories to Be Continued…