"Chinese pastries and desserts mean to be the snacks made with Chinese traditional procedure arts. This story will introduce you the part-one recommendation of the top 10 attractive and delicious Chinese pastries and desserts you shouldn't miss."
TOP 10 BEAUTIFUL & DELICIOUS CHINESE PASTRIES AND DESSERTS    — PART ONE
精致美味的十大中式点心  (上篇)
English Words:       Chinese Pastries and Desserts

Chinese Pinyin:      Zhōng Shì Diǎn Xīn

Chinese Characters:  中式点心

Related Chinese Words:   
    甜点 (Tián Diǎn)| Desserts
    小食 (Xiǎo Shí) | Appetizers, Snacks
    酥点 (Sū Diǎn)  | Pastry, one type of Chinese pastries.
    糕点 (Gāo Diǎn) | Cake, one type of Chinese pastries.
    点心 (Diǎn Xīn) | Dim sum, the name of Cantonese snacks.

Table of Contents
What Are Chinese Pastries "中式点心"?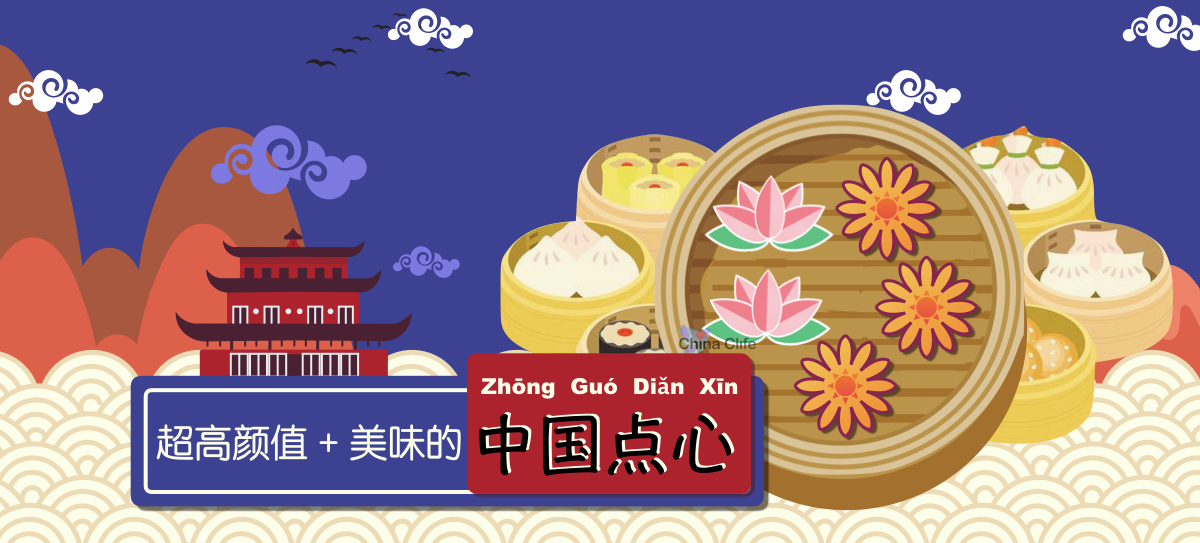 Chinese pastry is the traditional name for Chinese style desserts and snacks. In ancient times, it was referred to breakfast, or some food to relieve hunger, and then gradually evolved into the name of all snacks except dinners. 

点心,是中国人对甜点、小食的传统称呼。古代最早用来指早餐,或者指吃点解饿的食物,后随时代变迁而逐渐演变为正餐以外的小食。

Chinese pastry means the snacks made with Chinese traditional procedure arts. Due to the geographic difference and different flavors among China, Chinese pastry has been developed into hundreds of styles and tastes. Nowadays, Beijing-style, Su-style, and Cantonese-style (also known as "Dim Sum") are the most famous series in China.

中式点心,是指用中国传统工艺加工制作而成的点心。因中国各地风俗风味不同,中式点心的发展形成成百上千种样式,其中以京式点心、苏式点心、广式点心最为著名。

From the professional techniques, Chinese Pasties can be classified into pastry series, mixed sugar dough series, syrup cake series, fried cake series,steamed cake series, puff pastry series, deep-fried series, and others.

若从专业工艺角度来说,则分为:油酥类、混糖类、浆皮类、炉糕类、蒸糕类、酥皮类、油炸类、其他类。

Here we are listing the top 10 most attractive and tasty Chinese pastries and desserts as follows. Please check out.

以下将列出其中颜值最高、美味可口的十大中式点心。一起欣赏吧。

TOP RECOMMENDED?
Top 1.   Lotus Flower Pastry
| 一、   荷花酥  (Hé Huā Sū)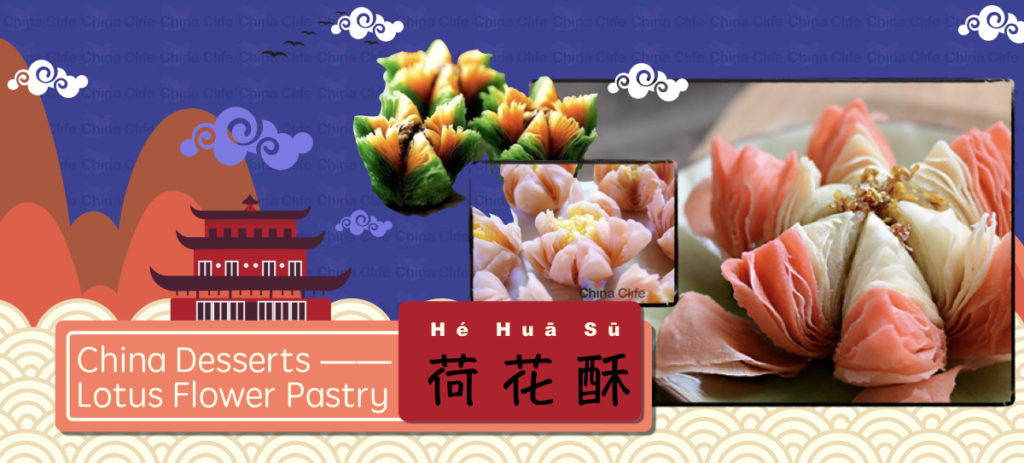 Lotus Flower Pastry is one of the most famous traditional Chinese snacks popular in Hangzhou, Zhejiang province in China.

荷花酥是浙江杭州著名的传统小吃之一。

As recorded, it was originated from Ming and Qing Dynasties in China, and later introduced to be the royal dessert into the ancient Chinese palace.

它源自中国古代明清時期, 曾入宫成为中国宫廷点心。

The Lotus Flower Pastry is made with raw pastry dough (a mixture with fat oil, flour, and water). It is named due to its borning city Hangzhou as well as its appearance like a blooming lotus flower.

用油酥面制成的荷花酥,因诞于杭州,又形似荷花而得名。

Looking at the details, it's clear to see the crispy crusts layer by layer. As a whole, it looks like a vivid lotus flower. As for the taste, it's crunchy and sweet with various stuffings inside.

酥层清晰,好似花瓣舒展,观之形美动人,食之酥松香甜,别有风味。

Moreover, another specialty focuses on the last step to produce the dessert. When the raw pastry dough is putting into hot oil and fried, you are probably amazed by the whole process because all outer crusts like petals spreading out gradually as a real beautiful lotus flower blooming in the hot oil.

其制作工艺中最后一道工序,将点心生胚入油锅油炸时,更仿若花苞在热油中绽放开来,好似莲花盛开,美不胜收。
Top 2.   Plum Pastry
| 二、   梅花酥  (Méi Huā Sū)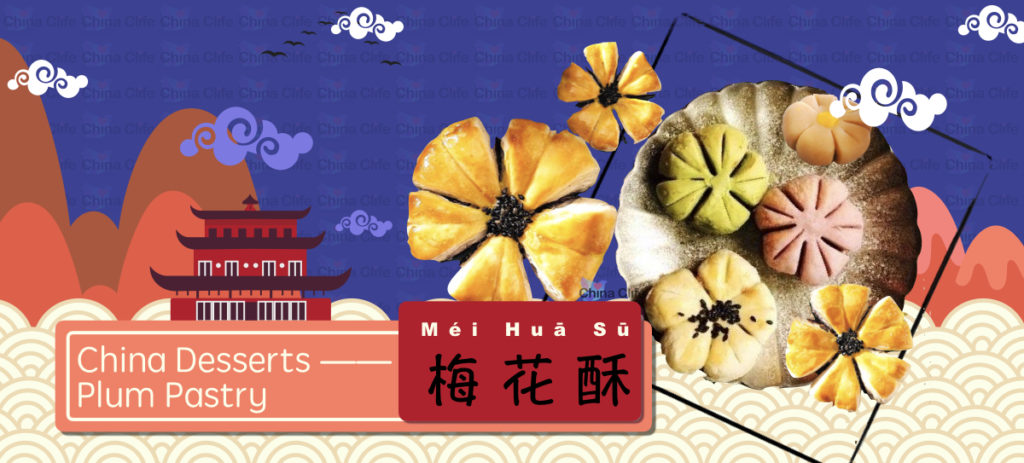 "Plum blossoms come from the bitter cold", this sentence came from a famous Chinese ancient poem. Since ancient times in China, the plum flower has become synonymous with high morality in the mind of Chinese people.

"梅花香自苦寒来"。自古以来,梅花在中国人心中就是品行高洁的代名词。

Plum Pastry is such a classic Chinese pastry, based on the shape of a plum in full blossom, sweet and crispy.

梅花酥,就是这样一款以梅花为造型、香甜酥松、口感油润绵甜的中式点心。

The ancient Chinese named it with the plum flower, enough to show their praise and love for this dessert.

古人以梅花为名,足以可见对这款糕点的赞美喜爱之意。

Although the methods to make them up vary in different locations in China, they're usually filled with red bean or chestnut paste and then produced after roasting.

在中国不同地区,梅花酥有许多不同的做法,但通常以豆沙、栗子泥为馅,经过烘烤而成。

Later, taste the Plum pastries, plus drinking a pot of fragrant China tea. You may enjoy and elegant afternoon.

而后,观之以形,食之以味,再搭配一壶清香好茶,就能享有一段幸福清雅的午后时光。
Top 3.   Chrysanthemum Pastry
| 三、   菊花酥  (Jǘ Huā Sū)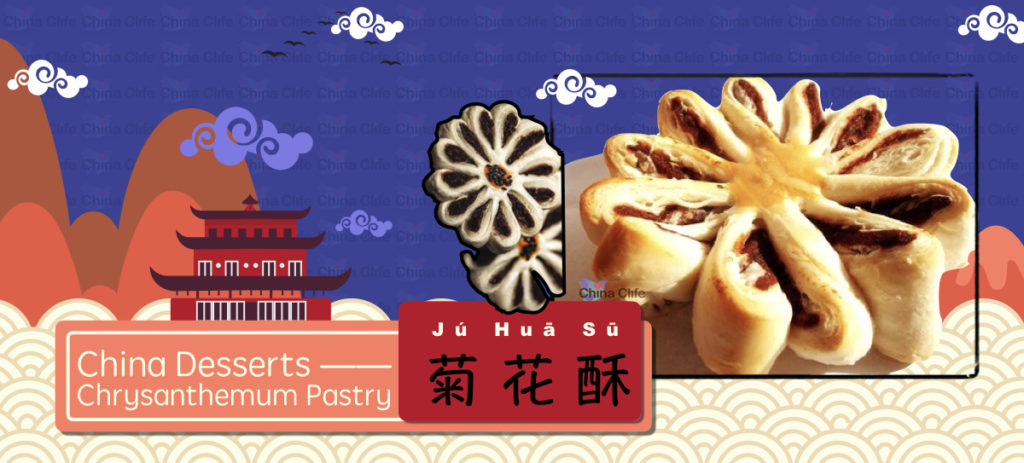 Chrysanthemum Pastry, the name was inspired by its shape like a blooming chrysanthemum flower. It is worthy of praise for both a beautiful appearance and a crispy taste.

菊花酥,因造型像一朵朵盛开的菊花而得名,无论颜值还是味道都十分值得称道。一口咬下去,酥到掉渣。

With regard to the Chrysanthemum flower, blooming in winter seasons, it's one of the cool and elegant flowers that have flourished for countless dynasties in China since ancient times to the present. It always got widely praised, portrayed, and imitated by too many ancient scholars, painters and calligraphers. That also results in the name of Chrysanthemum Pastry given to this Chinese dessert.

说到菊花,清凉典雅,是中国从古至今繁衍了无数朝代的古老花卉之一,广受古代文人墨客、书画家们反复歌颂、描绘和仿制。这也是赋予此点心为"菊花酥"这个名字的原因。
Top 4.   Begonia Pastry
| 四、   海棠酥  (Hǎi Táng Sū)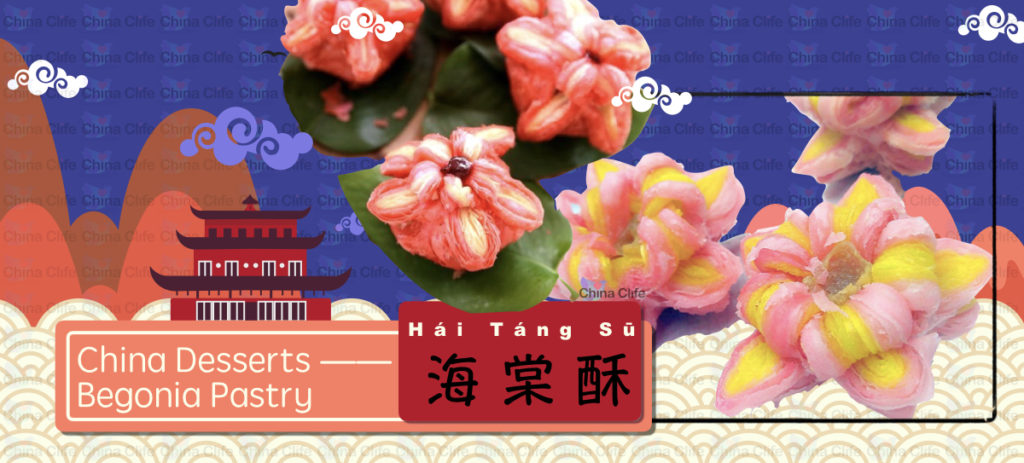 Begonia Pastry, also a classic Chinese dessert, is reinvented based on traditional cakes popular in the Anhui province of China.

中国传统名点海棠酥是在安徽传统糕点基础上的创新之作。

With a great flower shape, sweet fillings, a crispy and moist taste, it looks like a blooming Begonia flower in a plate.

造型美观,外酥内甜,松软滋润。盛入盘中宛若一朵盛开的海棠花。
Top 5.   Dingsheng Cake
| 五、   定胜糕  (Dìng Shèng Gāo)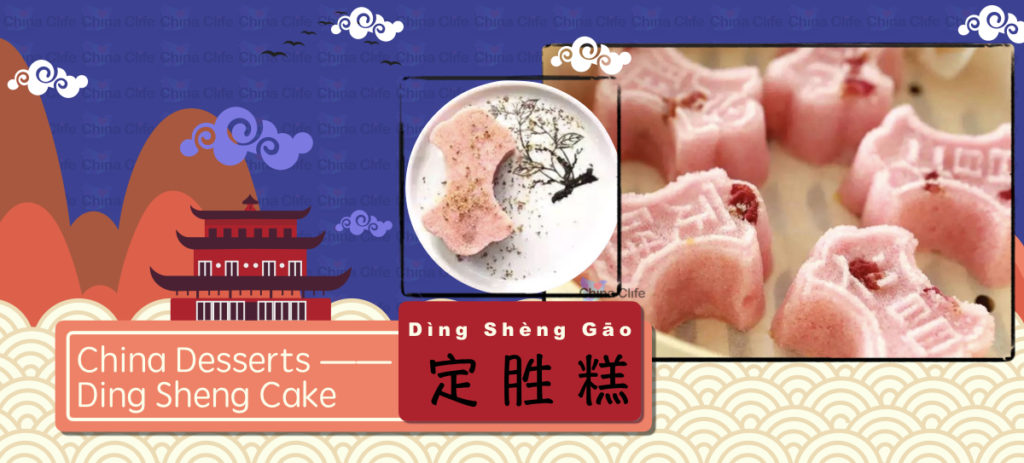 Ding Sheng Cake, also a traditional snack from Hangzhou city in China, is mainly steamed with a mixture of round-grained rice and glutinous rice. It benefits from the delighted pink color, sweet soft and sticky taste.

定胜糕也是杭州的小吃。主要由粳米和糯米蒸制而成。颜色喜庆,松软清香,入口甜糯。

According to the legend, ancient folks living in the Southern Song Dynasty, in order to inspire officers and soldiers to win battles, tried to engrave on the surface of cakes with two Chinese Chinese characters "Ding Sheng", which means "Must-Win" or "Victory", hence named it as "Dingsheng Cake".

相传是南宋时期的百姓为鼓舞出征的将士而制成的糕点,因在糕面上刻有"定胜"二字,寓意"必胜",最终被称为"定胜糕"。

IN ADDITION

Have you got any tips from the bilingual Chinese story above?

Do you have any other questions or suggestions?

You are free to write down in the "Comments" section below.

Any thought from yours could be appreciated, valuable, and might help the rest of the residents on the planet. 😀

Additionally…

Did You Start Learning Chinese with Pinyin?

Continue to read our User-friendly Chinese-Pinyin version of this story

(Unlocked for Free Logged-in and Premium residents only).

Hope it Helps! : )

Tips: The full content to show for Free Logged-in and Premium residents only. Please click Log-In / Sign Up for Free button on the top right to unlock them.

For Logged-In Members Only

READ NEXT
More Stories to Be Continued…
See u soon… : )