"Didi Chu Xing, China's ride-hailing giant, trying to provide people smart and future-level transportation models and change people's mobility life."
DIDI CHU XING IN CHINA  |  滴滴出行
(A Brief Introduction)
English Words:       DiDi Chuxing

Chinese Pinyin:      Dī Dī Chū Xíng

Chinese Characters:  滴滴出行

Similar Chinese Words:   
    滴滴打车 (Dīdī dǎchē)| To hail a ride by using DiDi app.
Related Chinese Words:   
    网约车 (Wǎng yuē chē)| The car-hailing transportation service.
    顺风车 (Shùn fēng chē)| The hitch service.
    拼车 (Pīn chē) | Carpool service.
    叫车 (Jiào chē)| To call a car-hailing or taxi-hailing service.
Related App: 
    滴滴出行 (Dīdī chūxíng)| China's top ride-hailing app.

Table of Contents
What is "Di Di Chu Xing (滴滴出行)" ?
| 什么是"滴滴出行"?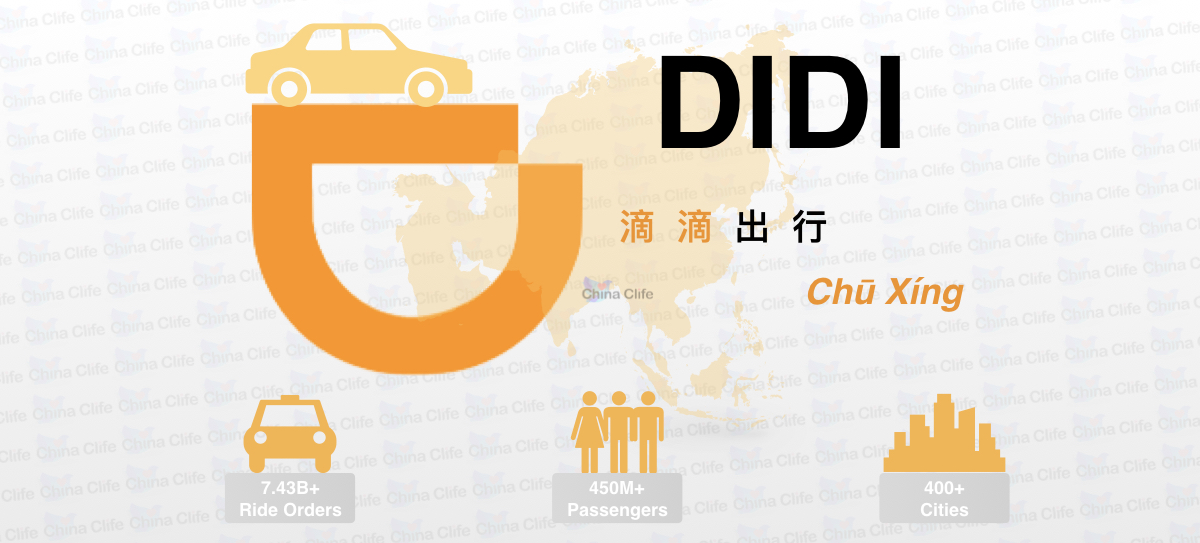 What's "DiDi"? 
关于"滴滴"
"DiDi", written as "滴滴" in Chinese, was often used as an onomatopoeia, or a kind of quantifier. It is pronounced in Chinese similar to a kind of car horn.

"滴滴"常作为一个象声词,或数词。中文发音同"嘀嘀"相似,模拟一种汽笛声和汽车喇叭的发音。

However, until recent years in China (from 2019 to the present), the thing has got a little changed. If you heard people talking about "DiDi" in your daily life, on many occasions, they mentioned the use or of the "DiDi Chu Xing" app or the ride-hailing service provided by China's ride-hailing platforms.

而在近几年的中国,尤其是从 2012 年至今,如果在日常生活中听到人们说起滴滴,很多场景下人们提到的是使用"滴滴出行"打车或乘坐快车/专车等网约车出行的服务。

Another Chinese word "Didi Da Che (滴滴打车)" is just the pre-name of the app "DiDi Chu Jing (滴滴出行)".

"滴滴打车",正是"滴滴出行"的名称的前身。
About "DiDi Chu Xing"
关于"滴滴出行"
DiDi Chu Xing (滴滴出行), China's smart ride-hailing giant, which can be understood as Chinese Uber, aims to build China's future-level smart transportation and the new model of mobility in China.

滴滴出行,是中国的智能出行服务提供商,可理解为中国版的 Uber,致力于打造中国未来级的智能交通和新出行方式。

In China, DiDi Chuxing has provided more than 450 million users (based on 2017 data) with a series of one-stop transportation services, such as Car-hailing (DiDi Express/Premier/Luxe), DiDi Taxi-hailing, Agent Driving, Ride-Hitch (ride-sharing), Carpools, Bike-sharing, real-time scheduled public transportation of Bus, Car Charging, Car Refueling, etc, and also the new business like food delivery.

在中国,滴滴出行已为超过 4.5 亿用户 (基于 2017 年的数据)提供网约车(专车/快车/豪华车)、网约出租车、代驾、顺风车、拼车、共享单车、公交、充电、加油等全面的一站式出行服务以及发展外卖等新业务。

Besides, DiDi also dedicated to exploring the global market. It is known that since August 2017, DiDi has established investment and technology partnerships with the world's leading ride-sharing companies, including Lyft, Grab, Ola, Uber, 99, Taxify, Careem, and more. As of the beginning of 2020, DiDi Chuxing has achieved over 1 billion orders overseas.

在全球,滴滴也积极着手开拓海外市场。自 2017 年 8 月起,滴滴与世界领先的七大出行共享服务公司建立了投资及技术合作伙伴关系,包括 Lyft、Grab、Ola、Uber、99、Taxify、Careem 等等。截止 2020 年初,滴滴出行已在海外实现累计服务超 10 亿次出行订单。

WHAT IT MEANS IN CHINA?
What Does "DiDi Chu Xing" Mean to Chinese People?
| 滴滴出行对中国人的意义
It is witnessed the fact that it only takes a few years for DiDi Chuxing (from 2012 to the present) but has almost changed countless Chinese people's transportation and trip habits in nearly all China cities.

在中国,滴滴出行用短短数年时间(从 2012 年至今)改变了几乎全中国各大中小城市里无数人的出行习惯。

Before, people used to call a taxi by standing on the roadside and waving the hand for hailing; But now, people prefer to launch the DiDi app in advance, send a request online to call a taxi or an available car nearby, then go out for waiting for pick-up and start a ride to the destination (check out "Latest Steps on Using DiDi more Safely to Hail a Ride in China Cities".).

人们从过去在路边招手拦出租车,变为在家中掏出手机,提前叫好(约好)附近地滴滴司机后再出门。(见"安全使用滴滴打车的步骤")

Before, people have to pay the fare by cash before getting off the taxi. But now, they prefer to bind DiDi app with at least one online payment method like Alipay or WeChat Pay, so that they can quickly get off the car after arriving at the destination because the fare has already been deducted automatically after the trip is confirmed to be ended (see "Mobile Payment in China").

从先掏钱(现金)付完车费再下车,变为到达目的地后直接下车走人,手机应用自动完成扣费(见"在中国移动支付"篇)。

Before, people have to only choose between taxis or public transportation in the past. But now, it has developed to be a variety of choices that people can free to choose anyone from car-hailings, carpools, taxi, public bus, underground railways, sharing bikes, and more flexibly.

过去出门时,人们只能在出租者或公共交通中二选一作出行,逐渐发展成可在快车、顺风车、网约出租车、公交、地铁、共享单车等多种出行方式中灵活选择。

In China, there are almost hundreds of thousands of people using DiDi for a trip every day. According to DiDi's official data of 2017, 450 million users in more than 400 cities across China have produced a total of 7.43 billion trip orders with the DiDi Chuxing app, with a daily volume of up to 25 million. That's to say, every Chinese has hailed a ride via DiDi app 5 times on average.

据官方发布的2017年数据,400 多个城市的 4.5 亿用户创造了滴滴出行的订单量 74.3 亿,日订单量高达 2500 万。平均每个中国人用滴滴打过 5 次车。

IN ADDITION
Questions & Additional
Have you got any tips from the bilingual Chinese story above?

Do you have any other questions or suggestions?

You are free to write down in the "Comments" section below.

Any thought from yours could be appreciated, valuable, and might help the rest of the residents on the planet. 😀

Additionally...

Did You Start Learning Chinese with Pinyin?

Continue to read our User-friendly Chinese-Pinyin version of this story

(Unlocked for Free Logged-in and Premium residents only).

Hope it Helps! : )

Tips: The full content to show for Free Logged-in and Premium residents only. Please click Log-In / Sign Up for Free button on the top right to unlock them.

For Logged-In Members Only

READ NEXT
More Stories to Be Continued...
See u soon... : )