What Is "DiDi" and How to Get DiDi App?
| 关于"滴滴"打车
DiDi, known as its full Chinese name of "滴滴出行 (DiDi Chuxing)", is China's most popular and largest ride-sharing platform to offer extensive mobility transportation services in both China and the global market.

滴滴,中文全名为"滴滴出行",是中国最受欢迎的也是规模最大的、面向中国和全球市场提供多元化移动出行服务的平台。

No matter you're going to China for a term of study, working, or traveling, how to use DiDi safely for ride-hailing in China cities is a must-have skill that you should learn in advance.

无论你是打算在中国学习、工作或旅游,学会如何使用滴滴打车在中国各城市内通行都是一项需提前掌握的必备技能。

With the help of real-life experiences in China, numerous foreign visitors considered China to be one of the much safer countries in the world, as its strict prohibition on gun-violence/drugs by law and its unique oriental culture. Although China now has the most population, of over 1.4 billion, and a lower crime rate, it is still difficult to avoid any risk of ride-hailing crimes occurring.

借助真实的亲身经历,许多国际游客认为中国是世界上更安全的国家之一,因为无论是中国的法律和还是其独特的东方文化都严令禁止枪支暴力和毒品。虽然中国现在是拥有14亿多的人口大国,犯罪率也较低,但依然很难避免网约车犯罪案件的发生。

The recent years' murders and criminal cases related to this ride-hailing app pushed DiDi to do more things focusing on its app's safety and also the enhancement of passengers/drivers' safety awareness.

近几年与滴滴打车应用相关的网约车犯罪案件促使滴滴更专注于提升打车应用的安全性以及增强乘客/司机的安全意识。

Below is a bilingual story we wrote for overseas females, expats, and tourists to China, trying to share the latest steps on how to use DiDi more safely to hail a ride in China cities with images of demonstrations. You can follow the guide to get the DiDi app installed at first and then learn how to use it to have a safe ride-hailing trip in China cities. Hope it helps.

以下是为来华的女性、外籍人士和国际游客撰写一篇双语故事,旨在分享有关如何在中国城市里更安全地使用滴滴打车的最新步骤和示意图。你可以按照教程提示的步骤先安装滴滴应用,进而学会如何使用滴滴在中国城市里体验一次安全的打车行程。希望对大家有所帮助。
Who Are Applied To This Guide?
| 本教程适用的群体?
The following guide may applies to:

以下教程适用于:

A. Overseas Women who are now in China or about to go to China soon.

A. 正在中国或即将前往中国的海外女性;

B. Expats who are working or will work in China.

B. 即将或正在中国工作的外籍雇员;

C. Foreign Tourists who are enjoying the trip to China or have such plans later.

C. 正在中国旅游或有该计划的游客;

D. Anyone Who is keen on learning the Chinese language or related life skills.

D. 任何正在学习汉语或相关生活技能的人;

HOW TO DO?
Latest Steps: How to Use DiDi More Safely to Hail a Ride in China Cities
| 更安全地使用滴滴打车的步骤
Take the Chinese Capital city - Beijing as an example. That should be the most prior destination to China for the majority overseas. And the following device iPhone is used for illustration here.

以下步骤,以 北京市 为例。这应该是大多数海外人士最优先考虑的中国目的地。下列截图以苹果手机作为示例。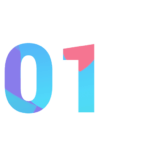 Step 01.   Login to DiDi After Sign up
| 步骤一、 先注册/登录滴滴
Make sure you have installed the DiDi app on your mobile device. If not, get the right app from the App store at first by searching the keyword of DiDi.

请确保你的手机上已经安装了滴滴出行的应用。若尚未,可搜索关键词"DiDi" 来找到并安装正确的应用。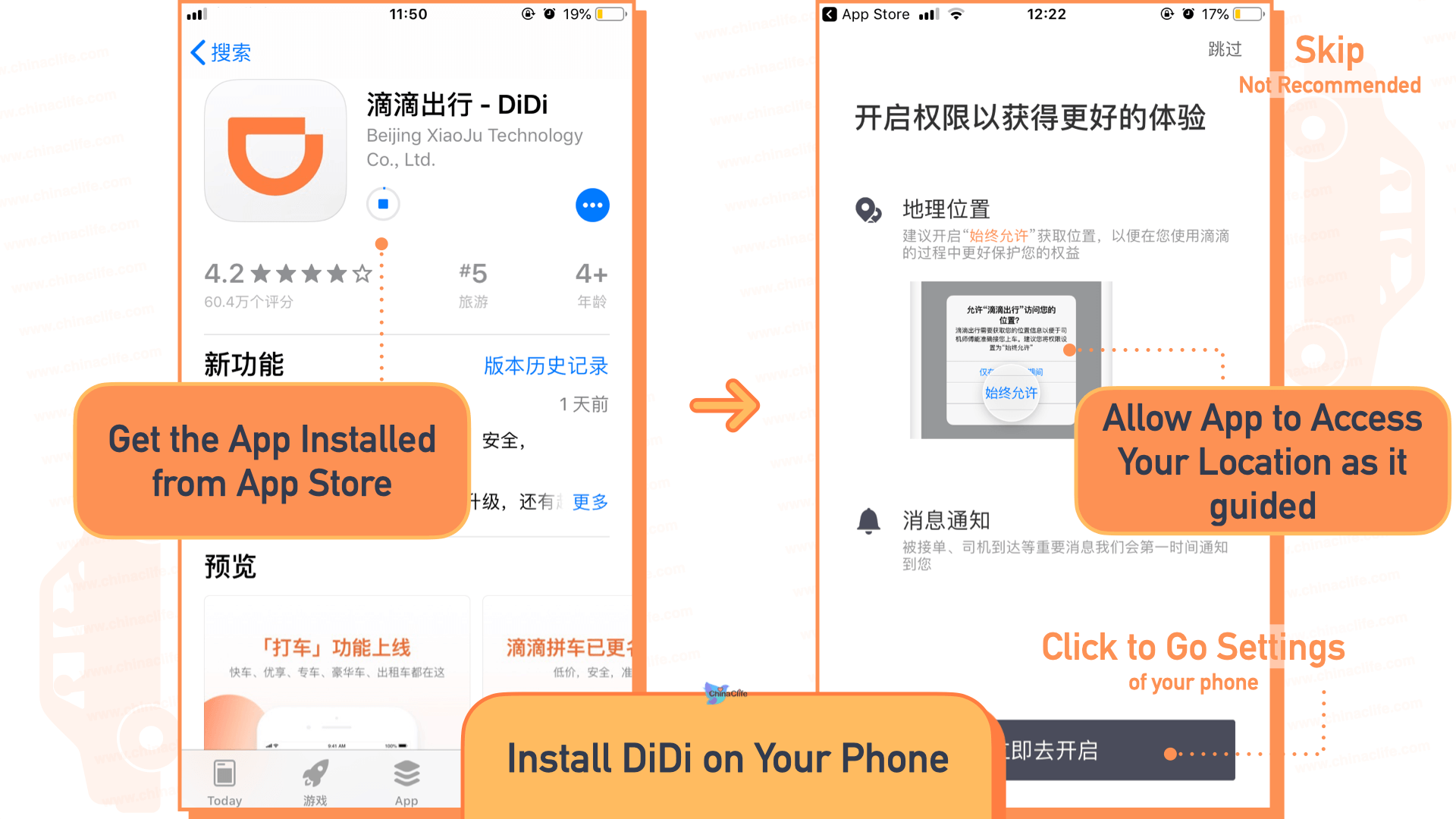 For a fresh user or device, the app may ask you to allow it to access your location when it is launched initially. Just tap the button below and then go to change the setting as instructed since this feature should be quite important for a ride-sharing app. Furthermore, it also gets related to the default real-time location sharing feature, more of which could be reached from the "Safety Center" in DiDi.

新用户或新设备首次启动应用时,需要开启权限允许应用访问您的地理位置。这对一个提供共享出行服务的应用来说异常关键,因此,请按照提示的步骤,点击下方按钮并前往手机设置开启权限。另外,它也与滴滴提供的默认的实时位置分享功能相关。可前往滴滴应用内的"安全中心"了解更多。

Next, the user will be lead to the DiDi's login page, as below. Here it's easy to log into DiDi with your registered phone number, or an existing Chinese social accounts like Alipay or WeChat account. Please note: it will be unable for DiDi to contact you or your emergency contacts in cases of danger if you use DiDi to call the police without logging into your DiDi account.

然后,如下所示,进入了滴滴的登录界面。在这里,老用户可以用已注册过滴滴的手机号码,或现有的支付宝或微信账号就能轻松地登录滴滴应用。注意:若不先登录就使用滴滴打车的话,遇到危险报警时滴滴将无法联系到你本人或是你的紧急联系人。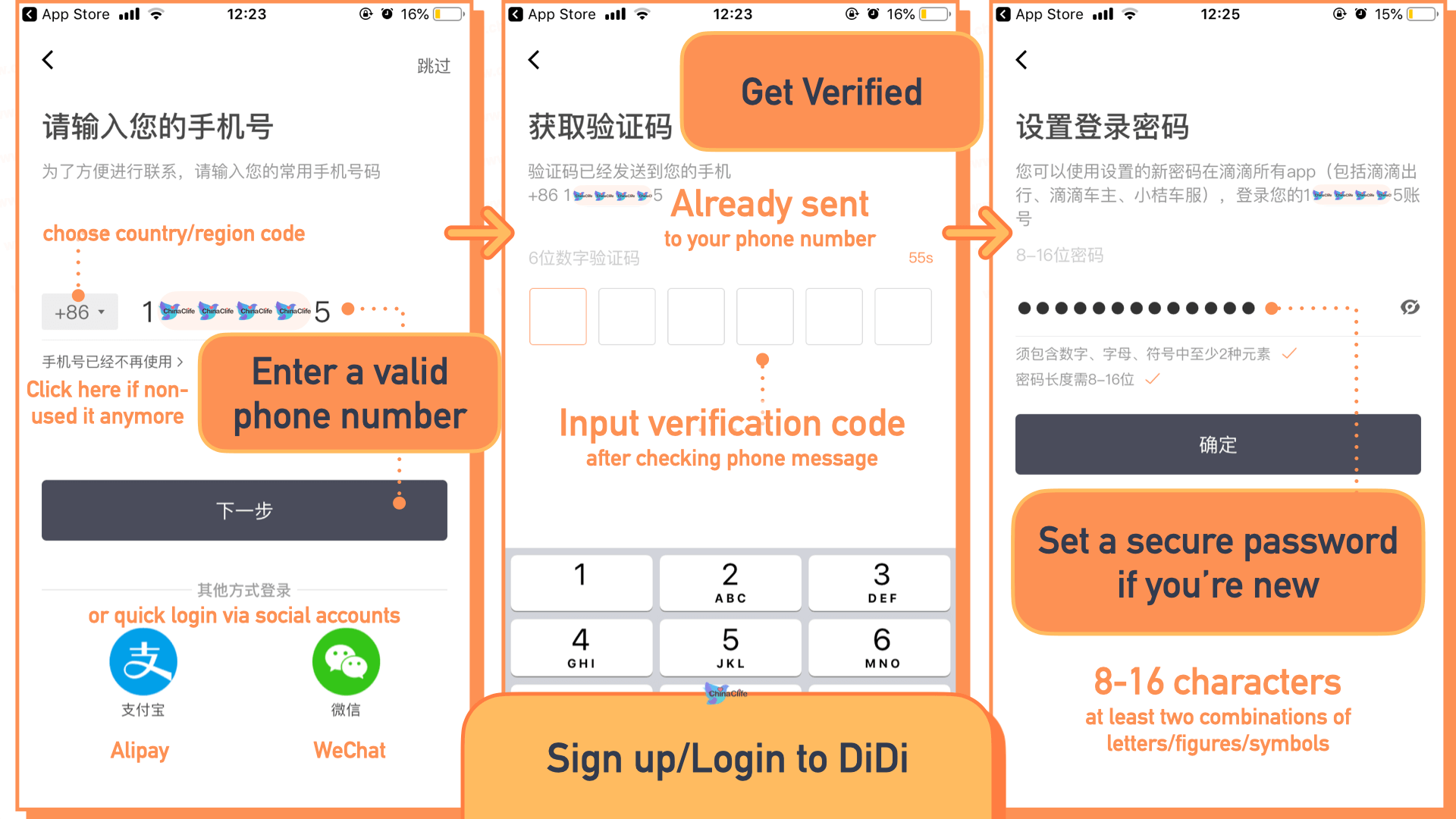 For fresh users, creating a DiDi account is necessary and urgent right now. Please first to change the country or region code if necessary, then enter your valid phone number and tap the Next button to get the phone number verified.

而新用户就急需注册一个滴滴账号了。请输入一个合法有效的手机号码,若有必要可以先点击更改对应的国家/地区代码,然后点击下一步进入手机号验证环节。

Then, a 6-figure verification code should be auto-sent via the message to the phone number you just submitted. Enter the correct verification code once you receive this message or you have to resend it with a click.

此时,一个六位数的验证码应已通过短信自动发送到你的手机上了。输入已收到的验证码,或者点击选择再次发送。

Once getting verified with success, the new user will be asked to set up an 8-to-16-character password. Please make it as much stronger as possible, long enough plus at least two combinations of letters/figures/limited symbols.

验证成功后,新用户需设置一个长度为8-16位的密码。请设置一个更安全的密码,如尽量长一些且由数字、字母、符号中任两种组合而成。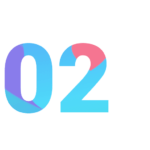 Step 02.  Change the Interface Language
| 步骤二、 切换界面语言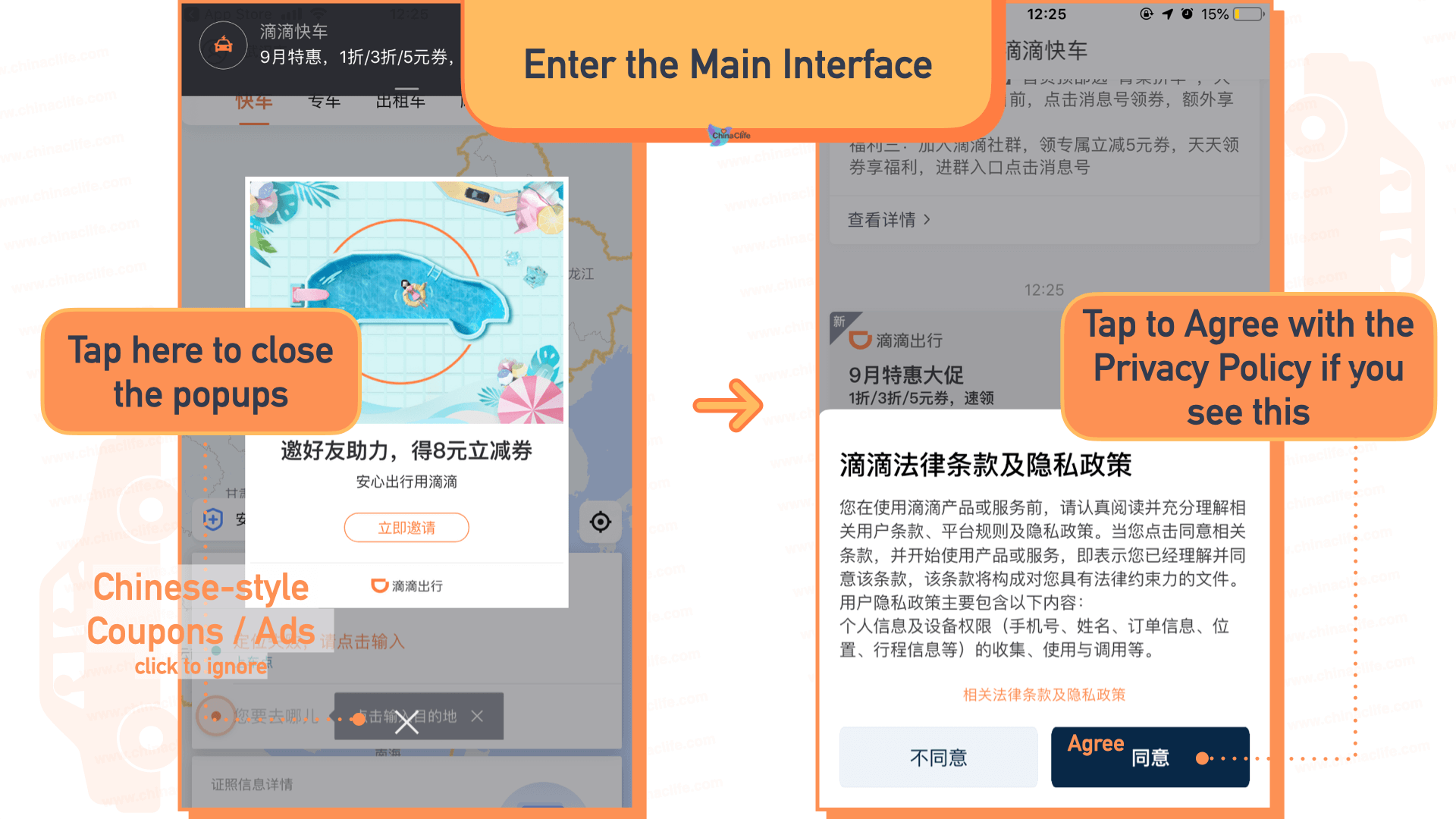 If the login step goes smoothly, you will be lead to the main interface of DiDi, probably with some pop-ups. Tap the dark button to agree with Privacy Policy if you see the following pop-up and also close the coupon ads with another click depending on your choice. Then you can reach the actual main interface.

成功登录滴滴后,将看到滴滴出行的主界面,以及随之而来的弹出菜单和广告。若遇上有关隐私政策类请求,请点击深色按钮表示同意。至于其他优惠券类广告弹窗,可选择点击关闭或其他。随后,进入了真正的滴滴主界面。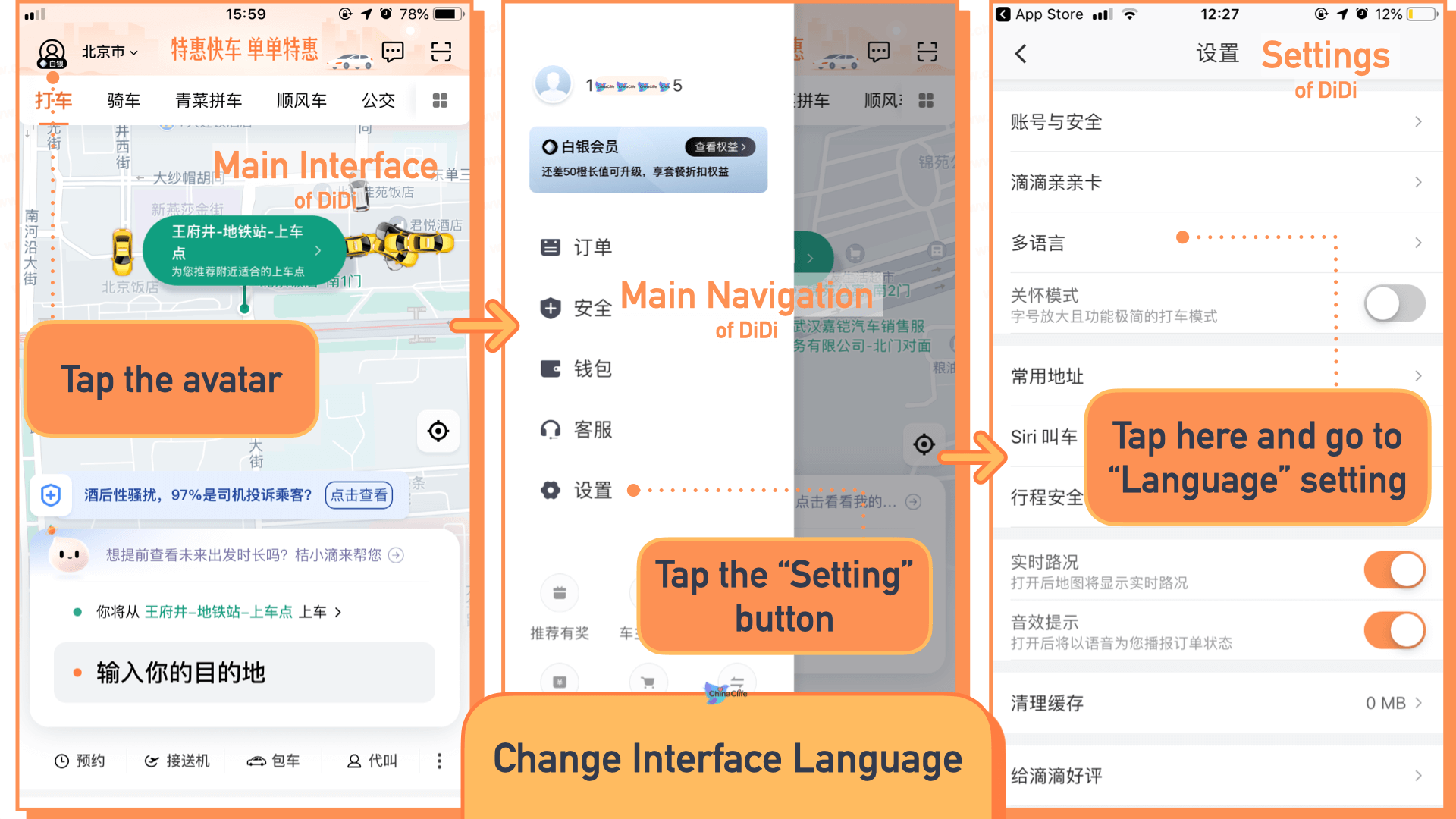 If you get a fully Chinese interface, now you can go to switch the language to English by tapping the top-left user avatar on the main interface - "设置 (Settings)" button on left navigation - "多语言 (Language)" button in order. DiDi app only supports Chinese and English at present.

对遭遇全中文界面的用户,此时可以依次点击主界面 - 左上角的用户头像 - 左侧弹出菜单中的"设置"按钮 - "语言"按钮,将界面语言切换成英语。目前,滴滴仅支持中文和英语两种语言。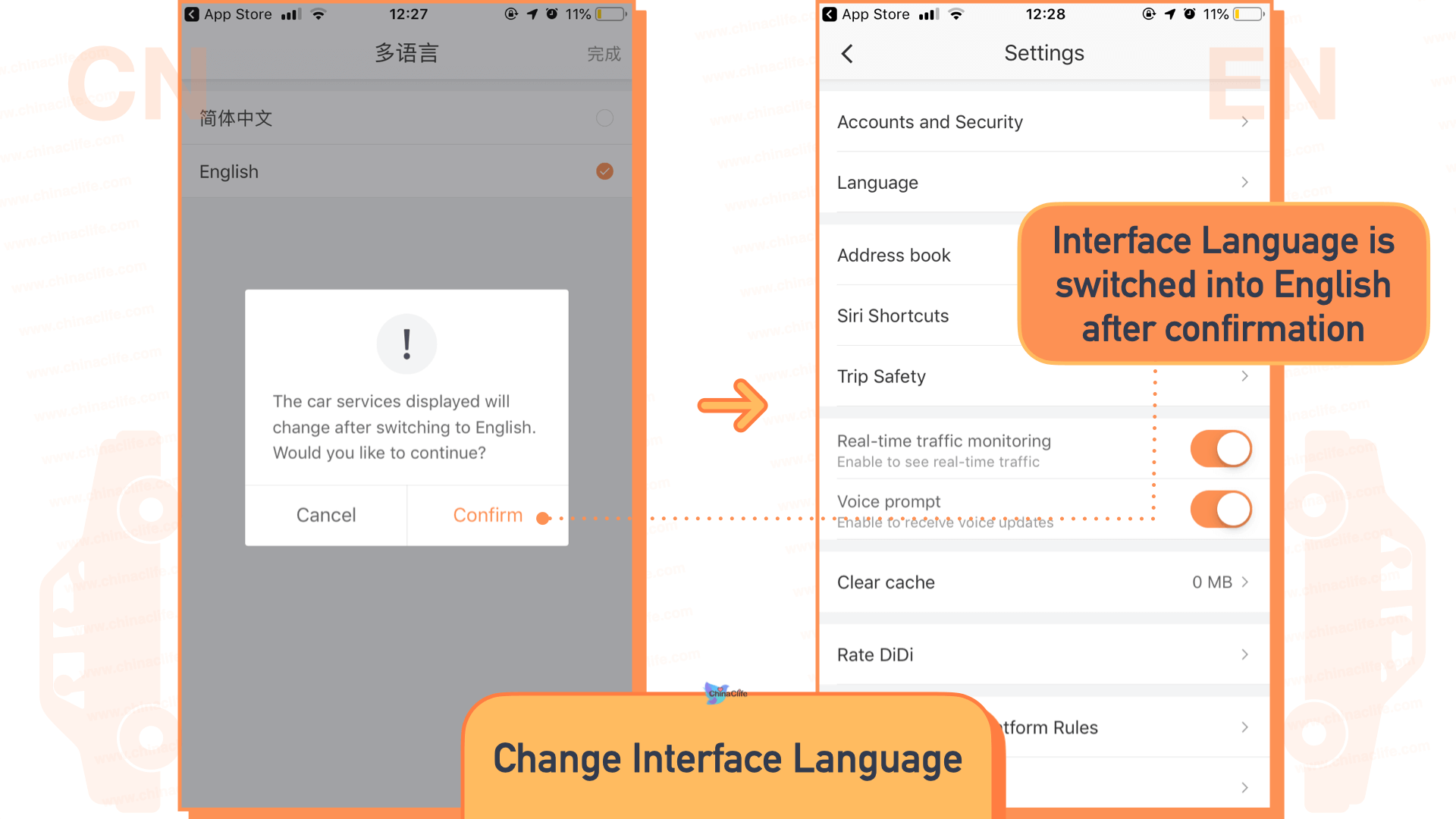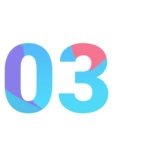 Step 03.   Add Emergency Contacts in Safety Center
| 步骤三、 增加紧急联系人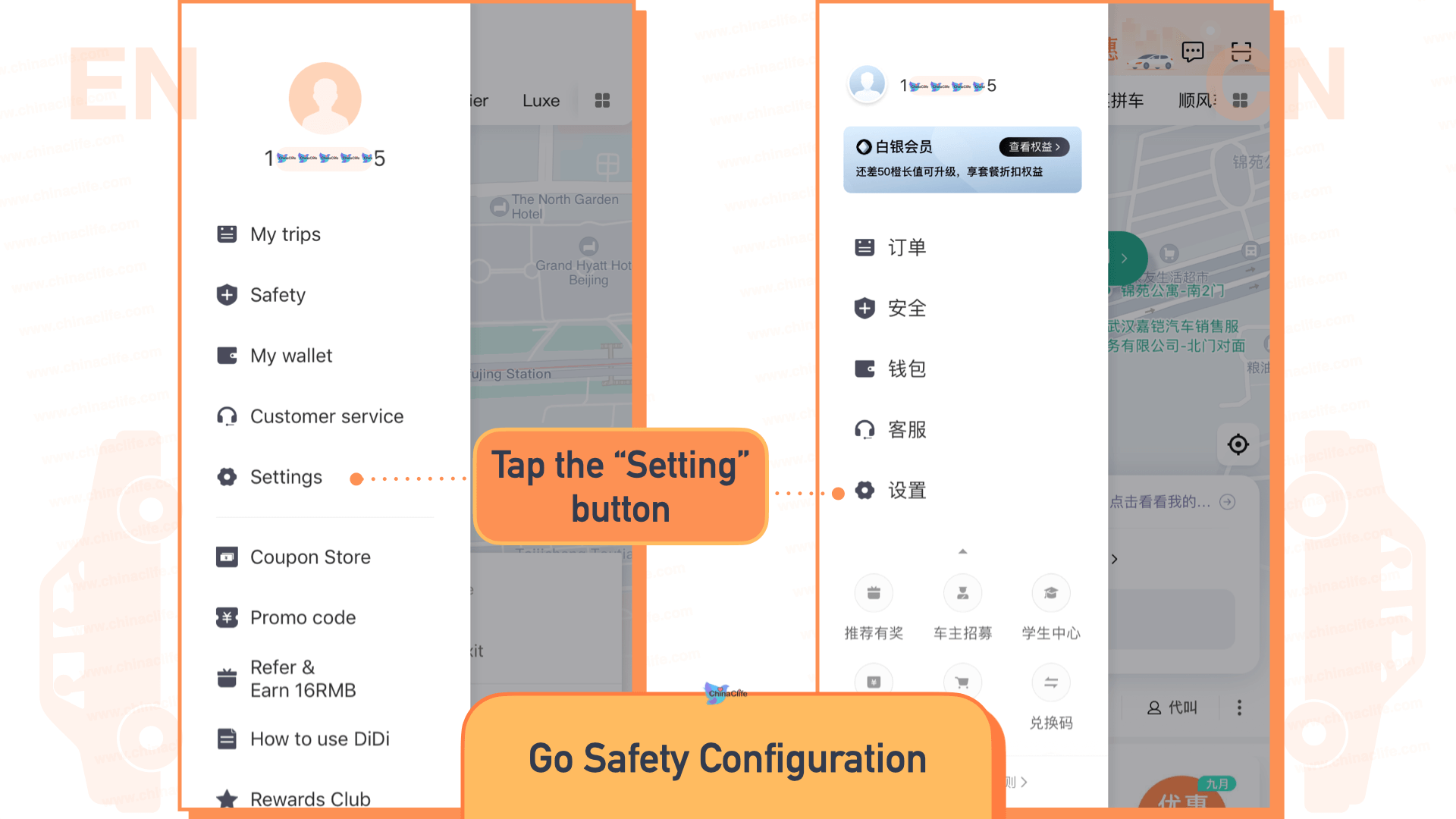 Similarly, go to the "left main navigation" by tapping the top-left user icon, tap "Safety (安全)" and then you will reach the "Safety Center (安全中心)", where you can check your current safety awareness score and learn everything about how to promote the score and so does the safety of your DiDi account.

同样的,通过点击头像进入"主菜单",点击"安全"可到达滴滴的"安全中心"界面。在这里,你可以查看到你的滴滴账号目前拥有的安全意识分,了解与提高安全意识分以及你的账号安全有关的一切知识。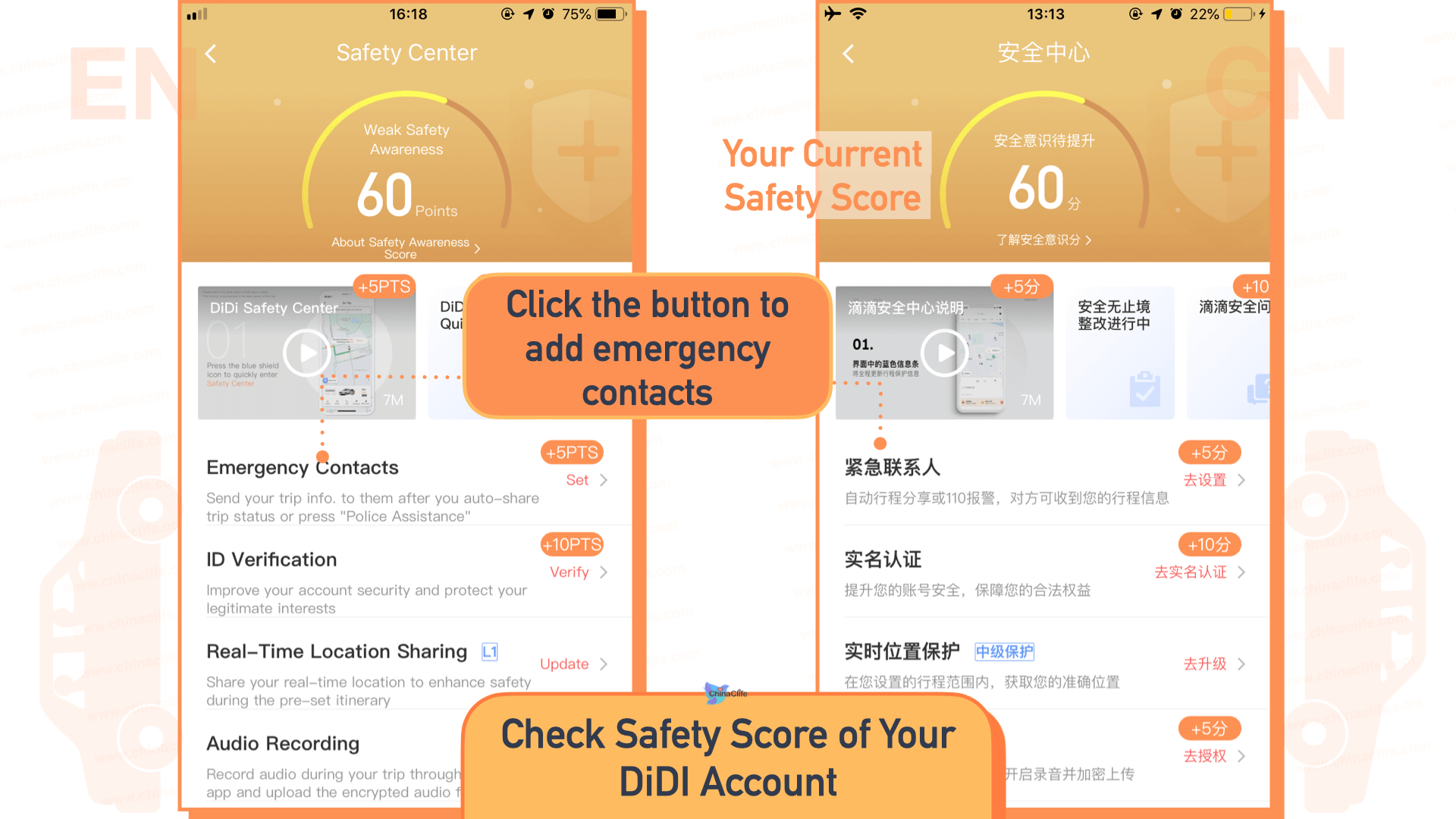 The higher your safety awareness score is, the safer your DiDi account could be. Therefore, the first thing to promote your score is to add at least one emergency contact, the trusted person who is permitted to receive your trip information auto-sent by the DiDi app while you are hailing a ride via the DiDi app.

你的安全意识分越高,你的滴滴账号就越安全。因此,首当其冲要做的事就是添加至少一位紧急联系人,允许他/她收到来自滴滴自动分享的你正在使用滴滴打车时的行程信息。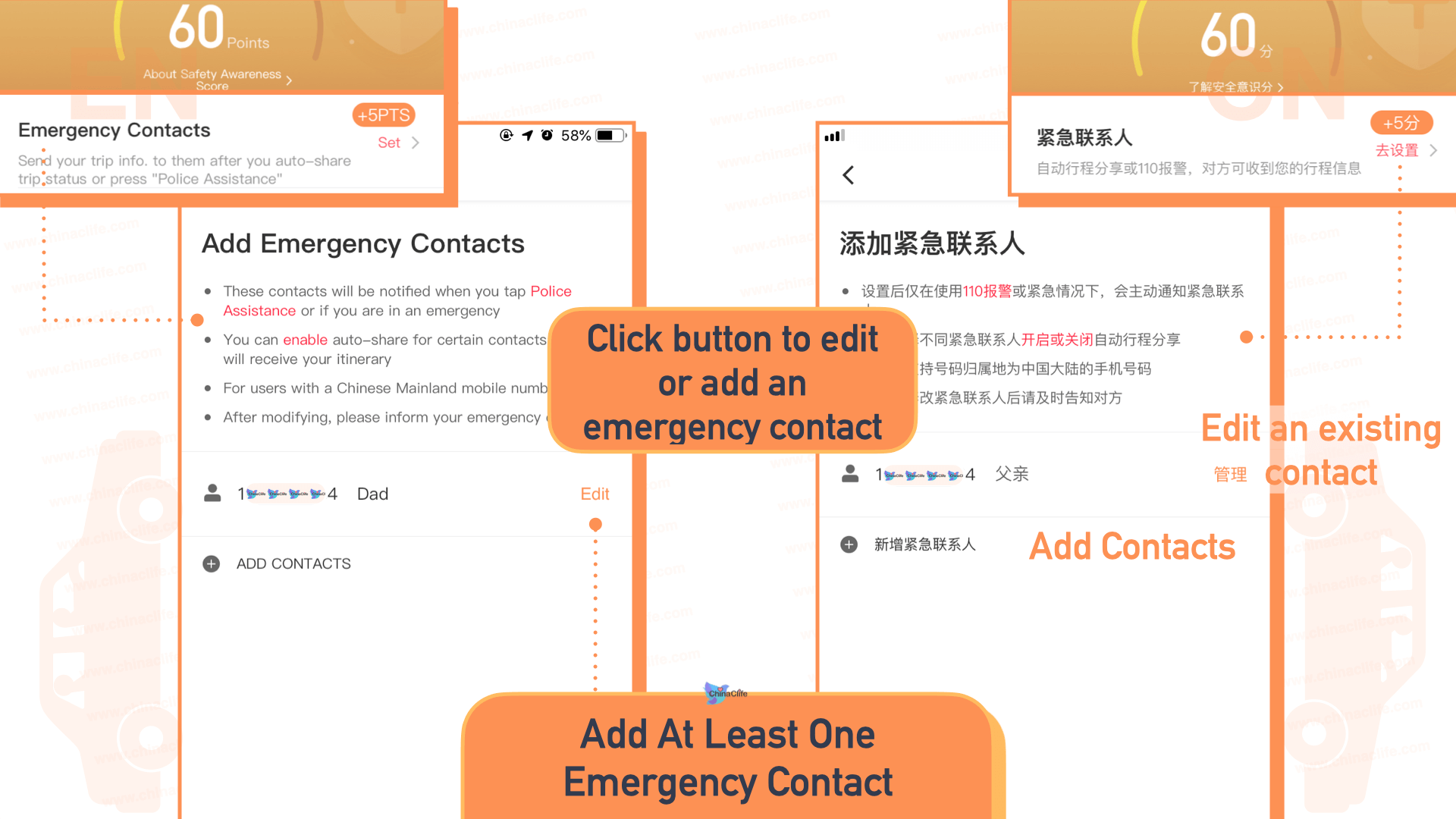 As the screenshot guided, tap the button "Emergency Contacts" - "Add Contacts" to add a new one. Or you can tap the "Edit" button to change the setting of an existing contact.

如图所示,可点击"紧急联系人" - "新增紧急联系人"来添加。或点击"管理"来变更已有紧急联系人的信息。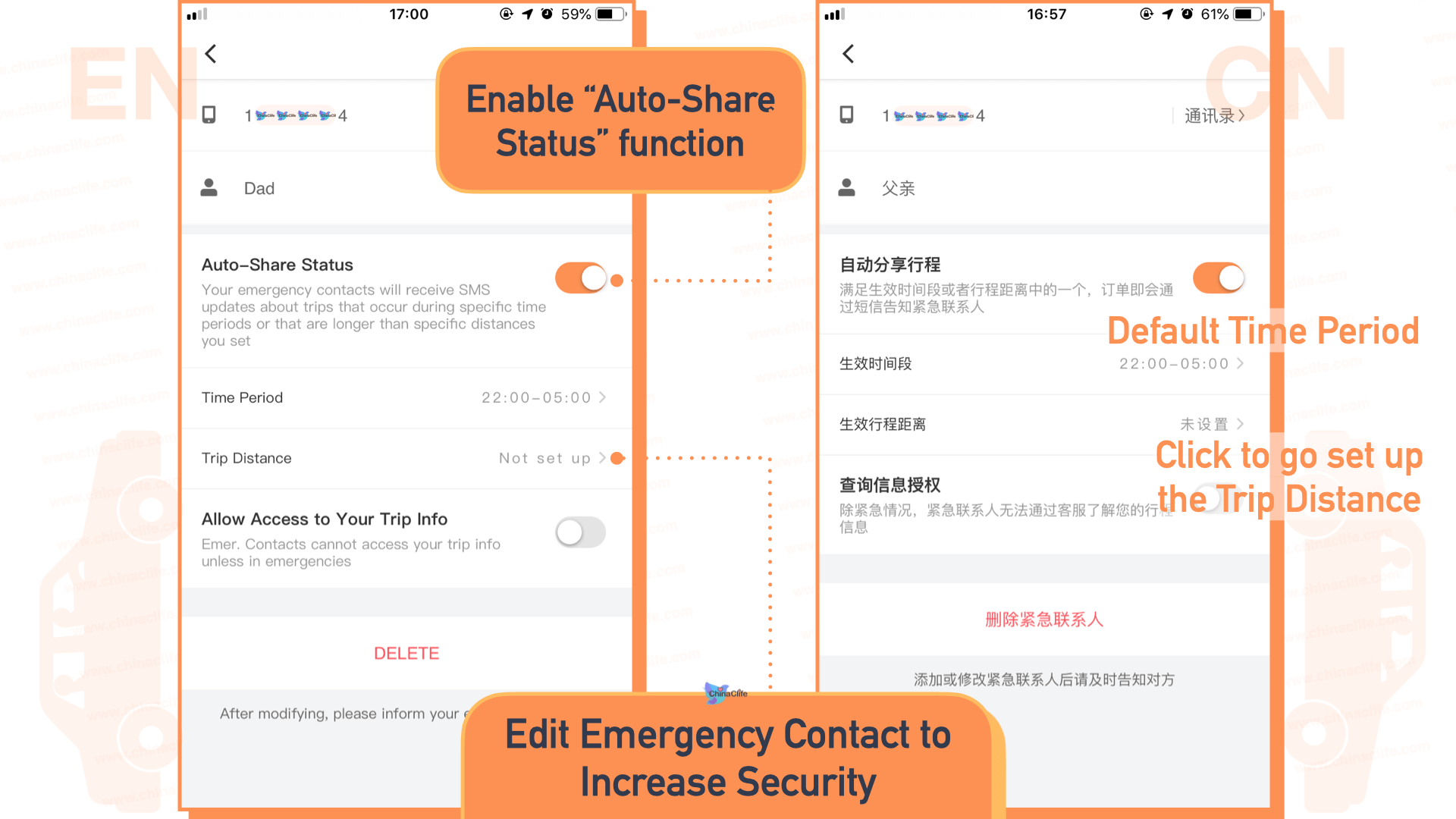 Make sure you have turned on the "Auto-Share Status" feature for your emergency contact person which is the key function for strengthening your trip's safety.  Then you can decide when (default time period is OK) and how far your trip occurs to trigger the auto-sharing feature by changing the value or keep the default settings, to avoid over sending messages to disturb your contacts. Check out the official video here.

增强安全性最关键的一步是,请确保已对该联系人开启了"自动分享行程"功能。然后,你可以默认或更改设置来决定在哪一个时间段(默认时间段还不错)和行程距离内才触发自动分享行程的功能,避免发送过量短信打扰到你的紧急联系人。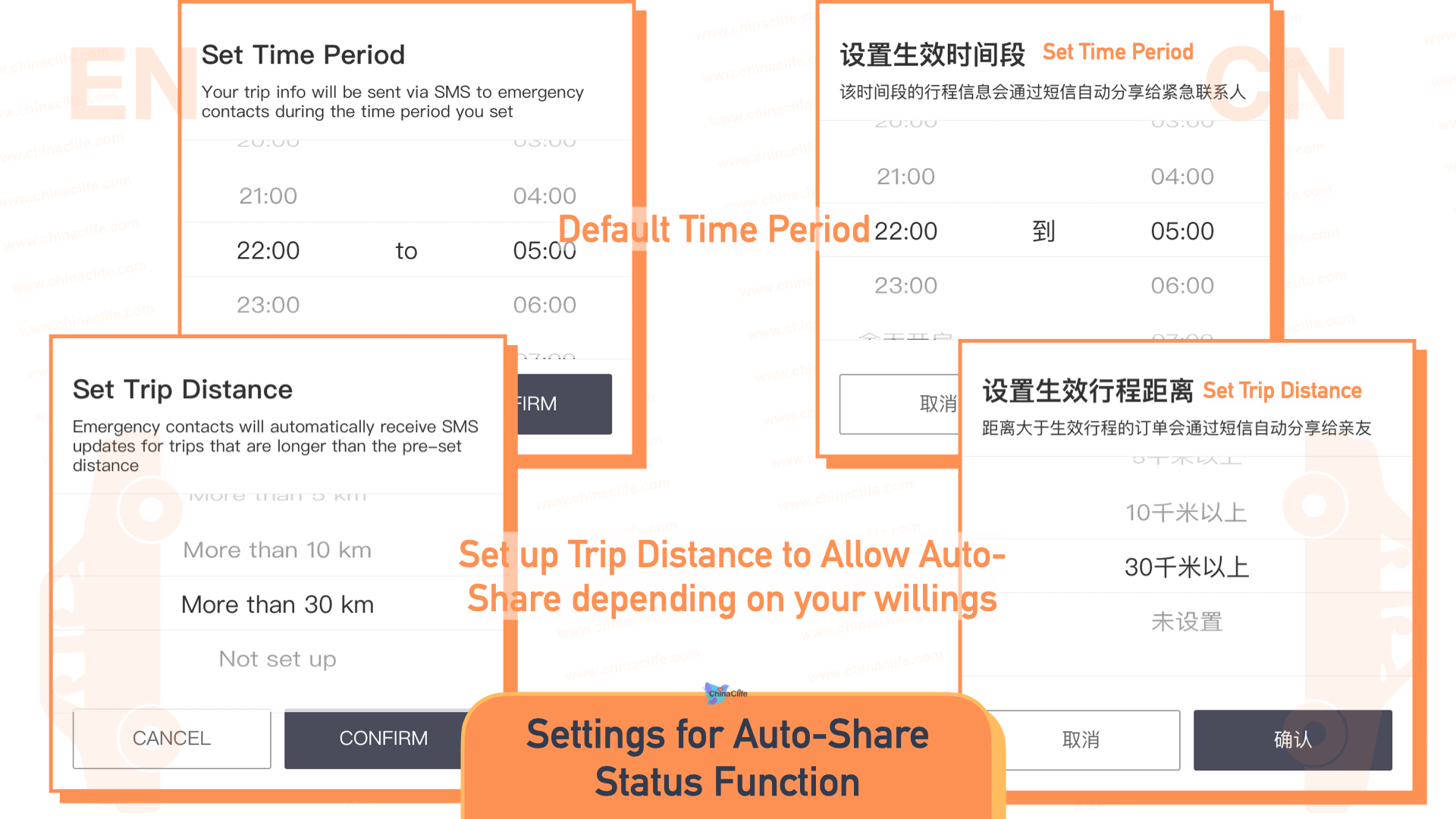 If you decide to turn off the "Auto-Share Status" function, you can still trigger the manual way to send your trip info to your families and friends during your ride-hailing period. Please jump to the following step of manually sharing.

若选择关闭"自动分享行程"的功能,你仍然可以在使用滴滴打车期间通过手动的方式将行程信息分享给你的亲友。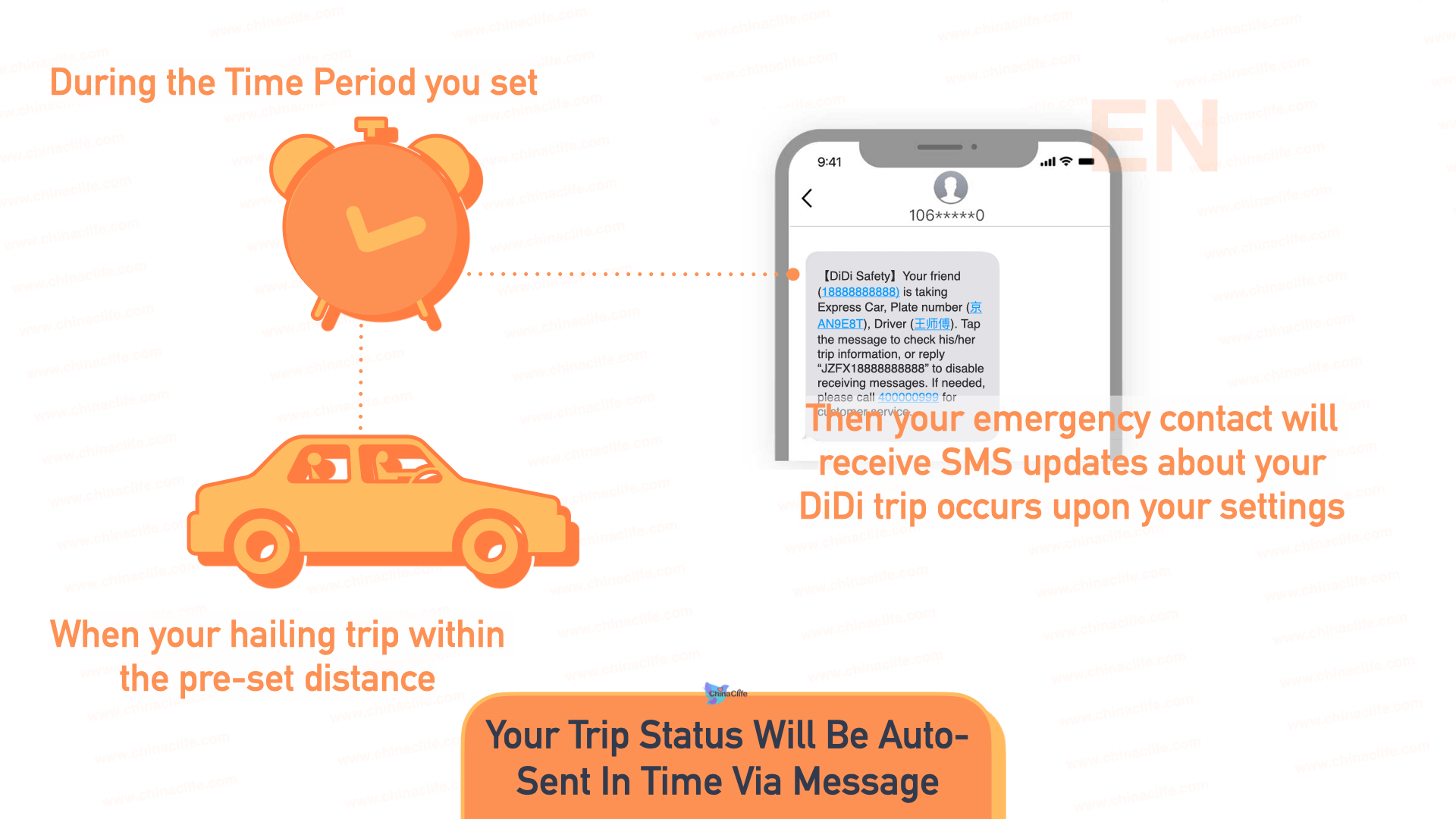 Free Sign-in to Unlock Full

Tips: The full content to show for Free Logged-in and Premium residents only. Please click Log-In / Sign Up for Free button on the top right to unlock them.

For Logged-In Members Only

READ NEXT
More Stories to Be Continued...
See u soon... : )