"The latest legal holidays in China has 115 days in total. The longest Chinese festival and holidays last for 8 days, the second for 3 to 4 days. Generally, the 3-Day or 4-Day holidays are called Chinese Long Weekend Holidays. "
CHINESE LONG WEEKEND HOLIDAYS
|  中国小长假
English Words:       Chinese long weekend holidays, China mini-golden week, China' 3-Day holiday...

Chinese Pinyin:      Zhōng Guó Xiǎo Cháng Jià

Chinese Characters:  中国小长假

Related Chinese Words:   
    法定节假日 (Fǎ Dìng Jié Jià Rì)| Legal festivals and holidays
    中国节假日 (Zhōng Guó Jié Jià Rì) | The Chinese festivals and holidays
    中国农历 (Zhōng Guó Nóng Lì)| The Chinese lunar calendar
    黄金周 (Huáng Jīn Zhōu)| The golden week
    调休 (Tiáo Xiū)| Working day in lieu

Table of Contents
What is "Chinese Long Weekend Holidays"?
| 什么是"中国小长假"?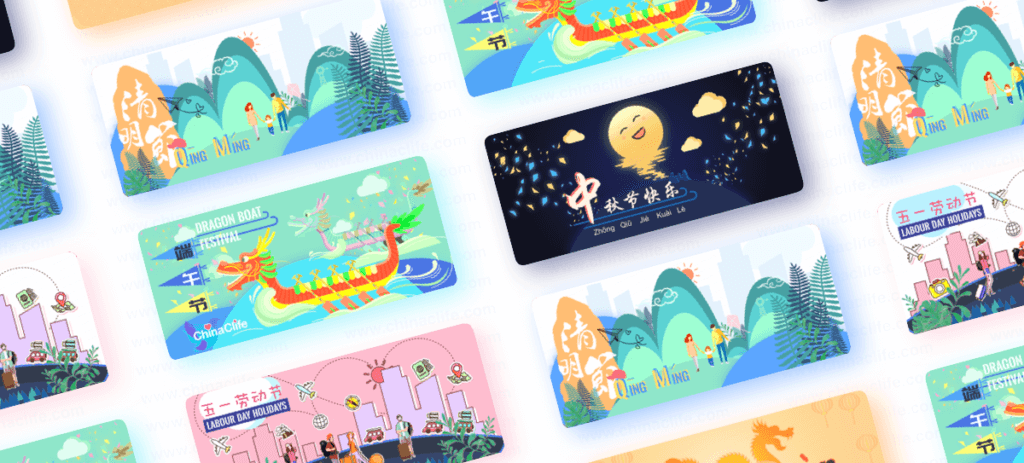 Since the adjustment in 2018, the International Labour Day holidays in China has been shortened to 3 days, and more traditional Chinese festivals have been promoted as legal Chinese holidays.

自2008年中国节假日经过调整后,将五一国际劳动节黄金周缩短至3或4天,增加更多传统节日为中国法定节日。

Chinese long weekend holidays refer to generally 3-consecutive-day holidays including 1-Day traditional festival plus the nearest weekend (2-Day), which belong to the legal public holidays in China.

中国小长假,就是指由传统节假日(1日)+ 借调前后周末双休日(2日)而形成的l连续3日左右的小长假,属于中国法定的公众节假日。

At the end of the year, the Chinese government will issue an announcement about the arrangement of legal festivals and national holidays next year.

每年年末,中国政府将对外发布未来一整年全国人民的法定节假日的放假和调休日期的通知。

The Chinese long weekend holidays are born to promote the Chinese traditional festival and culture, enrich various kind s of tourism products.

中国小长假的诞生,主要是为弘扬中国传统节日和文化,丰富各式不同的旅游产品。

And it also alleviates the pressure of heavy traffic and tourists caused by the short interval between the Chinese Golden Week holidays.

同时也缓解黄金周间隔时间过短造成的交通和游客人流压力。
About Working Day in Lieu
| 关于"调休 (Tiáo Xiū)"
If one day among holidays falls on a working day (except the legal festival), then the nearest Saturday or Sunday will be adjusted to a working day instead. And it is called "working day in lieu" or "Working Day Adjustments" in China.

若一日假日处于工作日(法定节日除外),那么最近的一个周六或者周日将被调整为工作日代替。在中国,被称之为"调休"。

WHAT IT MEANS IN CHINA?
How Many Chinese Long Weekend Holidays?
| 在中国,共有多少个中国小长假?
Nowadays, there are five legal Chinese long weekend holidays in China, including YuanDan Festival (New Year's Day), QingMing Festival, The International Labour Day Festival, The Dragon Boat Festival, and The Mid-Autumn Festival.

2008年后至今,中国法定的小长假假期一共有5个,包括:元旦、清明、五一、端午、中秋。

Free Sign-in to Unlock Full

Tips: The full content to show for Free Logged-in and Premium residents only. Please click Log-In / Sign Up for Free button on the top right to unlock them.

For Logged-In Members Only

Tips: The full content to show for Free Logged-in and Premium residents only. Please click Log-In / Sign Up for Free button on the top right to unlock them.

For Logged-In Members Only

READ NEXT
More Stories to Be Continued…
See u soon… : )