Official 2020: Best Top 5 Annual Chinese Tik Tok Music/BGM Songs Most Played on Douyin App in China
2020 抖音年度最受欢迎的中文背景音乐 Top 5
As the new year comes, a rundown of Douyin's Annual Chinese Tik Tok Music/BGM Songs in 2020 is also given to the public. On January 5 (CST), China's Tik Tok app - Douyin's parent company ByteDance has released its official annual report of last year in China, "Douyin 2020 Data Report". It shared the public trends of short-video entertainment and interests on Douyin platform, varying from the Chinese battles against Covid-19 to Douyin user portraits, apparently as well as important Chinese Tik Tok/Douyin element - Top 5 Annual Chinese Tik Tok Music and BGM Songs in 2020, the most played Chinese Songs as background tracks in Douyin Videos.

English Words:
Chinese Pinyin:
Standard Chinese:
Similar Chinese Words:
抖音歌曲榜单 dǒu yīn gē qǔ bǎng dān Chinese Tik Tok Music Rankings on Douyin App.
Related Chinese Words:
首 shǒu A Chinese measure word following numerals and indicating quantities of songs and poems.
背景音乐 bèi jǐng yīn yuè Background music in Chinese.
排行榜 pái háng bǎng The ranking charts in Chinese.
Related App/City:
抖音 Dǒu yīn The name of the Chinese version of TikTok app, which is China's most popular mobile short-video creating and sharing app developed by China's ByteDance Technology Company.
Chinese Pronunciation on Google

Say "Douyin Background Music" in Chinese
Chinese Tik Tok - Douyin & Its Official Annual Report 2020
抖音及 《2020 抖音数据报告》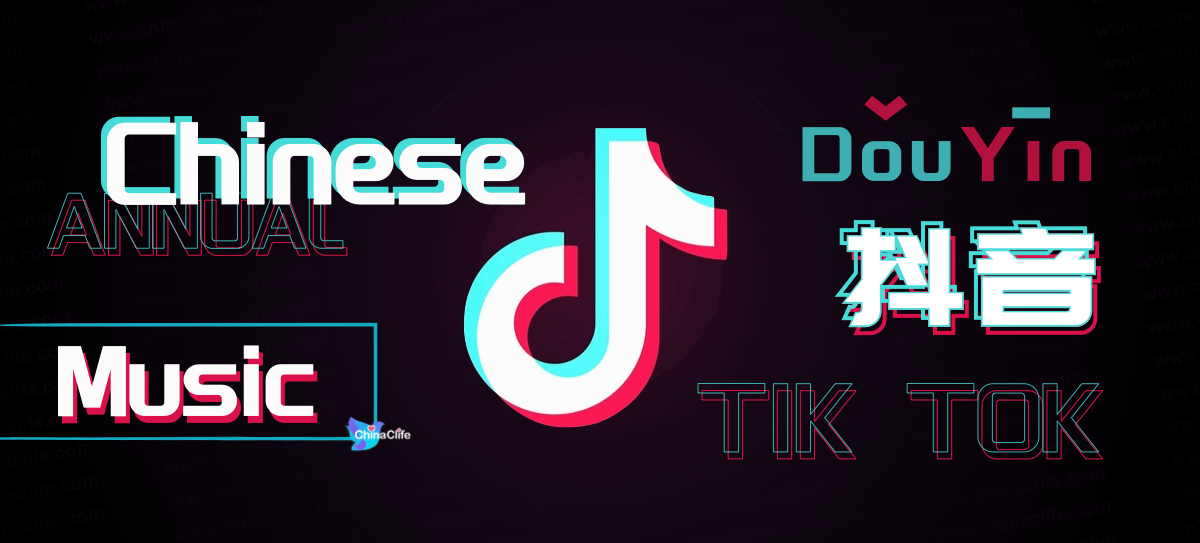 Chinese Tik Tok app "Douyin" 抖音 (Dǒu yīn), China's most popular video-sharing and video creating app, has released its official annual report "Douyin 2020 Data Report" in early January.
2021 年 1 月初,中国最大的短视频应用"抖音"(中国版 Tik Tok)发布了其官方版《2020 抖音数据报告》。
As of August 2020, Chinese Tik Tok Douyin has already hit 600 million DAU (Daily Active Users) according to its official report. It means that almost half of the Chinese people are using the Chinese Tik Tok - Douyin app every day.
据报告显示,截至 2020 年 8 月, 抖音平台上的日活跃用户用户数已突破 6 亿。这意味着每天有将近一半的中国人在玩抖音。
What's more, as the largest short-video sharing tool in China, Chinese Tik Tok - Douyin brought a bunch of background music and Chinese songs to the small-screen addicts, helped them insert into each video as BGMs, played repeatedly until going viral on the Internet. The top excellent ones are worthy of our attention and therefore to be recorded down.
作为中国最大的短视频应用,无数热门歌曲和背景音乐通过抖音传送到了手机用户眼前,被抖音内的各种音乐视频作品反复使用,被无数用户播放,直至晋升为网络神曲。其中不乏一些尤其经典的中文歌曲,值得我们关注并记录下来。
IN ADDITION
Questions & Additional
Have you got any tips from this bilingual Chinese story above?
Do you have any other questions or suggestions?
You are free to write it down in the "Comments" section below or in our groups.
Any thought from you is appreciated, valuable, and might help the rest of the residents on the planet. 😀
Additionally...
Did You Start Learning Chinese with Pinyin?
Continue to read our User-friendly Chinese-Pinyin version of this story
(Unlocked for Free Logged-in and Premium residents only).
Hope it Helps! : )
READ NEXT