"Choosing a song for creating and sharing TikTok videos is always an important thing because the background music is the soul element for TikTok videos for that spreading on China's Douyin app (TikTok's Chinese version). Each month, a bunch of Chinese songs ranked as the most popular Chinese TikTok Video Music (Douyin songs) on the Douyin app. Now we have collected a monthly playlist of the top ten most viral Chinese TikTok video music from the monthly ranking chart of December 2020, according to the latest Douyin Music Ranking data. Hope you like it."
[DEC.] TOP TEN POPULAR CHINESE TIKTOK VIDEO MUSIC RANKING – PLAYLIST FROM DOUYIN APP
|  【 2020年12月】最火抖音视频中文歌曲榜单
English Words:       Chinese TikTok Video Music Ranking Charts

Chinese Pinyin:      Dǒu yīn Xiǎo Shì Píng De Zhōng Wén Gē Qǔ Bǎng Dān

Chinese Characters:  抖音小视频的中文歌曲榜单

Similar Chinese Words:   
    抖音音乐榜单 (Dǒuyīn yīnyuè bǎngdān)| Music Rankings on Douyin platform.
    抖音神曲 (Shuā pín Dǒuyīn shénqǔ)| The Most Popular Music and Songs on Douyin.
Related Chinese Words:   
    短视频 (Duǎn Shìpín)| Short videos.
Related App: 
    抖音 (Dǒuyīn)| TikTok's Chinese version, China's most popular short-video sharing and creating app.

TikTok Video Music on Douyin App
| 抖音上的热门中文歌曲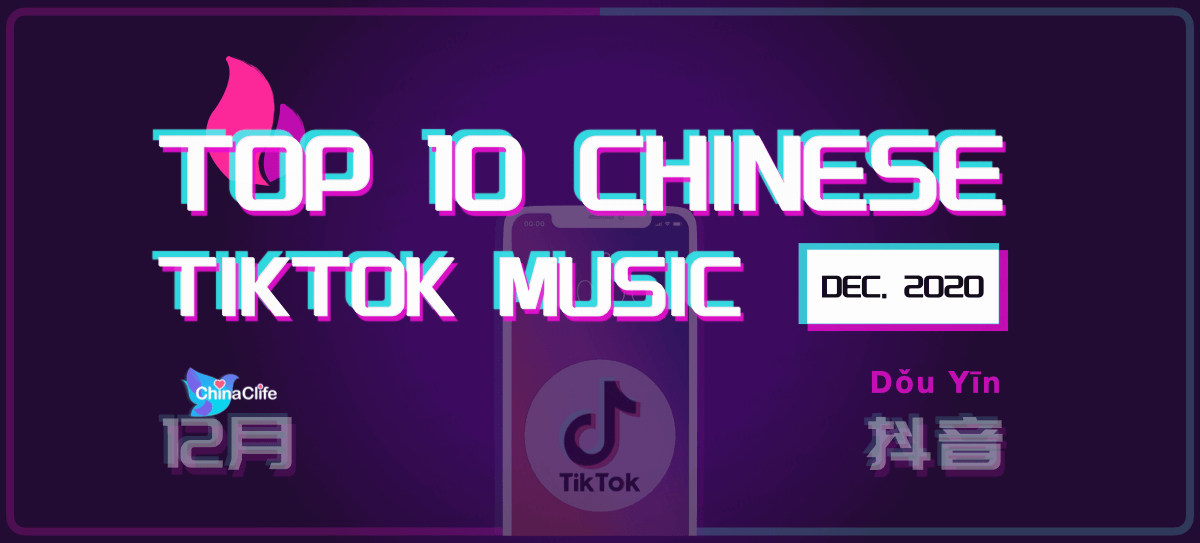 Douyin app, TikTok's Chinese version, is China's most popular video-sharing/creating app and platform. With the spreading of this creative music video sharing platform, a bunch of popular and new Chinese songs played as the Douyin/TikTok video music has gone viral on the Douyin app and also into people's daily life.

抖音 (Dǒu yīn), TikTok 的中国版应用,是目前中国国内最火的视频创作和分享的社交应用。借助抖音小视频分享平台的传播力,一首首或流行或新发行的中文歌曲成为了抖音应用上及线下爆红的中文抖音神曲。

Now we have updated and listed December's top ten most popular Chinese TikTok video music ranking chart in last year according to the latest Chinese Douyin music ranking data. Please continue to the following.

基于最新数据,已更新出 2020 年 12 月排名前十的最火中文抖音神曲。请见下文。

CHINESE TIKTOK VIDEO MUSIC
Top Ten Most Popular Chinese TikTok Video Music Rankings in December
| 最火抖音中文歌曲榜单: 12 月
第一首:茫 (Máng)
Top 1. Be Confused
Song Name: Be Confused

歌曲名称:茫

Artist: Lǐ Rùnqí

歌手:李润祺

Language: Chinese Songs

歌曲语种:中文国语

Release Time: 2020-12-01

发行时间:2020 年 12 月 01 日

Genre: POP

音乐流派:流行

With Chinese Lyrics & Pinyin Enjoy Chinese TikTok Video Music on YouTube : )
第二首:阿拉斯加海湾 (ā lā sī jiā hǎi wān)
Top 2. Gulf of Alaska
Song Name: Gulf of Alaska

歌曲名称:阿拉斯加海湾

Artist: Lan Xinyǔ (Original: Fei Dao'er)

歌手:蓝心羽 (原唱:菲道尔)

Language: Chinese Songs

歌曲语种:中文国语

Release Time: 2020-12-05

发行时间:2020 年 12 月 05 日

Genre: POP

音乐流派:流行

With Chinese Lyrics & Pinyin Enjoy Chinese TikTok Video Music on YouTube : )
第三首:失眠播报 (Shī mián bō bào)
Top 3. Sleepless Broadcasting
Song Name: Sleepless Broadcasting

歌曲名称:失眠播报

Artist: Lin Chenyang

歌手:林晨阳

Language: Chinese Songs

歌曲语种:中文国语

Release Time: 2020-12-10

发行时间:2020 年 12 月 10 日

Genre: POP

音乐流派:流行

With Chinese Lyrics & Pinyin Enjoy Chinese TikTok Video Music on YouTube : )
第四首:四季予你 (Sì jì yù nǐ)
Top 4. With You All Four Seasons
Song Name: With You All Four Seasons

歌曲名称:四季予你

Artist: Cheng Xiang

歌手:程响

Language: Chinese Songs

歌曲语种:中文国语

Release Time: 2020-12-19

发行时间:2020 年 12 月 19 日

Genre: POP

音乐流派:流行

With Chinese Lyric & PinyinEnjoy Chinese TikTok Video Music on YouTube : )
第五首:踏山河 (tà shān hé)
Top 5. Across the Land
Song Name: Across the Land

歌曲名称:踏山河

Artist: Shi Qishu ne

歌手:是七叔呢

Language: Chinese Songs

歌曲语种:中文国语

Release Time: 2020-11-19

发行时间:2020 年 11 月 19 日

Genre: POP

音乐流派:流行

With Chinese Lyrics & PinyinEnjoy Chinese TikTok Video Music on YouTube : )

Free Sign-in to Unlock Full

Tips: The full content to show for Free Logged-in and Premium residents only. Please click Log-In / Sign Up for Free button on the top right to unlock them.

For Logged-In Members Only

READ NEXT
More Stories to Be Continued…