Livestream in China: Jay Chou Live Stream Exclusively on Chinese Kuaishou App
周杰伦的快手独家直播消息
A live streaming is similar to the online video streaming but is transmitted at the time of occurrence, not a prepared video source from a recording. This month in China, a new livestream of Jay Chou's is reported to come in a few days soon, exclusively streaming though China's Kuaishou app. Continue reading the story to know more about the livestream word in Chinese and the recent livestream news.

English Words:
Chinese Pinyin:
Standard Chinese:
Similar Chinese Words:
在线直播 zài xiàn zhí bō A livestream or a live streaming made online.
Related Chinese Words:
在线视频 zài xiàn shì píng The video streaming online.
Related App:
快手 kuài shǒu One of China's leading short video sharing app supported by Tencent, whose name is literally known as "fast hand" in Chinese.
Chinese Pronunciation on Google

Say "Livestream" in Chinese
The Upcoming Jay Chou Live Stream
周杰伦的最新直播
It's reported that the Chinese short video app "Kuaishou" will exclusively live stream Jay Chou, the most popular Chinese Pop Singer and Songwriter from Taiwan of China, with his new release of the 15th solo Chinese Music Album "Greatest Work of Arts".
据报道,周杰伦即将通过中国热门短视频应用"快手"进行独家直播,通过直播聊聊关于其个人最新中文音乐专辑《最伟大的作品》。
This is Jay's livestream 直播 (zhí bō) news but is not the only fresh news about Jay Chou at the recent of China. On Jul 6, 2022, a new Chinese music video titled "Greatest Works of Art" which has already known to be collected in the personal upcoming music album, has been shared via Jay Chou's multiple official social accounts through hot Chinese social platforms as well as the popular Chinese video sharing apps like Douyin and Kuaishou. And after a long interval of about six years, the debut of the namesake music album has already been scheduled on Jul 15, 2022.
这场独家直播并非近期唯一一则有关周杰伦的消息。早在 7 月 6 日,一条名为《最伟大的作品》的新歌 MV 已在中国各大社交媒体、抖音和快手热门短视频平台提前发布了。这首音乐作品同时也收录在了 7 月 15 日即将上线的周杰伦第 15 张个人音乐专辑中,而此时距离周的上一张专辑发行已过去六年了。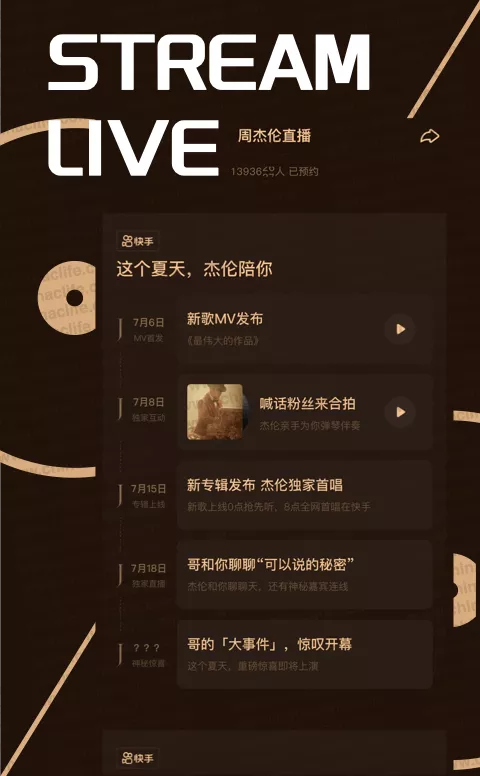 Schedule an Appointment to Jay's LiveStream
预约直播
If you are one of Jay's fans or any listener of Chinese music and Mandopop, you may give your earliest attention to Jay's upcoming livestream that will be exclusively started on the evening of Monday, the 18th of July at 19:00 (Beijing Time, UTC+8). And you may also schedule an appointment through the Chinese service provider and app "Kuaishou", titled 快手 (kuài shǒu) in Simplified Chinese, by tapping the button just as more than 1 million people have done.
如果你是杰迷,或是中文音乐和华语流行音乐的听众,可在第一时间关注近期的这场周杰伦独家直播。该直播将于北京时间 7 月 18 日晚 7 时在中国热门短视频应用"快手"直播间独家播出,目前已有超过一百万人通过该应用进行预约,或许你也可以成为直播预约大军中的一员。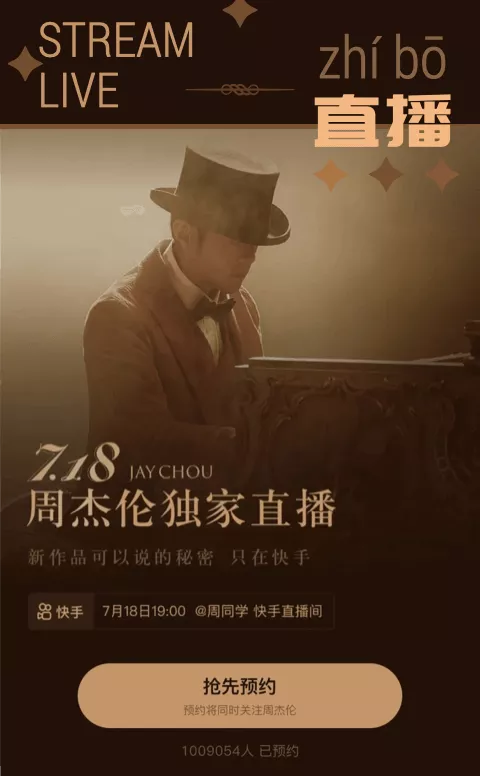 To know more trendings on Chinese Music and Video entertainment, or looking for starting Chinese learning entertainingly, keep an eye on our updating at www.chinaclife.com.
欲获取更多中文影音娱乐资讯,或想趣学中文,记得随时关注我们的更新。
Enjoy!
IN ADDITION
Questions & Additional
Have you got any tips from this bilingual Chinese story above?
Do you have any other questions or suggestions?
You are free to write it down in the "Comments" section below or in our groups.
Any thought from you is appreciated, valuable, and might help the rest of the residents on the planet. 😀
Additionally...
Did You Start Learning Chinese with Pinyin?
Continue to read our User-friendly Chinese-Pinyin version of this story
(Unlocked for Free Logged-in and Premium residents only).
Hope it Helps! : )
READ NEXT