"Each month, a bunch of Chinese songs was ranked to be the most viral TikTok/Douyin Songs and Video background music on Douyin (TikTok's Chinese version) platform. Now we have collected a monthly playlist of the top 10 most viral Chinese TikTok Douyin video background music in October 2020, according to the latest Douyin Video Background Music Ranking data. Hope you like it."
[October] TOP TEN MOST VIRAL CHINESE TIKTOK DOUYIN VIDEO BACKGROUND MUSIC RANKING IN CHINA 2020-10
|  2020 年 10 月最火抖音中文歌曲榜单
English Words:       Douyin Video Background Music / Small Video's Background Music on Douyin platform

Chinese Pinyin:      Dǒu yīn xiǎo shì píng de bèi jǐng yīn yuè

Chinese Characters:  抖音小视频的背景音乐

Similar Chinese Words:   
    抖音音乐榜单 (Dǒuyīn yīnyuè bǎngdān)| The ranking list of the most popular video background music on Douyin platform.
    抖音神曲 (Shuā pín Dǒuyīn shénqǔ)| Popular music/songs/video's BGMs on Douyin.
Related Chinese Words:   
    跳舞 (Tiàowǔ)| Dance.
    短视频 (Duǎn Shìpín)| Short videos.
Related App: 
    抖音 (Dǒuyīn)| TikTok's Chinese version, China's most popular short-video sharing and creating platform.

What Is Douyin and Douyin Music?
| 什么是抖音及抖音歌曲?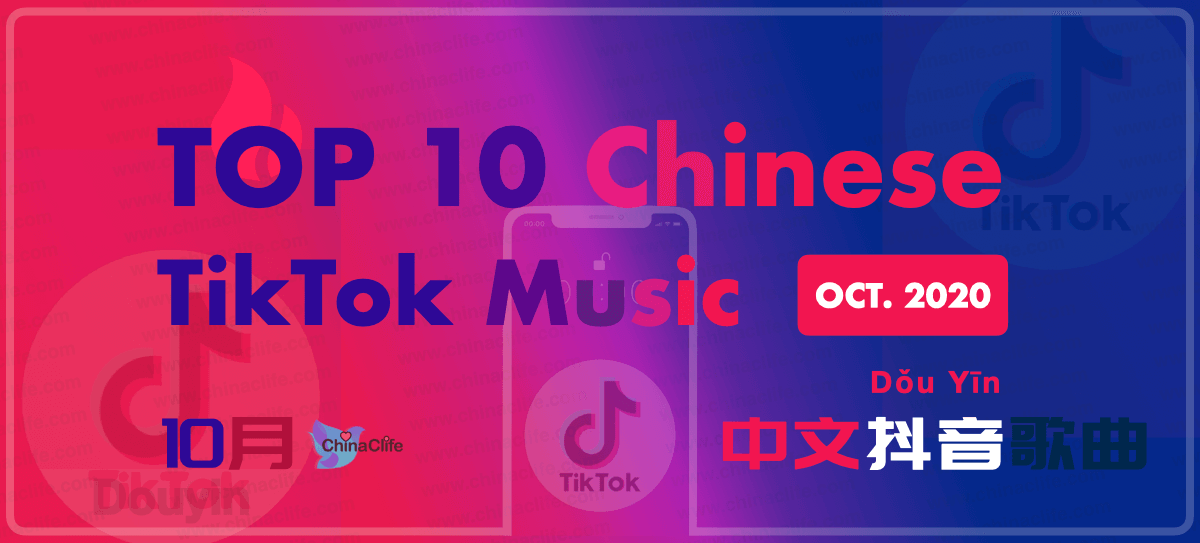 Douyin, China's TikTok platform, is currently one of the most popular platforms and social apps for short video creating/sharing in China. With the spreading of this creative music video sharing platform, a bunch of great Chinese short video's background music and songs have gone viral on this app and also into people's daily life.

抖音 (Dǒu yīn), TikTok 的中国版应用,是目前中国国内最火的视频创作和分享的社交应用。借助抖音的音乐创意短视频分享平台的影响力,一批又一批优秀的中文歌曲和抖音背景音乐成为抖音以及生活中的热门歌曲。

Now we have updated our playlist by sorting out October's top 10 most viral Chinese TikTok Douyin video background Music and BGMs in 2020 based on the latest Chinese Douyin music ranking data. Please continue to the following.

基于最新的抖音排行榜数据,我们为大家整理出了今年 10 月的十大热门中文抖音歌曲。请参阅以下内容。

CHINESE TIKTOK VIDEO MUSIC?
Top 10 Most Viral Chinese TikTok Douyin Video Background Music Ranking in October (2020)
| 【2020年10月】最火抖音中文歌曲榜单
第一首:忘川彼岸 (wàng chuān bǐ àn)
Top 1. The Forgetfulness River and Equinox Flowers – DJ Minglong Remix
Song Name: The forgetfulness river and equinox flowers – DJ Minglong Remix

歌曲名称:忘川彼岸(DJ 名龙版)

Artist: Ling yi jiu ling er

歌手:零一九零贰

Language: Chinese Songs

歌曲语种:中文国语

Release Time: 2020-07-15

发行时间:2020 年 07 月 15 日

Genre: POP

音乐流派:流行

With Chinese lyrics Enjoy Chinese TikTok Douyin Video Background Music on YouTube : )
第二首:游京 (yóu jīng)
Top 2. Tour of Beijing
Song Name: Visit

歌曲名称:游京

Artist: Hai Lun

歌手:海伦

Language: Chinese Songs

歌曲语种:中文国语

Release Time: 2019-05-29

发行时间:2019 年 05 月 29 日

Genre: POP

音乐流派:流行

With Chinese lyrics Enjoy Chinese TikTok Douyin Video Background Music on YouTube : )
第三首:善变 (shàn biàn)
Top 3. Fickle
Song Name: Fickle

歌曲名称:善变

Artist: Wang Jingwen Bu Pang

歌手:王靖雯不胖

Language: Chinese Songs

歌曲语种:中文国语

Release Time: 2020-09-30

发行时间:2020 年 09 月 30 日

Genre: POP

音乐流派:流行

With Chinese Pinyin & English Subtitles Enjoy Chinese TikTok Douyin Video Background Music on YouTube : )
第四首:可可托海的牧羊人 (kě kě tuō hǎi de mù yáng rén)
Top 4. The Shepherd of the Cocoto Sea
Song Name: The Shepherd of the Cocoto Sea

歌曲名称:可可托海的牧羊人

Artist: Wang Qi

歌手:王琪

Language: Chinese Songs

歌曲语种:中文国语

Release Time: 2020-05-08

发行时间:2020 年 05 月 08 日

Genre: POP

音乐流派:流行

With Chinese Lyric & Pinyin Enjoy Chinese TikTok Douyin Video Background Music on YouTube : )
第五首:笑纳 (xiào nà)
Top 5. Kindly Accept
Song Name: Kindly Accept

歌曲名称:笑纳

Artist: Ruby

歌手:花僮

Language: Chinese Songs

歌曲语种:中文国语

Release Time: 2020-08-26

发行时间:2020 年 08 月 26 日

Genre: POP

音乐流派:流行

With Chinese Lyrics & PinyinEnjoy Chinese TikTok Douyin Video Background Music on YouTube : )

Free Sign-in to Unlock Full

Tips: The full content to show for Free Logged-in and Premium residents only. Please click Log-In / Sign Up for Free button on the top right to unlock them.

For Logged-In Members Only

READ NEXT
More Stories to Be Continued…
See u soon… : )