"Background music and songs are always the soul elements to create and share short videos on TikTok or Douyin (TikTok's Chinese version) platform. Now we have collected and made a monthly playlist of best top Chinese TikTok music (top hitting Chinese songs on Douyin app) in July of 2020, according to the latest data from Douyin Ranking on China's online music platform. Hope you like it."
[JULY] TOP 10 CHINESE TIKTOK MUSIC PLAYLIST – DOUYIN SONGS MONTHLY HITS IN CHINA 2020-07
|  【2020年7月】抖音最火中文歌曲
English Words:       Chinese Tik Tok Music or Chinese Songs on Douyin

Chinese Pinyin:      Dǒu yīn zhōng wén gē qǔ

Chinese Characters:  抖音中文歌曲

Similar Chinese Words:   
    抖音背景音乐 (Dǒuyīn bèijǐng yīnyuè)| The background music of short videos shared on Douyin.
    抖音神曲 (Shuā pín Dǒuyīn shénqǔ)| Popular songs or BGMs on Douyin.
Related Chinese Words:   
    字节跳动 (Zìjié tiàodòng)| ByteDance, Tik Tok and Douyin's parent company.
    短视频 (Duǎn Shìpín)| Short videos.
Related App: 
    抖音 (Dǒuyīn)| Tik Tok's Chinese version, China's most popular short-video sharing and creating platform.

What Are Chinese Tik Tok Songs or Douyin Music?
| 什么是抖音歌曲?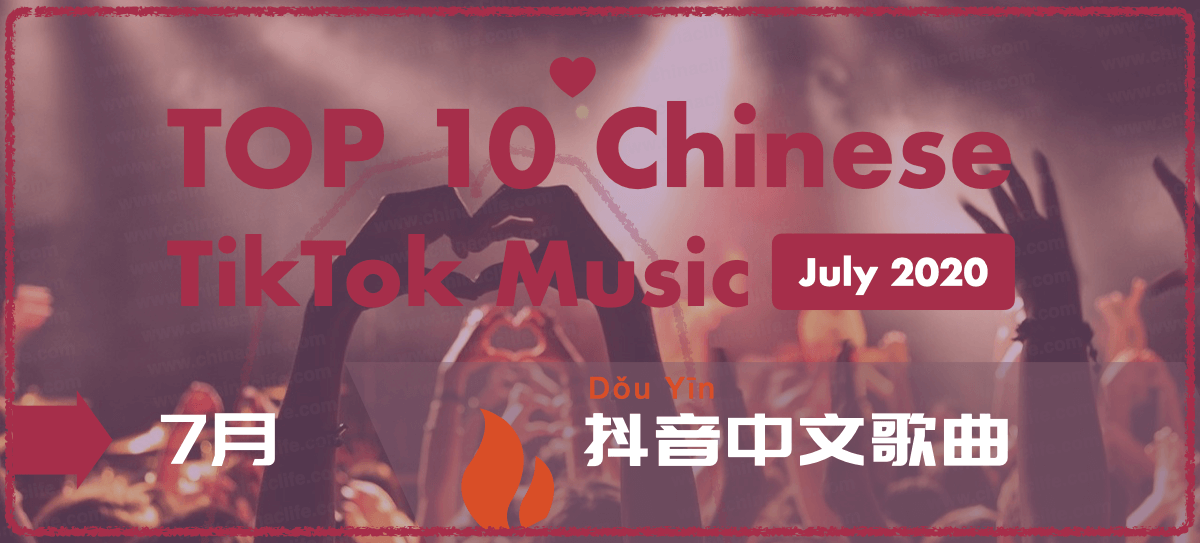 Douyin, the Chinese version of TikTok, is currently one of most popular video creating/sharing platform and social app in China. With the spreading of this creative music video sharing platform, a bunch of great Chinese songs and background music have gone viral on this app and then into people's daily life.

抖音 (Dǒu yīn), TikTok 的中国版应用,是目前中国国内最火的视频创作和分享的社交应用。借助抖音的音乐创意短视频分享平台的影响力,一批又一批优秀的中文歌曲和抖音背景音乐成为抖音以及生活中的热门歌曲。

Now we have collected and given a rundown of monthly hitting Chinese TikTok music and BGMs (hot Douyin songs playlist) for you, according to the up-to-date ranking data of hot Douyin songs in July 2020.

根据更新的抖音歌曲排行榜数据,我们为大家整理出了今年 7 月位于前十位的热门中文抖音歌曲播放列表,如下所示。

WHAT IT MEANS?
Top 10 Hitting Chinese TikTok Music Playlist in July of 2020
(Chinese Songs Monthly Ranking on Douyin)
| 【2020年7月】十大抖音热门中文歌曲列表
第一首:爱,存在 (ài, cún zài)
Top 1. Love Still Exists
Song Name: Love Still Exists

歌曲名称:爱,存在

Artist: Lin Xiaoke (Original: Wei Qiqi)

歌曲原唱:林小珂 (原唱:魏奇奇)

Language: Chinese Songs

歌曲语种:中文国语

Release Time: 2020-07-09

发行时间:2020 年 7 月 9 日

Genre: POP

音乐流派:流行

With Chinese lyrics / subtitles Listen Chinese TikTok Music on YouTube : )
第二首:天外来物 (tiān wài lái wù)
Top 2. Alien from the Sky
Song Name: Alien from the Sky

歌曲名称:天外来物

Artist: Xue Zhiqian (Joker Xue)

歌曲原唱:薛之谦

Language: Chinese Songs

歌曲语种:中文国语

Release Time: 2020-07-20

发行时间:2020 年 07 月 20日

Genre: POP

音乐流派:流行

With Chinese lyrics / subtitles Listen Chinese TikTok Music on YouTube : )
第三首:爸爸妈妈 (bà bà mā mā)
Top 3. Mama & Papa
Song Name: Mama & Papa

歌曲名称:爸爸妈妈

Artist: Ronghao Li

歌曲原唱:李荣浩

Language: Chinese Songs

歌曲语种:中文国语

Release Time: 2016-01-22

发行时间:2016 年 1 月 22 日

Genre: POP

音乐流派:流行

With Chinese lyrics / subtitles Listen Chinese TikTok Music on YouTube : )

Free Sign-in to Unlock Full

Tips: The full content to show for Free Logged-in and Premium residents only. Please click Log-In / Sign Up for Free button on the top right to unlock them.

For Logged-In Members Only

READ NEXT
More Stories to Be Continued…
See u soon… : )