"In September of 2020, a bunch of Chinese songs was ranked the top hitting background music on Douyin (China's TikTok) platform. Now we have collected a September's Chinese song playlist of the best top 10 China's TikTok Douyin Background Music, according to the latest Douyin background music monthly ranking data. Hope you like it."
[SEP.] BEST TOP TEN CHINA'S TIKTOK DOUYIN BACKGRUND MUSIC RANKING 2020-09
|  【2020年9月】最火抖音中文歌曲榜单
English Words:       Douyin Music Ranking

Chinese Pinyin:      Dǒu yīn gē qǔ pái háng bǎng

Chinese Characters:  抖音歌曲排行榜

Similar Chinese Words:   
    抖音音乐榜单 (Dǒuyīn yīnyuè bǎngdān)| The ranking list of hot music on Douyin platform.
    抖音神曲 (Shuā pín Dǒuyīn shénqǔ)| Popular songs or BGMs on Douyin.
Related Chinese Words:   
    跳舞 (Tiàowǔ)| To dance to the music.
    短视频 (Duǎn Shìpín)| Short videos.
Related App: 
    抖音 (Dǒuyīn)| TikTok's Chinese version, China's most popular short-video sharing and creating platform.

What is Douyin and Douyin Background Music?
| 什么是抖音以及抖音背景歌曲?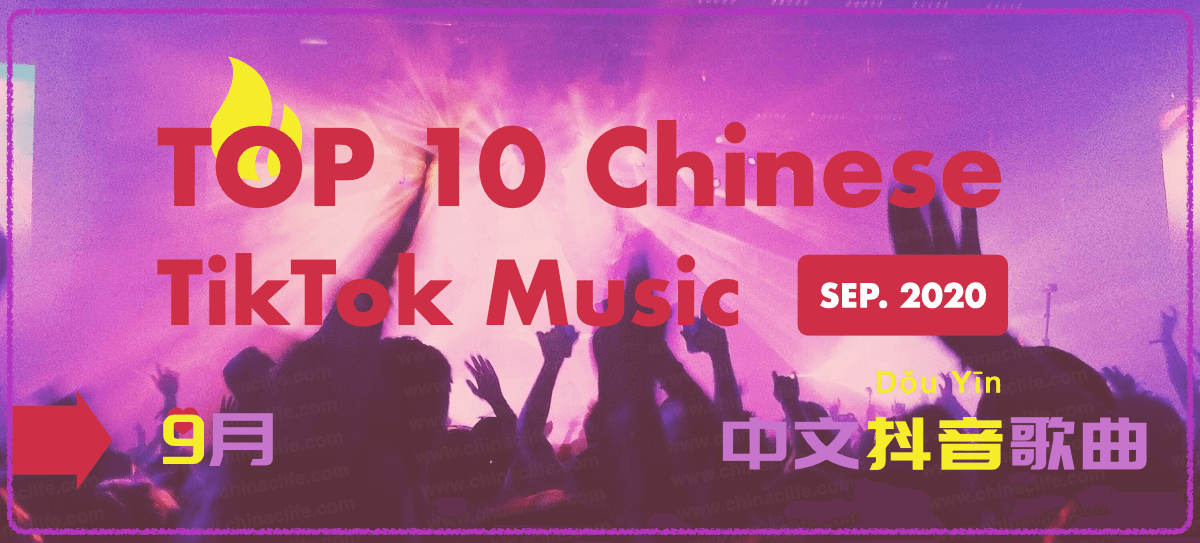 Douyin, China's TikTok, is China's top best music video creating and sharing platform and social app. With the help of its app's popularity, a bunch of great Chinese songs and Douyin background music have gone viral on Douyin and the Internet as well.

抖音 (Dǒu yīn), TikTok 的中国版应用,是目前中国国内最火的视频创作和分享的社交应用。借助抖音应用的火爆,一批批优秀的中文歌曲和抖音背景音乐成为抖音及网络中的热门歌曲。

Now we have updated the Chinese music playlist by sorting out September's top 10 China's TikTok Douyin Background Music based on the latest China's Douyin BGMs ranking data. Please read the following.

基于最新的抖音排行榜数据,我们为大家整理出了今年 9 月的十大热门中文抖音歌曲。请参阅以下内容。

WHAT IT MEANS?
Top 10 China' TikTok Douyin Background Music Ranking in September
| 【2020年9月】最火抖音中文歌曲榜单
第一首:偏爱 (piān ài)
Top 1. Addicted to You (Theme Song of Chinese Drama "XianJian Qi Xia Zhuan 3″)
Song Name: Addicted to You (Theme Song of Chinese Drama "XianJian Qi Xia Zhuan 3")

歌曲名称:偏爱

Artist: Zhang Yunjing (Jing chang)

歌曲原唱:张芸京

Language: Chinese Songs

歌曲语种:中文国语

Release Time: 2009-05-08

发行时间:2009 年 5 月 8 日

Genre: POP

音乐流派:流行

With Chinese lyrics + Pinyin / English translation Enjoy China's Douyin Background Music on YouTube : )
第二首:厚颜无耻 (hòu yán wú chǐ)
Top 2. Shameless
Song Name: Shameless

歌曲名称:厚颜无耻

Artist: Qu Xiaobing

歌曲原唱:曲肖冰

Language: Chinese Songs

歌曲语种:中文国语

Release Time: 2019-08-24

发行时间:2019 年 08 月 24日

Genre: POP

音乐流派:流行

With Chinese lyrics + PinyinEnjoy China's Douyin Background Music on YouTube : )
第三首:多年以后 (duō nián yǐ hòu)
Top 3. After Many Years – Dancing Music
Song Name: After Many Years

歌曲名称:多年以后

Artist: Huang Jingmei

歌曲原唱:黄静美

Language: Chinese Songs

歌曲语种:中文国语

Release Time: 2019-06-14

发行时间:2019 年 06 月 14 日

Genre: POP

音乐流派:流行

With Chinese lyrics + Pinyin Enjoy China's Douyin Background Music on YouTube : )
第四首:朱砂 (zhū shā)
Top 4. Cinnabar
Song Name: Cinnabar

歌曲名称:朱砂

Artist: Ren Ran / Xun

歌曲原唱:任然 / Xun (易硕成)

Language: Chinese Songs

歌曲语种:中文国语

Release Time: 2020-09-19

发行时间:2020 年 09 月 19 日

Genre: POP

音乐流派:流行

With Chinese lyrics + PinyinEnjoy China's Douyin Background Music on YouTube : )
第五首:忘川彼岸 (wàng chuān bǐ àn)
Top 5. The Forgetfulness River and Equinox Flowers – DJ Minglong Remix
Song Name: The forgetfulness river and equinox flowers – DJ Minglong Remix

歌曲名称:忘川彼岸(DJ 名龙版)

Artist: Ling yi jiu ling er

歌手:零一九零贰

Language: Chinese Songs

歌曲语种:中文国语

Release Time: 2020-07-15

发行时间:2020 年 07 月 15 日

Genre: POP

音乐流派:流行

No Chinese lyrics Enjoy China's Douyin Background Music on YouTube : )

Free Sign-in to Unlock Full

Tips: The full content to show for Free Logged-in and Premium residents only. Please click Log-In / Sign Up for Free button on the top right to unlock them.

For Logged-In Members Only

READ NEXT
More Stories to Be Continued…
See u soon… : )