HOW-TOs
HOW TO REGISTER ALIEXPRESS BUYER ACCOUNT ON THE COMPUTER?  
|  怎样注册并成为速卖通买家?
Table of Contents
What Is "AliExpress"?
| 什么是"速卖通"?
Have you heard "Taobao" before, China's largest Business-to-Customer e-commerce platform established by China's giant Alibaba?

你听说过中国的"淘宝"吗,由阿里巴巴打造的中国最大的 B2C 电商平台?

"AliExpress", also known as "Global AliExpress Online Trading Platform", is also one of China's largest B2C cross-border e-commerce platforms built by Alibaba in April, 2010.

"速卖通",又称"全球速卖通在线交易平台",也是由阿里巴巴于2010年4月打造的中国最大的 B2C 跨境电商平台之一。

What the difference is, that Taobao is currently targeting the Chinese market and its domestic users in China, while AliExpress devotes to serve global buyers and sellers with the one-click online shopping experience, reliable international payment guarantees as well as cross-border logistics services. Therefore, AliExpress is also called "the International version of Taobao".

不同的是,淘宝目前主要面向中国市场和中国境内的用户,而速卖通则致力于向全球买家和卖家提供一键在线购物和可靠的国际支付担保以及跨境物流体验。因此,速卖通又被称作是"国际版的淘宝"。

At present, the clients and orders of AliExpress have covered 230 countries and regions around the world, and the main trading markets are including Russia, the United States, Spain, Brazil, France, etc. And according to its official data, the total number of its global transaction buyers on the AliExpress platform in 2019 has exceeded 150 million, its daily consumption category of products has covered 22 industries, and the total global installation of its official App has hit over 600 million times except that from China.

目前,速卖通的用户和订单已经覆盖了全球 230 个国家和地区,主要交易市场为俄罗斯、美国、西班牙、巴西、法国等国家。据官方数据显示,2019 年速卖通平台的海外成交买家数量已突破 1.5 亿人,日常消费类目覆盖 22 个 行业的商品,其 APP 在中国以外的全球装机量超过 6 亿次。

It could be said that no matter you are willing to buy products from China at a more reasonable discounted price, go shopping goods online branded from global countries, get 72-hour global delivery experience, or you'd more like to join and become one of the AliExpress' retailer and sellers in order to increase your orders and customers from global market, the AliExpress platform is a new choice for any buyers, start-ups or enterprises to have a try.

可以说,无论是希望以更优惠的价格购买来自中国的商品,或是在线选购来自全球各个国家的品牌和商品,享受全球 72 小时到货体验,或是选择加入全球速卖通销售商行列将客户和订单拓展至全球市场,速卖通平台都是任何人或企业值得一试的一个新选择。

WHAT IT MEANS IN CHINA?
How to Register AliExpress Buyer Account on the Computer?
| 怎样注册成为速卖通买家?
Free Sign-in to Unlock Full
Step 1.   Go to AliExpress's Website, and Change the Language If Necessary.
步骤一、   进入速卖通的官方网站,并将网页更改为所需的语言。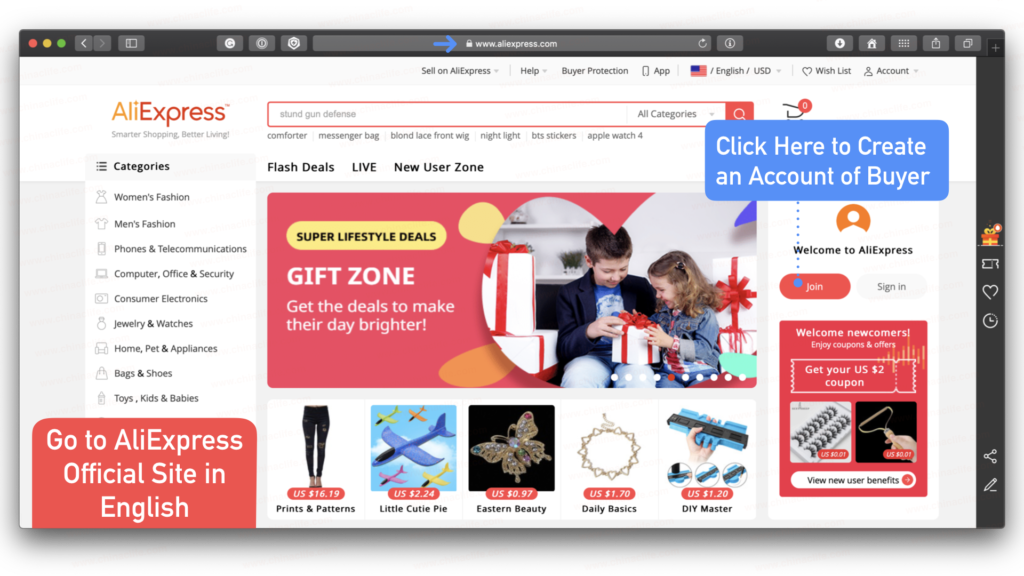 Launch the browser of the computer, then copy and paste the URL of AliEpxress's official website, www.aliexpress.com.

打开浏览器,将速卖通的官方网站地址 www.aliexpress.com 复制粘贴到地址栏中。

You will see the "Join" and "Sign-In" buttons on the right of the screen.

进入网站后,在屏幕右侧将会看到"加入我们"和"登录"两个按钮。

If your native language is not English, you can change the language of the website into the one you are familiar with. AliExpress official site currently supports 12 languages. They are Russian, Portuguese, Spanish, French, German, Italian, Dutch, Turkish, Japanese, Korean, Thai, Vietnamese, Arabic, Hebrew and Polish. Click one of these links, then you will be guided to the multi-language website of AliExpress to register AliExpress Buyer Account.

如果英语并非你的母语,你可以将网站的页面语言更改为你熟悉的语言。速卖通官网目前支持 12 种语言,包括俄语、葡萄牙语、西班牙语、法语、德语、意大利语、荷兰语、土耳其语、日语、韩语、泰语、越南语、阿拉伯语、希伯来语以及波兰语。点击以上任一语言的链接,将可直达速卖通的多语言网站进行买家账号的注册。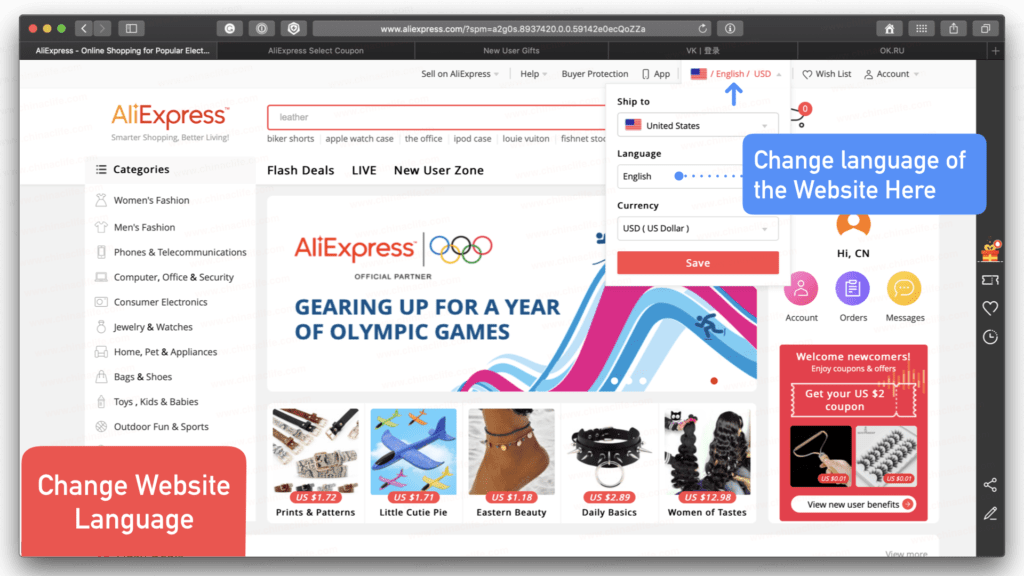 Or you can also click the top right navigation where a small national flag located, then you can select the desired language from the options of the menu list.

或者,你也可以点击网站右上方小国旗所在的菜单,从下拉菜单中选择并切换成你希望的语言。
Step 2.   Click "Join" Button to Start AliExpress Registration Process.
步骤二、   点击"加入"按钮,开启速卖通注册流程。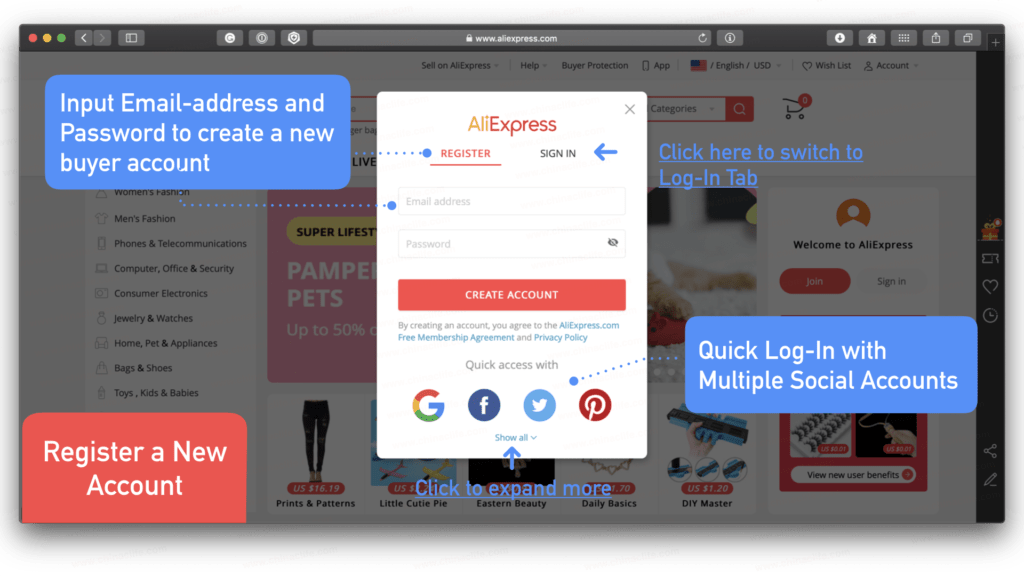 After clicking the "Join" button, the popup appears and allows you to register an AliExpress buyer account with an email address, get quick access with your social accounts, or sign-in with the existing AliExpress account.

点击"加入"按钮后,弹出菜单中提供三种操作方式:用邮箱注册速卖通买家账号,用社交账号快速注册,或者用已有的速卖通账号登录。
Step 3.   Method A – Quick Access with Existing Facebook or more social Account.
步骤三、   方法一 – 用现有脸书或其他更多社交账号快速注册并登录速卖通。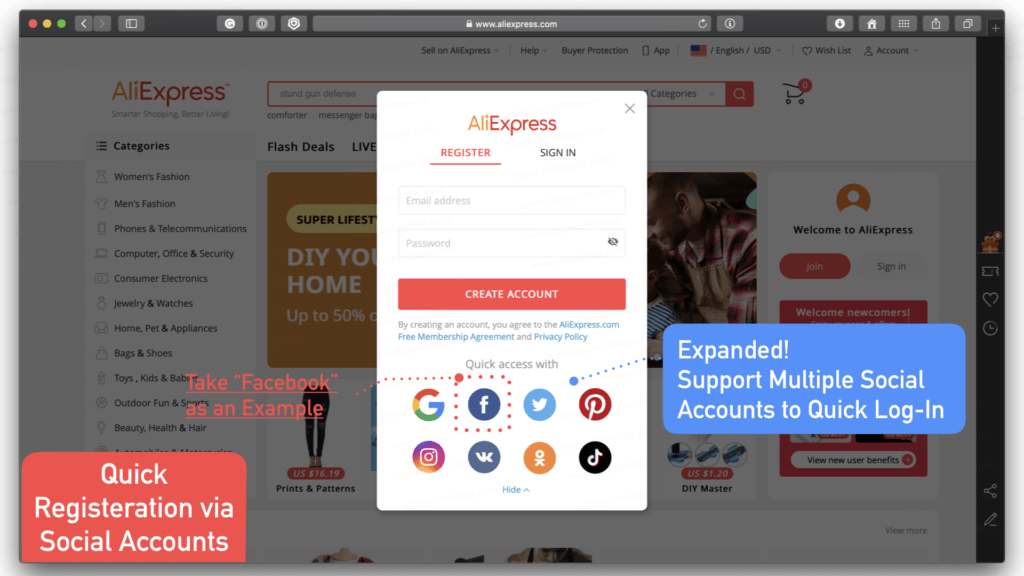 Click the "Show all" text link from the bottom of the popup, then you will see eight social accounts supported by AliExpress. They are Google account, Facebook account, Twitter account, Pinterest account, Instagram account, Russia's social media VK, and OK accounts, as well as the Tiktok account.

点击弹出菜单底部的"显示全部"链接,可以看到目前速卖通平台支持的八家社交平台的快捷登录方式,包括:谷歌账号, 脸书账号,推特账号,缤趣账号,Ins 照片墙账号, 俄罗斯的两大社交平台 VK 和 OK 账号,以及抖音账号。

Take Facebook as an example. Click the Facebook icon here, then you will be jumped into Facebook's page to authorize the access to AliExpress.

以脸书为例。点击脸书图标,将跳转至脸书的授权登录页面。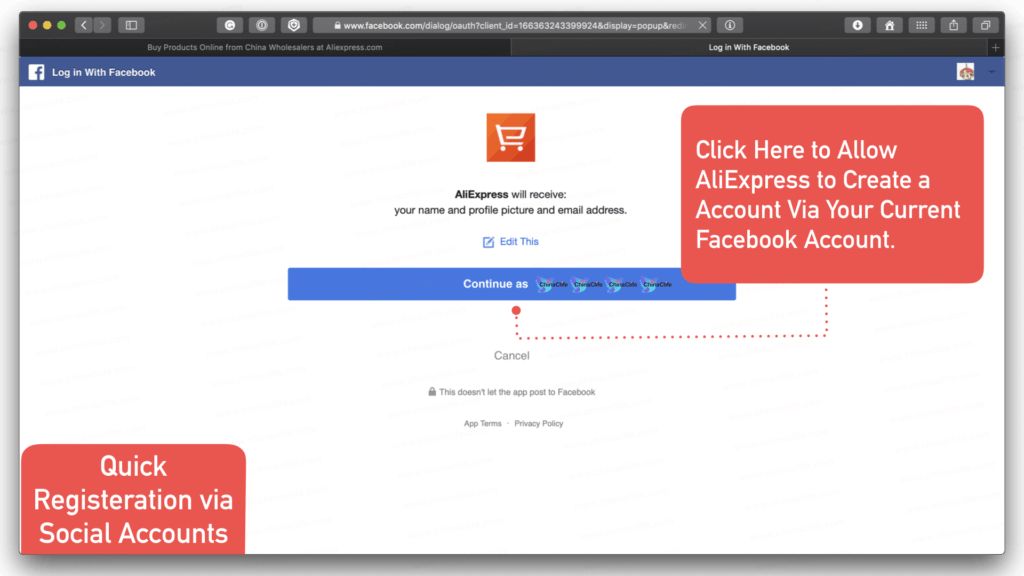 Please click the blue button "Continue as (Your Facebook ID)" and allow you to create an AliExpress account with this Facebook ID for sign-in. If you'd like to switch your Facebook account, you can also click the "Edit" link to choose another one.

请点击蓝色按钮以允许授权使用您当前的脸书账号登录速卖通。你可以点击"编辑"来更换为其他的脸书账号。 
Step 3.   Method B – Register AliExpress Account with Email and Password.
步骤三、   方法二 – 用邮箱地址和密码注册速卖通。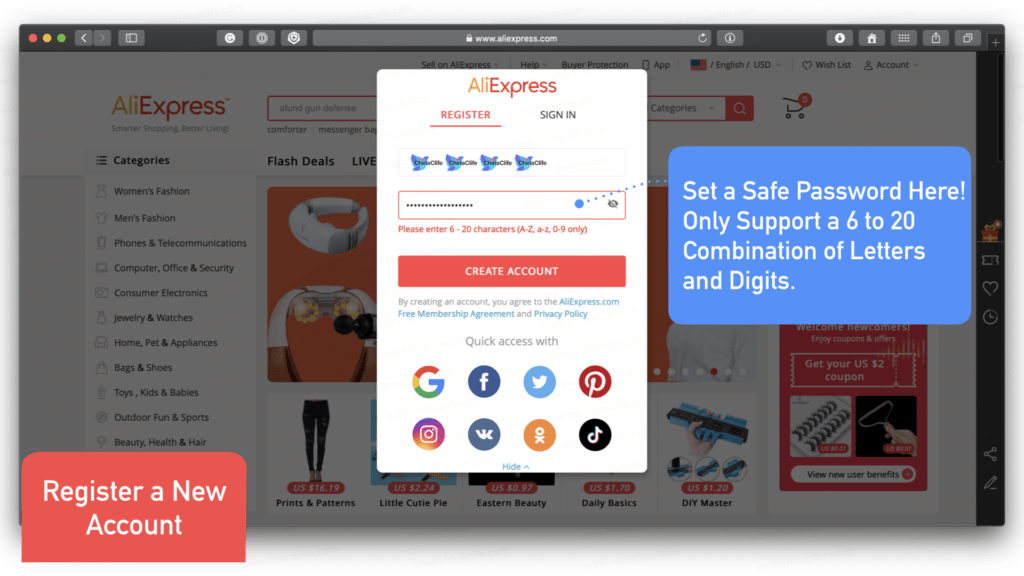 Go to the "Register" tab of the popup, and input your email address into the first blank field.

在弹窗内"注册"标签下,在第一个空白输入框内输入你的邮箱地址。

Then set a safe password of 6 to 20 characters combination in the second field. Please note, only letters and digits from 0 to 9 are supported here by AliExpress.

然后继续在第二个输入框内输入 一个由 6 – 20 个字符组合的安全的密码。注意,速卖通平台仅支持由字幕和 0 至 9 的数字组合的密码。

If all the above input is valid, without any error or tips appeared, please click the "Create Account" button to complete the AliExpress registration.

若以上输入信息均合法且正确,请点击"创建账号"按钮来完成速卖通注册。

By clicking the button, you'll be agreeing to the AliExpress.com Free Membership Agreement and Privacy Policy.

点击该按钮,意味着你将同意速卖通平台的免费会员协议以及隐私政策。
Step 4.   Get Your Email Verified.
步骤四、   通过邮箱验证。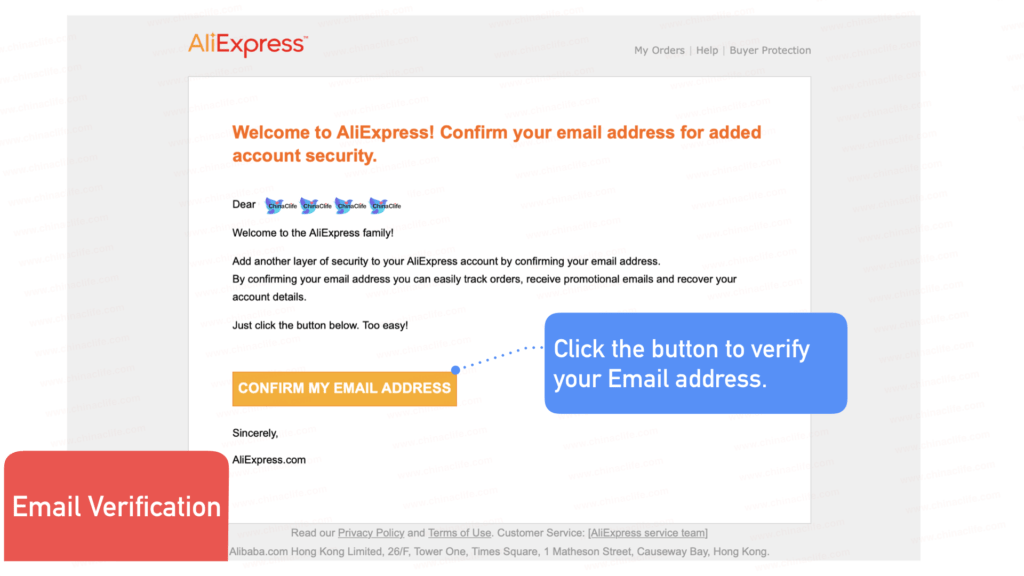 Launch and sign-in your email account, check out a verification email sent from AliExpress. Click the "Confirm My Email Address" button to complete the email verification.

开启并登录你的邮箱账户,查收速卖通发来的验证邮件。点击"确认我的邮箱地址"按钮来完成邮箱验证。
Step 5.   Registration with Success.
步骤五、   注册成功!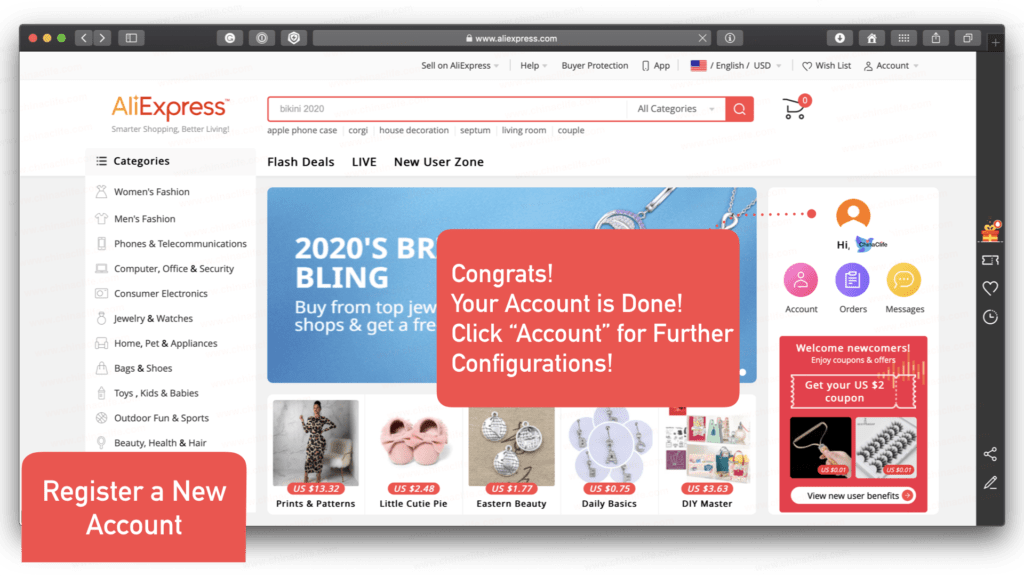 Congratulations! Now you have registered a valid AliExpress buyer account.

恭喜你! 现在你已经注册了一个有效的速卖通买家账号。

You will be guided to the Homepage of AliExpress, where your basic account info and some entries will appear on the right of the screen. Then click the "Account" button, you are able to go further and perfect your account information.

跳转至速卖通首页,你将在屏幕右侧看到你的基本账户信息和一些操作入口。点击"账户"按钮,可以继续完善你的速卖通账号信息。
Additionally, Setting a Shipping Address Is Suggested After AliExpress Registration.
| 另外,注册成功后建议先设定你的收货地址
Tips: The full content to show for Free Logged-in and Premium residents only. Please click Log-In / Sign Up for Free button on the top right to unlock them.

For Logged-In Members Only

Tips: The full content to show for Free Logged-in and Premium residents only. Please click Log-In / Sign Up for Free button on the top right to unlock them.

For Logged-In Members Only

READ NEXT
More Stories to Be Continued…
See u soon… : )