TUTORIAL: HOW TO QUICKLY SCAN ALL UNREAD MESSAGES IN WECHAT/QQ? THE SKILLS THAT MOST PEOPLE DON'T KNOW
|  鲜为人知的微信/ QQ 技巧:双击快速锁定未读消息
English Words:       Unread Messages in WeChat or QQ

Chinese Pinyin:      Wèi Dú Xiāo Xī

Chinese Characters:  未读消息

Similar Chinese Words:   
    新消息 (Xīn xiāoxi)| New Messages.
Related Chinese Words:   
    已读消息 (Tián Diǎn)| Messages that have been read.
    手机应用 (Shǒujī yìngyòng)| Mobile Apps.
    教程 (Jiàochéng) | Tutorial or guide.
Related App: 
    微信 (Wēixìn)| Tencent's instant social messaging tool.
    QQ (QQ)| Tencent's instant social messaging tool.

Table of Contents
What Are WeChat and QQ?
| 关于"微信"和"QQ"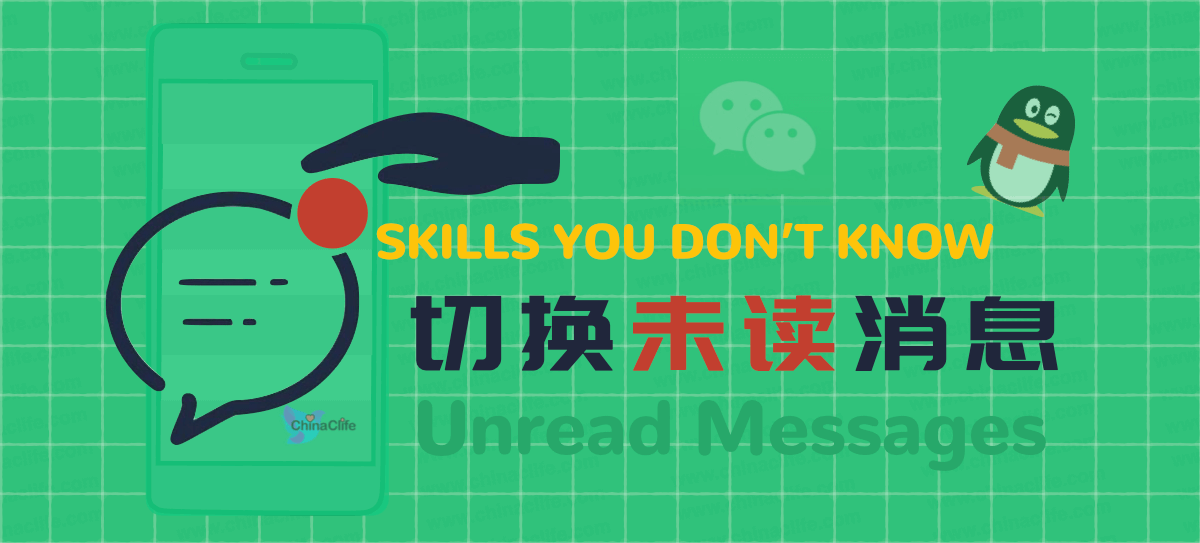 Both WeChat and QQ are useful and convenient free instant messaging tools developed by China's Tencent tech company. As with the popularity of Facebook and Twitter as in the West, the WeChat and QQ app get more frequently used by almost every Chinese in China.

微信和 QQ 都是由腾讯公司开发的便于在线沟通的免费即时通讯工具。与 Facebook 和 Twitter 在欧美地区流行一样,在中国,几乎每个中国人都会频繁用到微信和 QQ。

WeChat and QQ are the top choices for anyone who wants to chat online with Chinese friends, families, colleagues, customers & clients, or business partners, benefiting 1v1 private chatting online, group chatting, file sharing, video calling & conferencing, etc.

对于任何想与中国朋友、亲人、同事、客户或商业伙伴在线聊天的人来说,微信和 QQ 都是首选的聊天工具,可实现一对一的私聊、建组群聊、共享文件、视频通话和在线会议等功能。

What's more, they are able to provide more rich functions than chatting. For example, WeChat enables users to complete mobile payments via mobile devices similar to What Alipay does in China, supports reading up-to-date news and articles, getting online services and support from third-parties or merchants, watching short videos in the App like Tik Tok does, and more. And QQ offers more educational functions for online courses and study.

另外,微信和 QQ 提供的功能并不仅限于聊天。例如,微信还允许用户通过手机设备实现诸如支付宝支持的手机支付,支持在应用内阅读最新的新闻和文章,获得来自第三方或商家提供的在线服务和支持,观看类似抖音提供的在线短视频内容,等等。而 QQ 则提供了利于在线课程和学习的教育类功能。

WHAT IT MEANS?
How to Quickly Scan All Unread Messages in WeChat and QQ?
| 怎样快速切换微信和 QQ 未读消息?
When first entering an online messaging tool daily like WeChat or QQ, it's annoying if there are too many new messages received in the apps. They are usually listed by mixing with the sticky chattings and sometimes the messages from your friends in prior that you've read before and will force you to have to read them right now by clicking on it so that the annoying small red notification dot can be removed finally.

每天一打开微信或 QQ,若收到一堆来自新消息提醒的小红点总会令人烦恼。这些新消息总是与置顶的聊天记录以及一些已读但优先级较高的好友聊天记录混在一起,还总迫使你不得不去逐一点开新消息让它们变成已读状态,这样作为提醒的小红点才能彻底消失。

So what about if there are dozens of new messages waiting for your operations? How can we only scan and view unread messages quickly in WeChat and QQ?

如果此时有一堆这样的新消息和小红点都亟待处理呢?我们怎样才能在快速扫过列表,仅看这些新消息呢?

Both WeChat and QQ have provided a tiny useful function that enables you to quickly scan all unread messages in the app. But seldom people have known about it.

在微信和 QQ 里都提供了一个极小巧但实用的功能,可以让你快速锁定所有的未读消息,但极少人知道。

Followings are the steps that help you quickly find out unread WeChat/QQ messages with a few seconds.

以下即是教你如何快速找出微信或 QQ 内未读消息的步骤。

Free Sign-in to Unlock Full

Tips: The full content to show for Free Logged-in and Premium residents only. Please click Log-In / Sign Up for Free button on the top right to unlock them.

For Logged-In Members Only

READ NEXT
More Stories to Be Continued...