How to Pause Long Voice Messages And Resume Playing in the Weixin / WeChat App?
微信教程:怎样暂停和续播长语音消息
The text or voice messages, which do you prefer sending via the instant messaging app like Weixin or WeChat? Recently, a new feature to pause long voice messages playing and resume is supported by the new updated version of the Weixin/WeChat iOS app. Continue the story to find out how to do with this new feature.

English Words:
Chinese Pinyin:
Standard Chinese:
Similar Chinese Words:
停止播放 ting zhǐ bō fàng To stop the playing.
Related Chinese Words:
中止 zhōng zhǐ means to break off or pause, different from similar Chines word "终止" which means to terminate or end up.
Related App/City:
微信 wēi xìn The most popular instant messaging tool and mobile app developed by Tencent.
Chinese Pronunciation on Google

Say "to Pause" in Chinese
What Long Voice Messages To Pause in Weixin/WeChat?
微信里的长语音消息
The long voice messages, turned into Chinese as 长语音消息 (Cháng yǔ yīn xiāo xī) usually look like a string of white voice message items leading by a voice icon and followed by a time value in seconds format, that you may receive from others in a kind of mobile instant messaging app, e.g. China's Weixin/WeChat (the International Version of Weixin App) or iPhone's iMessage app.
通常,在手机即时通讯工具上,如微信里,会收到对方发来的一串白色消息条,前带一个小巧的语音图标,后跟一个以秒为单位的数值,类似这样的消息条即为一则语音消息,承载着对方录好的一段语音内容。消息条上提示的数值越大,包含的语音信息越多。
You must have received such long voice messages before. Sometimes, you may have felt annoyed that you have to play the voice message again and again in order to grasp all information it carried because the voice message you received was too long to hear the full at once.
你一定收到过类似的长语音消息。或许也曾感受过它带来的烦恼。有时,一条消息里载入的语音内容太长,很难让人一次性听完,导致我们不得不重头开始一遍遍地重听这条消息。
In this case, to pause 暂停 (zàn tíng) or resume playing 恢复/继续播放 (huī fù/jì xù bō fàng) for long voice messages becomes quite necessary and friendly for user experience. That's what the new feature has been added into the latest Weixin/WeChat app in recent time. For the iOS users of this app, let's now take a look at the following steps on how to pause long voice messages playing in the Weixin/WeChat app.
在这种情况下,若能对语音进行暂停和继续播放,是十分必要且很友好的用户体验。在最近发布的微信新版本中就加入了万众期待的"语音暂停和续播"功能,支持语音暂停和继续播放了。若你是苹果手机的微信用户,可通过以下步骤了解如何在微信应用内暂停长语音消息。
Additionally, only long voice messages the length of which is up to 13 seconds are allowed to activate the playing pause and resume function in the Weixin/WeChat app.
而且,只有长度超过 13 秒的语音消息才被视为一条"长语音消息",并支持语音暂停和继续播放的功能。
Step 01. Check and Update Weixin/WeChat
步骤一:检查并更新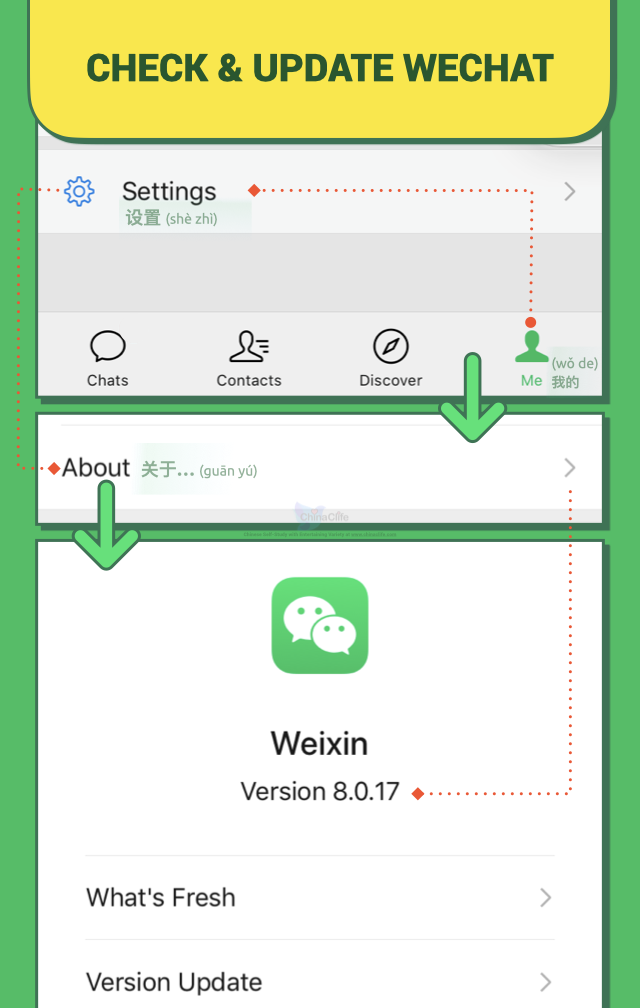 The new feature of pausing and resuming playing long voice messages is currently supported by Weixin/WeChat v8.0.17 or later for iPhone users. Thus, firstly make sure you are using the latest version of the app. If not, tap "Mine" - "Settings" - "About" to check for updates, go to Apple AppStore and install the latest version (v8.0.17 or higher) of Weixin/WeChat if necessary.
语音暂停和续播功能是微信 iOS 新版 v8.0.17 中加入的新功能。因此,请依次点击"我的"-"设置"-"关于微信"检查已安装的微信版本。若低于 v8.0.17,请先去应用商店更新至 v8.0.17 或更高。
Common Chinese Words Related to Checking Updates
与"检查更新"相关的中文
Step 02. One Tap to Pause Playing
步骤二:轻触暂停语音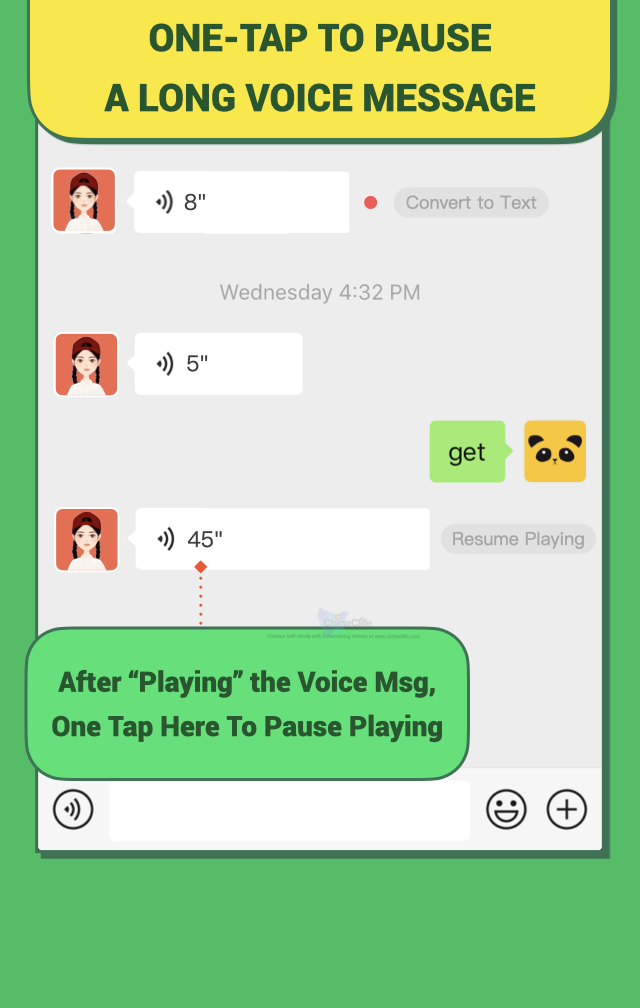 After upgrading to the latest version, launch the Weixin/WeChat app and find out the recent long voice message you've received in the Chatting History interface.
打开最新版本的微信应用,找到已收到的长语音消息。
Make sure the time value displaying upon the voice message item is greater than 13 seconds. Then play the voice message by tapping it. After playing, now you are able to tap the long voice message once to pause the playing in the Weixin/WeChat app.
当播放一则长语音消息(至少 13 秒)时,轻点一下语音消息条,就能实现暂停语音播放。
Common Chinese Words Related to Pause Playing
与"暂停播放"相关的中文
Step 03. Tap A Button to Resume Playing
步骤三:轻触继续播放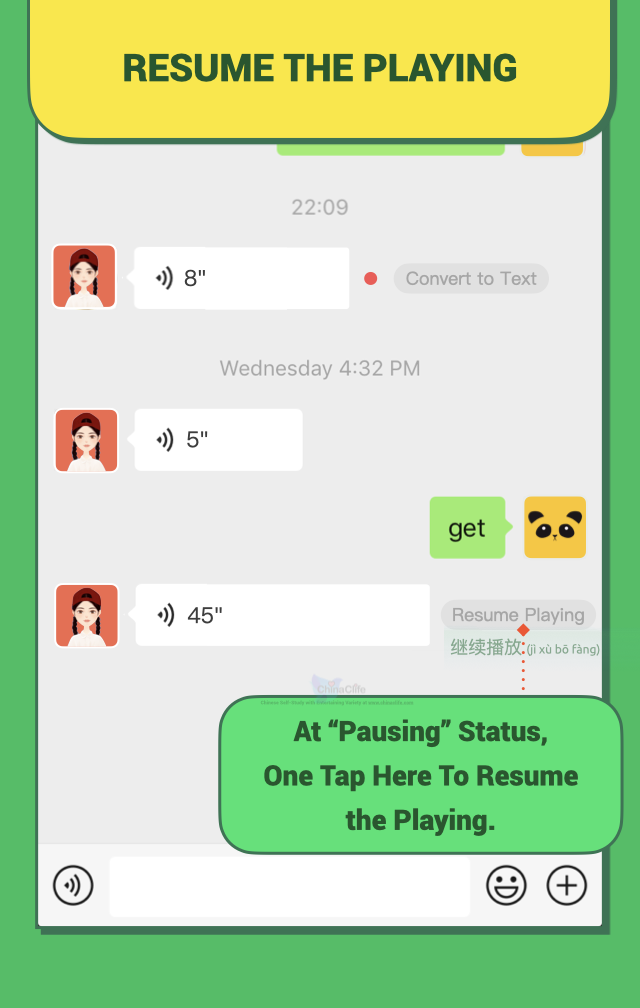 When you paused a long voice message playing in Weixin/WeChat, a Small Grey Button with text atop like "Resume Play" or the corresponding Chinese 继续播放 (jì xù bō fàng) would appear after the voice message item. Under the "Pause" status, now you can resume the long voice message playing by tapping again on the small grey button.
当长语音消息被暂停后,再点击一下消息条旁边的浅灰色"继续播放"按钮就能恢复播放,能继续听取剩下的语音内容了。
Common Chinese Words Related to Resume Playing
与"继续播放"相关的中文
More Questions & Answers
常见问题与答案
Q1. Does Weixin/WeChat Android Support to Pause Long Voice Messages or Resume Playing?
The Weixin/WeChat for Android users will absolutely support the function to pause and resume the playing of long voice messages in the app, but a bit later than that the iOS version has done. Keep an eye on the upcoming version updates of Weixin/WeChat for Android.
Q2. Is There Any Button to Pause the Playing of Long Voice Messages in Weixin/WeChat App?
No, there's no additional Pause button appeared in Weixin/WeChat app. Instead, just tap the long voice message item directly you received which is playing after you have tapped it.
Q3. Can I Resume the Playing by Tapping the Voice Message Item?
No. It is only allowed to tap the Resume Playing button on the right of the voice message item for resuming the playing.
Q4. Can I Rewind or Fast-forward the Voice Messages in Weixin/WeChat?
No, only the playing pause and resume function are allowed at the current.
To get more how-tos and guides on using popular Chinese apps, or looking for starting Chinese learning entertainingly, keep an eye on our updating at www.chinaclife.com.
欲获取更多应用指南和教程,或开始趣学中文,记得随时关注我们的更新。
Hope useful!
IN ADDITION
Questions & Additional
Have you got any tips from this bilingual Chinese story above?
Do you have any other questions or suggestions?
You are free to write it down in the "Comments" section below or in our groups.
Any thought from you is appreciated, valuable, and might help the rest of the residents on the planet. 😀
Additionally...
Did You Start Learning Chinese with Pinyin?
Continue to read our User-friendly Chinese-Pinyin version of this story
(Unlocked for Free Logged-in and Premium residents only).
Hope it Helps! : )
READ NEXT