Get Free WeChat Red Packet Covers For Chinese New Year 2022! Limited!
限量领取"中国新年版"微信红包封面
Sending Red Packet, especially for the Chinese New Year Celebration, is a traditional custom and popular gift idea by the Chinese people. As the 2022 Chinese New Year's coming since Feb 1, 2022, we have prepared limited quantities of free WeChat red packet covers on the WeChat/Weixin app. Early birds can grab one of the customized red packet covers and then use it for sharing a WeChat red packet as well as good luck with families and friends.

English Words:
Chinese Pinyin:
Standard Chinese:
Similar Chinese Words:
红包封面 hóng bāo fēng miàn The cover of a red packet.
Related Chinese Words:
红包 hóng bāo The red packet is the most popular type of gifts sent by the Chinese to share the blessing and great fortune with others.
微信红包 hóng bāo The funtion in WeChat/ Weixin app allows people to send or share a virutal red packet with others.
Chinese Pronunciation on Google

Say "WeChat Red Packet Cover" in Chinese
What Is Red Packet Cover?
什么是红包封面?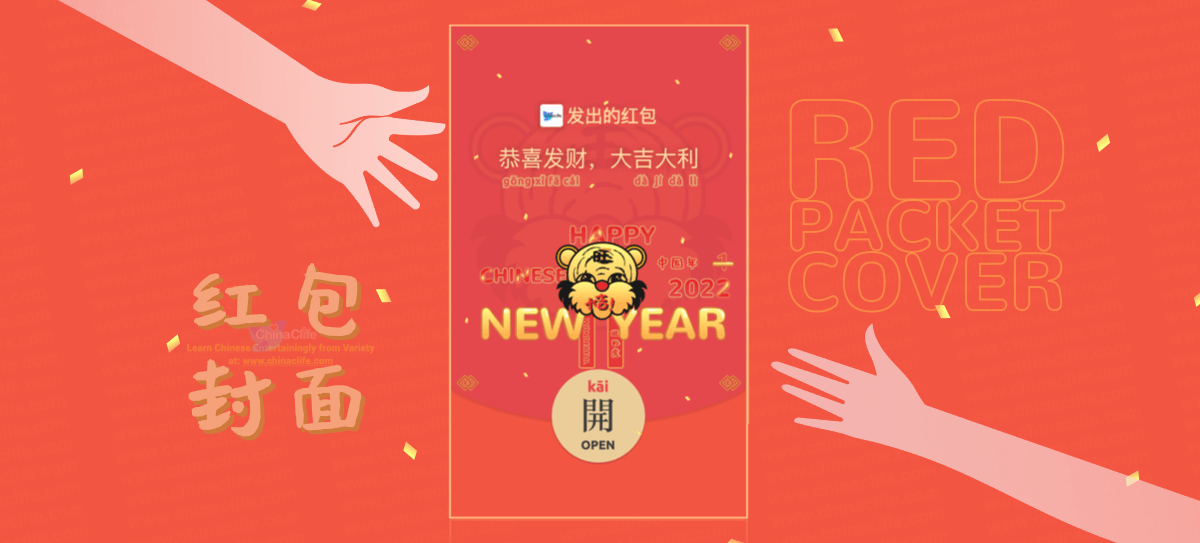 Basically, the Red Packet Cover in Chinese as 红包封面 (hóng bāo fēng miàn) means a red paper cover or wrapper that wraps the outside of a Red Packet known as 红包 (hóng bāo) in Chinese, which is a popular sending and receiving gift welcomed by the Chinese people to share blessing and good luck with others on various occasions in China.
红包封面,通常指的是包裹在红包外部的一层红色纸质封面或封套,而红包在中国是深受人们喜爱的礼物。发红包,意味着送出祝福和好运,适用各种场合。
However, at present, when the Red Packet Cover is spoken of, it is more about a popular function WeChat Red Packet Cover in Chinese as 微信红包封面 (wēi xìn hóng bāo fēng miàn) supported by Tencent's WeChat/Weixin app in recent years, that allows users to choose a default or customized WeChat red packet cover when sending or sharing a virtual WeChat red packet to others within the app.
然而,在当下,人们提到红包封面,更多是指近几年在微信应用里十分受人欢迎的"微信红包封面"功能,它允许微信用户在发送和分享虚拟的微信红包时可以灵活地选择一个默认或自定义的红包封面。
"Method One"
Scan QR Code For WeChat Red Packet Covers
扫描二维码领取红包封面
Launch the WeChat/Weixin app from mobile, go to "Chats" - tap the top right "+" icon - tap "Scan", and then scan the specified QR Code below for obtaining a free WeChat Red Packet Cover for Chinese New Year 2022.

启动微信应用,依次点击"微信" - 右上角的"+"图标 - "扫一扫",通过扫描以下指定的二维码来领取「2022 中国年」微信红包封面。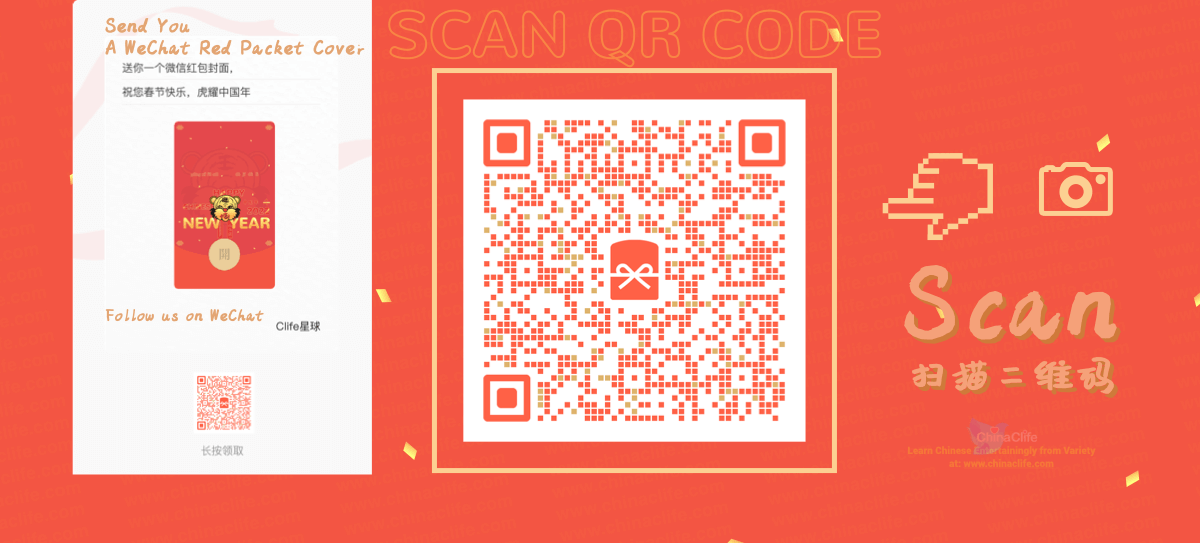 "Method Two"
Follow Us on WeChat & Type A Keyword
关注微信公众号并发送指定消息
1. Follow us on WeChat/Weixin by scanning our Official WeChat Account's QR Code below, or search by the Keyword "Clifep" to find ChinaClife WeChat Official Account and follow it.
先扫描下方的公众号二维码,或搜索关键字"Clifep"来关注我们的微信公众号;
2. Type a keyword like "Spring Festival 2022" or "Chinese New Year 2022", then send it to our WeChat Official Account through the WeChat/Weixin app.
然后输入关键字 "Spring Festival 2022" 或 "Chinese New Year 2022" 并发送该消息至我们的微信公众号;
3. Now you'll be able to get a WeChat Red Packet Cover by following the simple instructions from the auto-response!
按回复中的操作说明,领取相应的微信红包封面即可。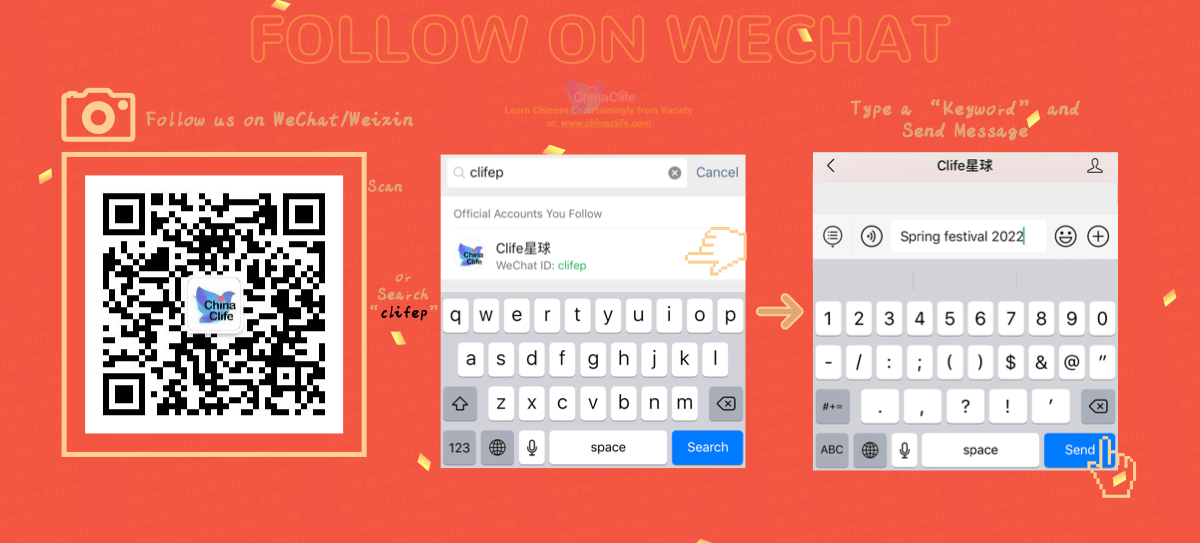 Enjoy and have a try!
Looking for starting or continue to your Chinese learning entertainingly in the year 2022, keep an eye on our updating at www.chinaclife.com.
若希望在新年一年里开启或继续趣学中文,记得随时关注我们的更新。
IN ADDITION
Questions & Additional
Have you got any tips from this bilingual Chinese story above?
Do you have any other questions or suggestions?
You are free to write it down in the "Comments" section below or in our groups.
Any thought from you is appreciated, valuable, and might help the rest of the residents on the planet. 😀
Additionally...
Did You Start Learning Chinese with Pinyin?
Continue to read our User-friendly Chinese-Pinyin version of this story
(Unlocked for Free Logged-in and Premium residents only).
Hope it Helps! : )
READ NEXT
Stories You Might Have Missed