Latest: How to Register A QQ International Account (2019-2022) For PUBG, Avena of Valors, Quick Login to Chinese Apps
应用指南:怎样注册 QQ 国际版?
One story introduced you that how to register a QQ International account for quick login into Chinese apps and hot mobile games like PUBG, Avena of Valor, etc. With over 600 million monthly active users, QQ not only enables you to remotely communicate online with Chinese friends and business contacts but also provides quick login support into many other Tencent-based and Chinese apps. Keep reading the following to get more about it.

Firstly, What is QQ?
QQ, known as Tencent QQ, is China's famous multi-platform instant messaging application developed by China's tech giant Tencent company. It not only supports instant communication, via text, voice, and video, one-to-one or group message, and also allows you to share images/photos/videos/audios/files between you, friends and others with ease. To get to know more about QQ, please read QQ's bilingual introduction story later.
Why Should I Register QQ Account?
Keep in touch with your Chinese friends, colleagues, customers & clients, and also Chinese business partners. Believe me, that most Chinese people use QQ or WeChat for online communication much more than using emails. That's a quite different cultural habit from that out of China.
A QQ account is quite useful to help you quickly login into other Chinese Apps without further registration. For example, you can register a QQ account for PUBG (PlayerUnknown's Battlegrounds) game's Chinese edition. A quick login and enjoy a different game experience as well as the built-in Asian beneficial rewards.
A great tool to transfer even large files to others.
Group chat or discussion.
Make new friends via the Look Around feature.
More all-in-one functions in the Chinese version such as the entry of Tencent games, news, short video clips, etc.
Which Version of QQ Is Better For Me?
There are two different QQ versions: QQ Chinese version and QQ International version. Don't mistake the two website addresses of the QQ Chinese site and QQ International.
Chinese Version of QQ, please visit official site: https://im.qq.com/index.shtml
The website for of QQ International, please visit official site: https://www.imqq.com/ .
The latest registration process is quite different from that in previous years, more strict than before due to avoid such as the abuse of QQ accounts. QQ is also requiring real-name registration (which is also required by Sina Weibo app and more Chinese apps) via your valid mobile phone number.
If you are living in the mainland of China, or other areas of China such as Hong Kong, Macau, and Taiwan, and you have owned a valid local phone number, it is easy for you to complete the registration within QQ Chinese version. It's obvious that the QQ Chinese version provides more dazzling functions.
Otherwise, you'd better install and sign up an account for QQ International version, because it supports the phone number from more global countries and areas. And to get a full English and clean interface, it is also suggested to use the QQ International version .
To register QQ account for QQ International from desktop, please jump to CASE TWO directly – register QQ on desktop. And then you are free to download QQ client from here www.imqq.com. Both mobile versions are provided: for iPhone and Android mobiles. You can download QQ International Apps at Apple Appstore or Google Play Store and get more QQ-clients for other large-screen devices and operating systems from the official site.
Tips You Should Know Before QQ Sign-up
The QQ International version can be installed and registered on your mobile phones, or desktop, .
The QQ Chinese version can be installed and registered on desktop or mobile phones, but its verification only supports local Chinese phone numbers including that of China mainland, Hong Kong China, Macau China, and Taiwan China.
It is not available anymore to register QQ account without a valid mobile phone number.
Fake/virtual mobile phone number may cause lots of failures because the registration becomes more and more restricted than ever due to the abuse registration before.
In the test, try to register QQ account via PC / laptop (CASE TWO), which is easier to succeed.
After completing QQ registration, be sure to login in three days or the account will be recycled.
If possible, please take a record of your QQ number (the QQ ID) and remember it.
You can get a quick login into many other popular Chinese Apps with your QQ account without further registration (BTW, so did WeChat Account).
You will obtain a QQ mail account automatically at meanwhile, which is the second hot and free email service provider in China. It is free and facilitates transferring large files to others via email.
Now, you can follow the steps below and start your own QQ registration.
Steps to Register a QQ Account For QQ International
CASE ONE
Step 1. Install the QQ International App.
Visit the QQ International Website on your browser: www.imqq.com.
If it doesn't show English automatically, please click the right top button with the words "简体中文(jiǎn Tǐ Zhōng Wén)" indicating the Chinese simplified, then you can select the English option.
Then click Download, you will see the indications for installation from Appstore or by scanning the QR code (please note there may some wrong-link jumped after extracting the QR code when I test, hope it gets optimized now. )
Step2. Launch App and Change the Language of Interface If Necessary.
Currently, the App of QQ International supports eight languages including:
English
简体中文 (jiǎn tǐ Zhōng wén) | Chinese Simplified
繁体中文 (fán tǐ zhōng wén) | Chinese Traditional
日语 (rì yǔ) | Japanese
韩语 (hán yǔ) | Korean
荷兰语 (hé lán yǔ) | Deutsch
法语 (fǎ yǔ) | French
西班牙语 (xī bān yá yǔ) | Spanish
We hope more could be added later.
Step 3. Read and Accept Terms & Privacy.
Click the "Accept" button to get into the Sign-up Interface.
Step 4. Select the Country.
In the Sign-up interface, select the country according to your mobile phone number. There are too many choices now.
Step 5. Input Valid Phone Number and Get Verified.
According to the App said, your mobile phone number collected for your registration to use its service in accordance with the terms of their Privacy Policy. The information then will be used mainly for account verification and password retrieved. If you lost your password or your login name, how will they confirm that you are the real user, not another fake person? In that aspect, the basic information you provided could be helpful to identify you.
You are free to read the Privacy Policy in detail if you really care about it.
Step 6. The Last Step.
Click the "Next" Button to Completed the registration.
CASE TWO
With regard to the last step of Case one, someone may encounter an error like this: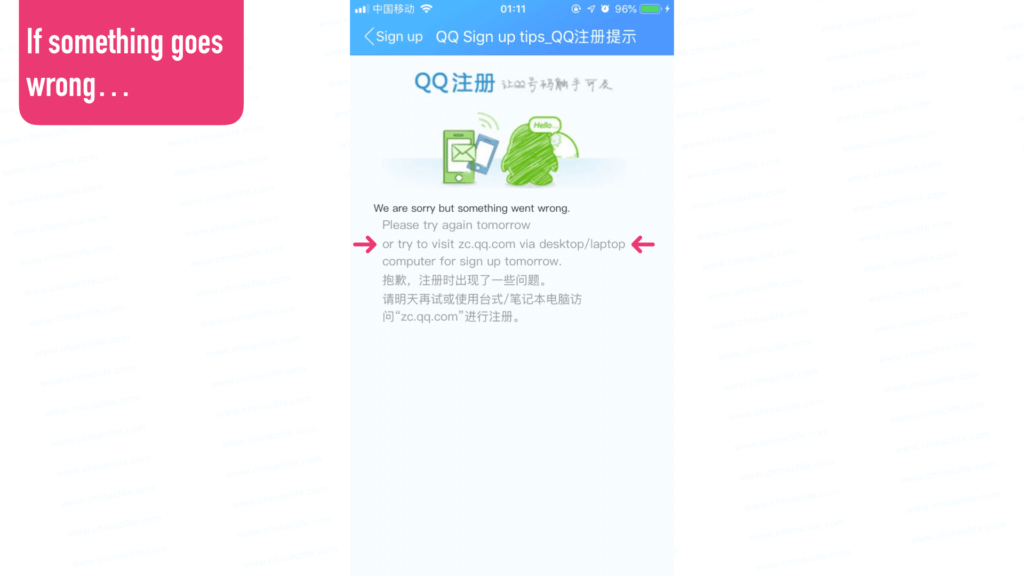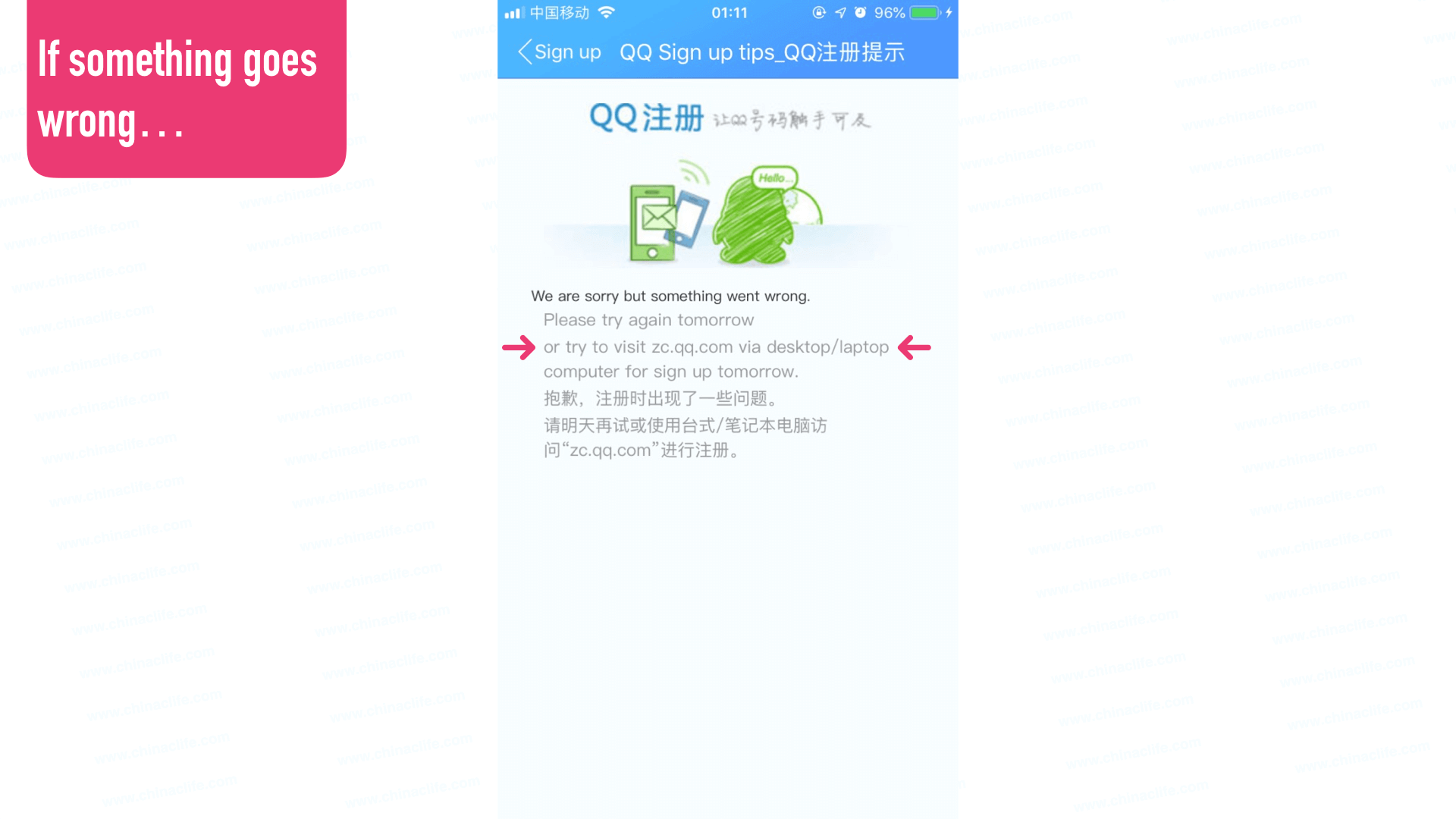 In that case, please follow the desktop guide below to register QQ on a PC or laptop device.
Step 1. Visit Offical Website in Your Browser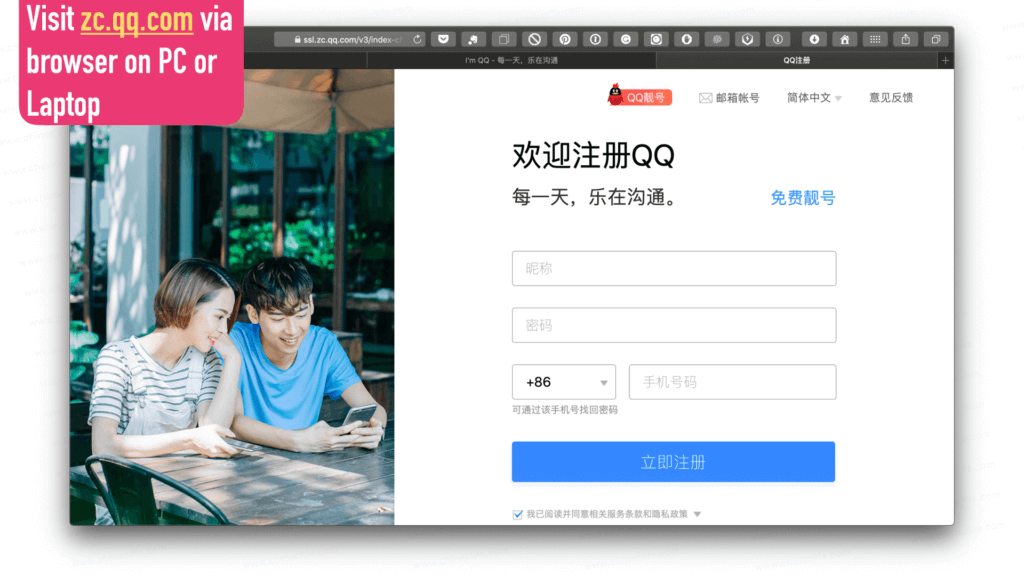 Simple to open zc.qq.com in your browser via PC or Laptop. Or click the button below to visit the page with the English language selected.
QQ International Official Site : )
Step2. Change the Language If It Is Not.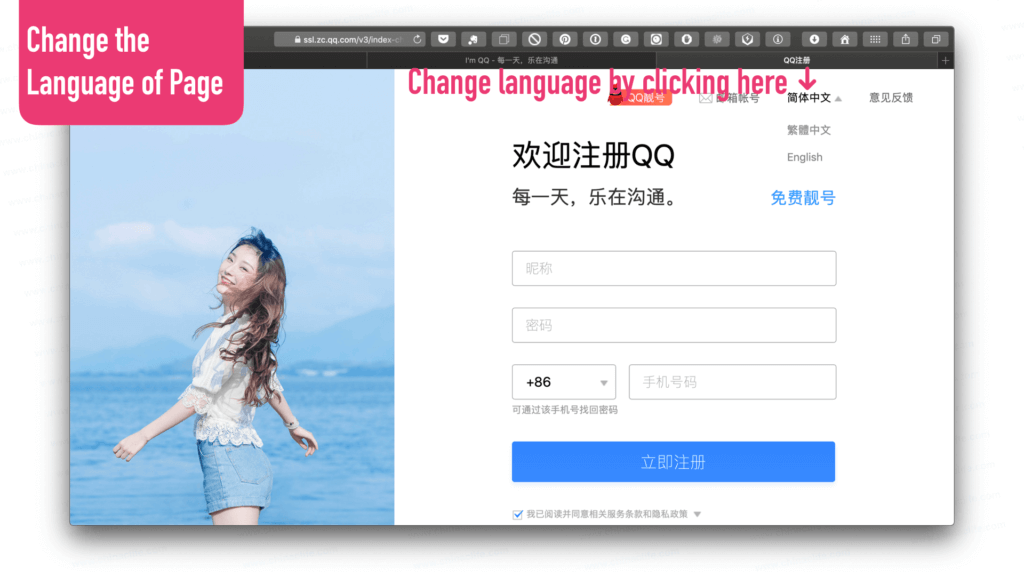 If it shows the Chinese characters like 简体中文 (jiǎn tǐ zhōng wén) on the right top of the page, it means the page you are browsing is in Chinese Simplified language. Click it to change the language into English.
Step 3. Input a Nickname and Info As Required.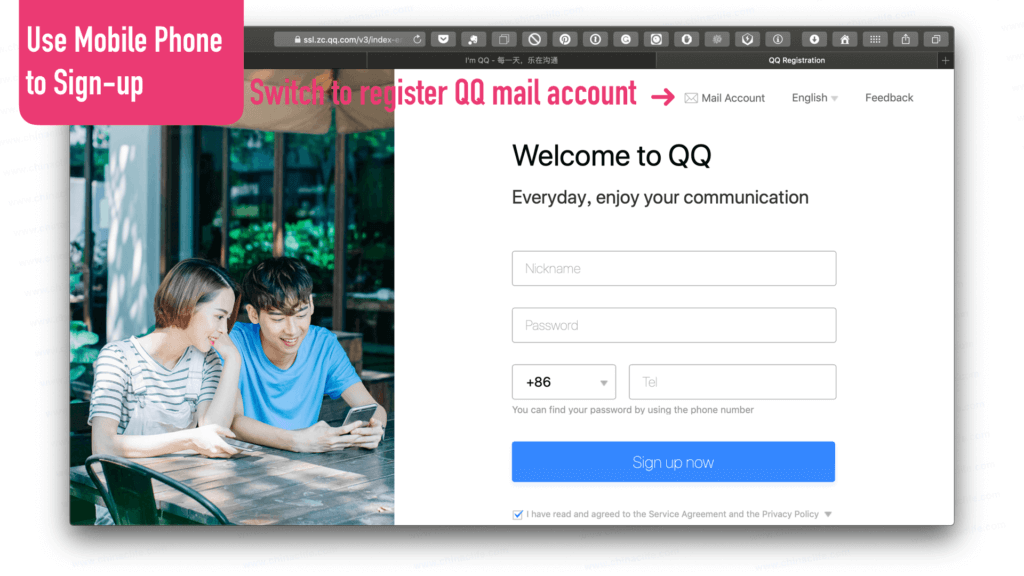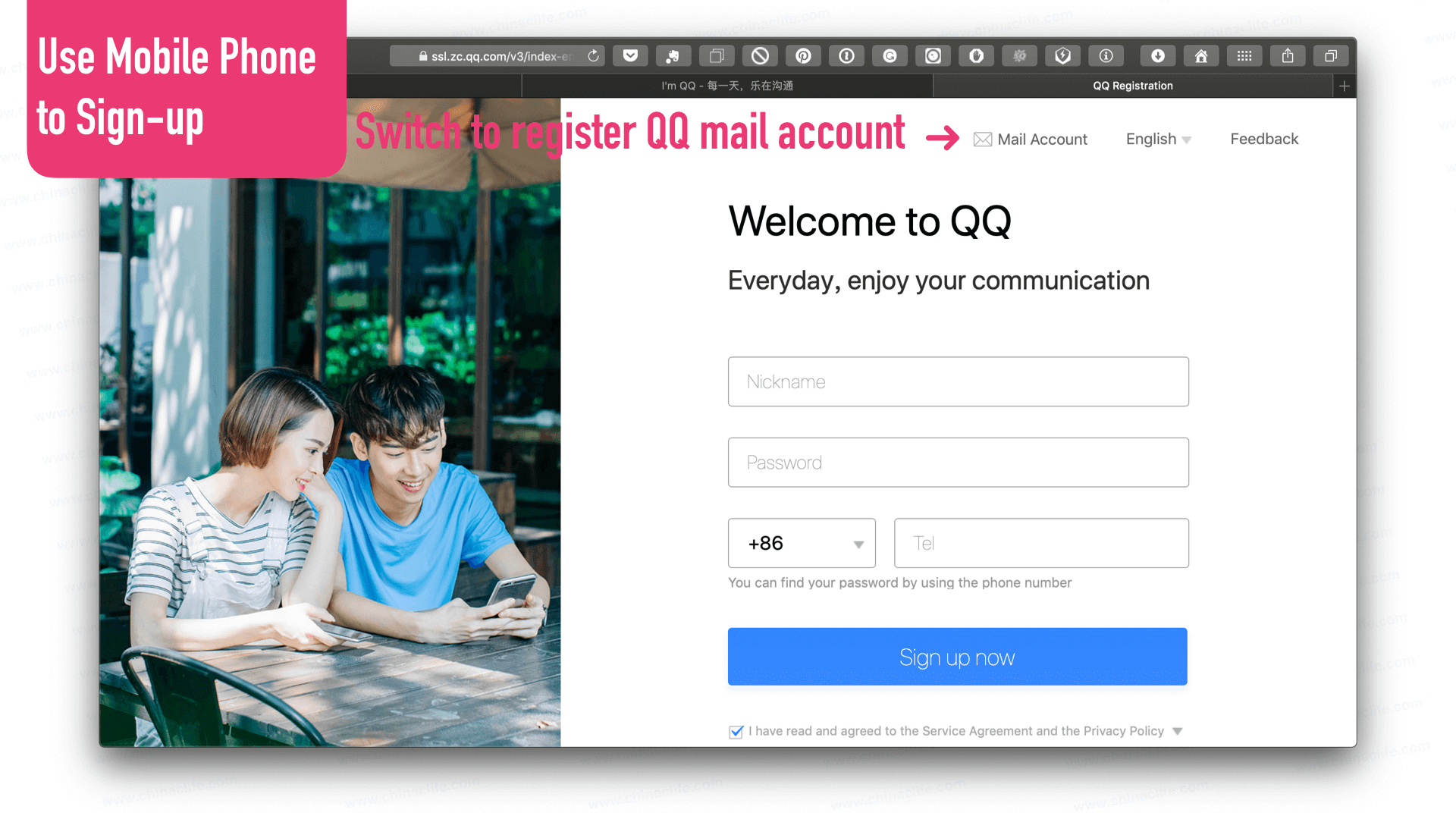 Your Nickname —— whatever you want others to see.
Set your Password —— 8 to 16 characters with no space, as much stronger as better.
Select the Country's Code —— Which is consistent with your mobile phone number.
Input your Phone number —— Which is used to receive a free SMS verification code.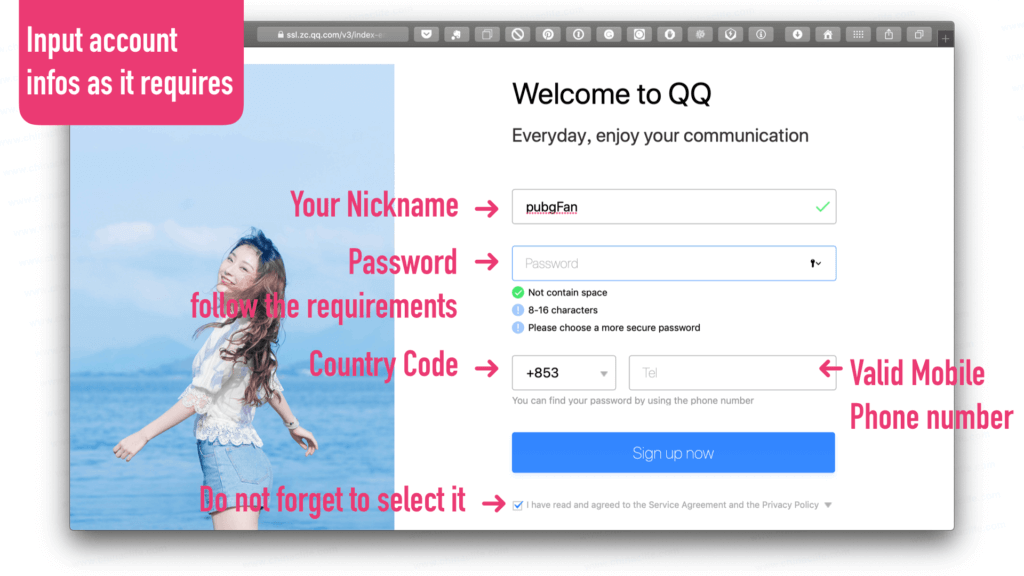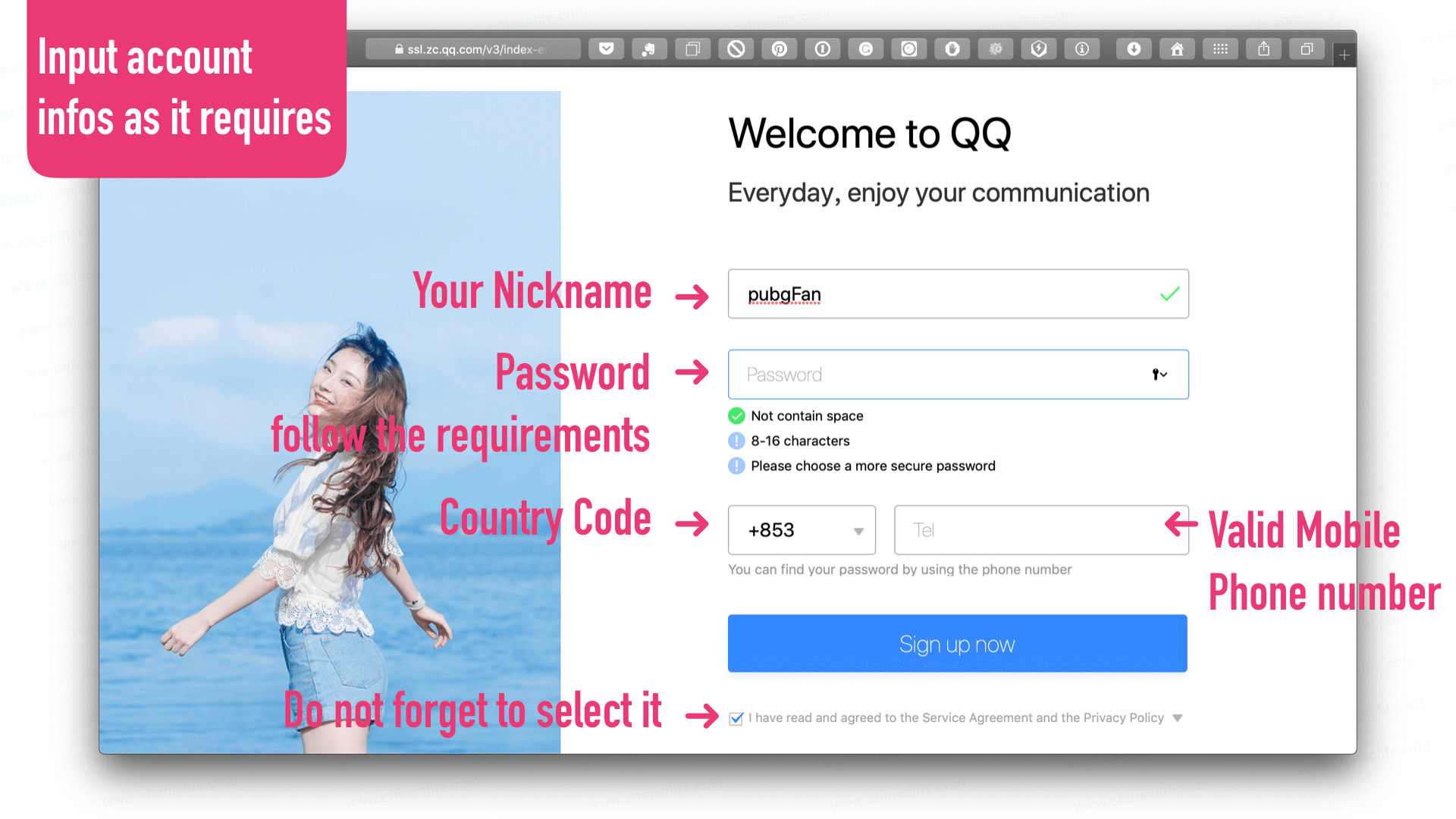 Later input the verification code you received on your mobile phone.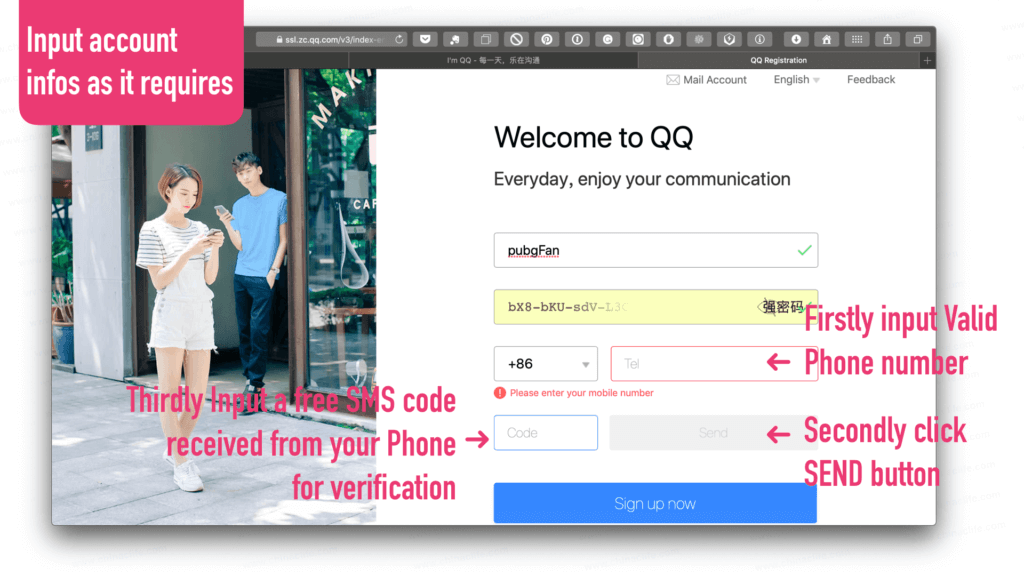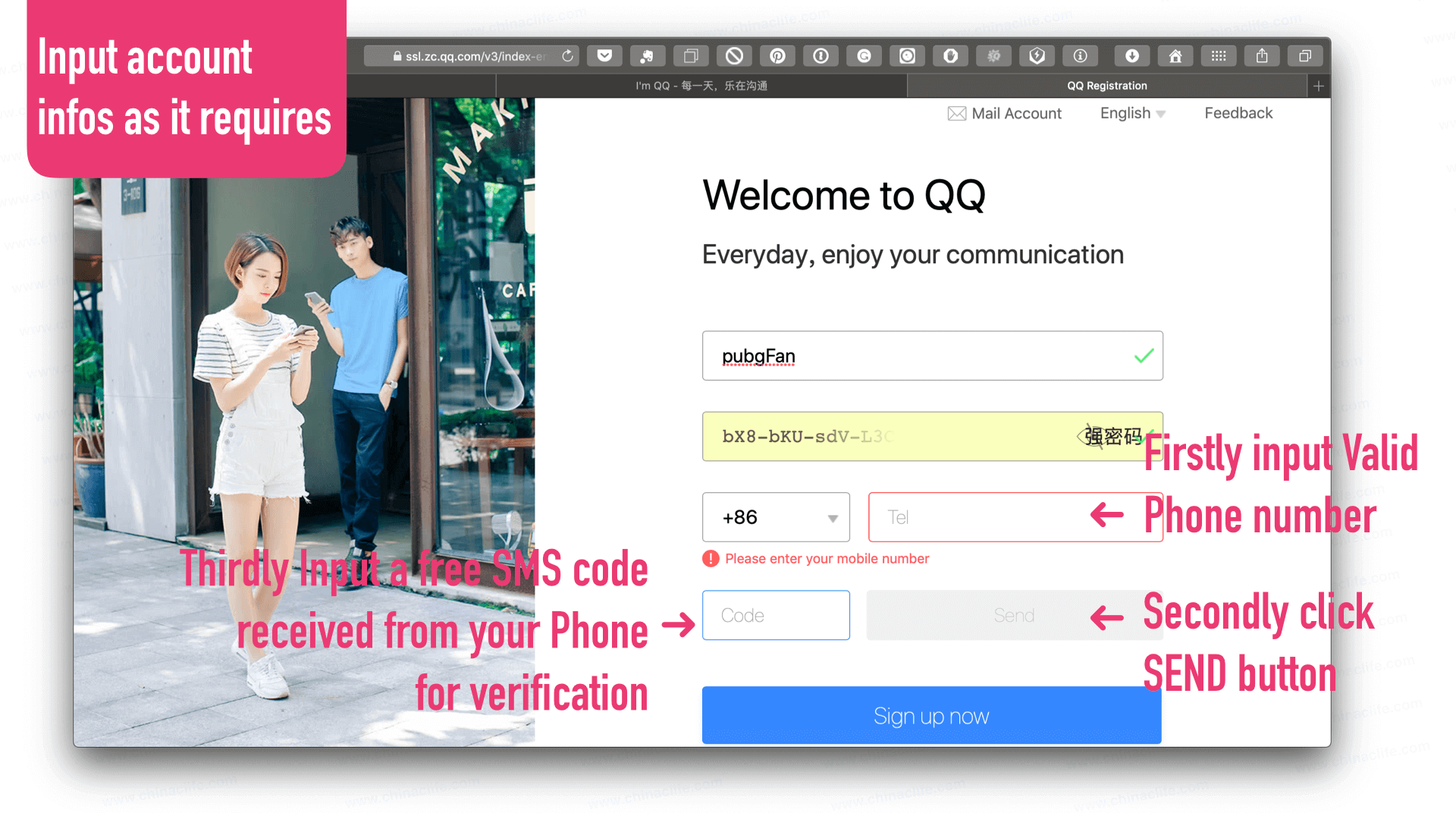 Congratulations! And one last step is left.
Step 4. Congrats! Your QQ ID Is Born.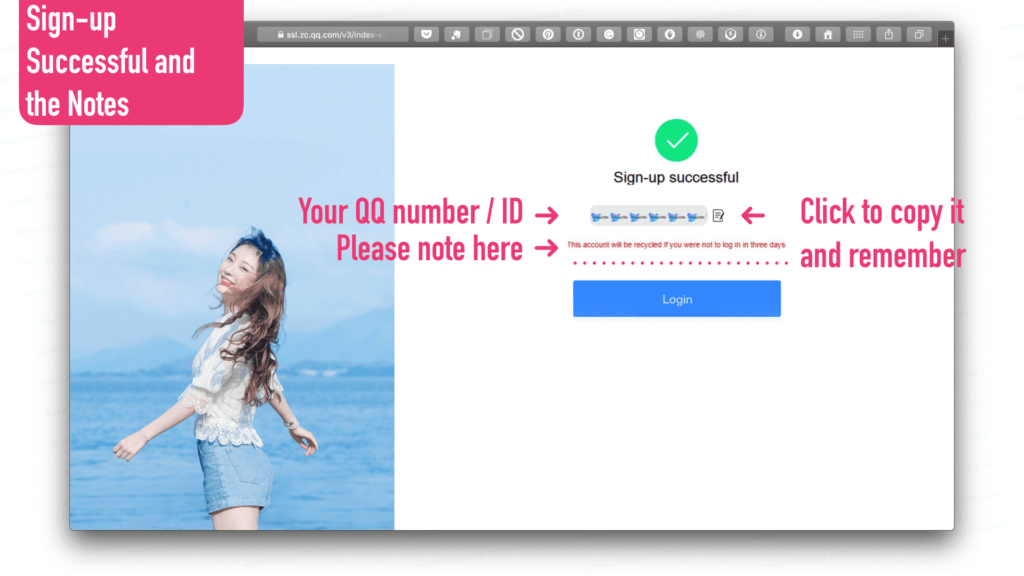 After Sign-up successfully displayed on the screen, you could see a number which is your QQ number or it can be called QQ ID.
Please copy it and paste anywhere as a backup and remember it.
Please remember to login to QQ with your QQ ID in three days. Or the account you registered might be recycled.
A QQ ID will be quite useful in China because you can use it to fast login to most Chinese Apps and websites without sign-up from the beginning. So does WeChat ID.
You can also login to Pubg's Chinese edition with your QQ ID.
One more thing, you will also get a free QQ mail account automatically after your QQ ID was born, like YourQQNumbers@qq.com. You can also use your QQ account to login your QQ mail system by visiting mail.qq.com. The QQ mail service is stable to connect with others in China and also gives you a chance to upload big-size attachments to others via email.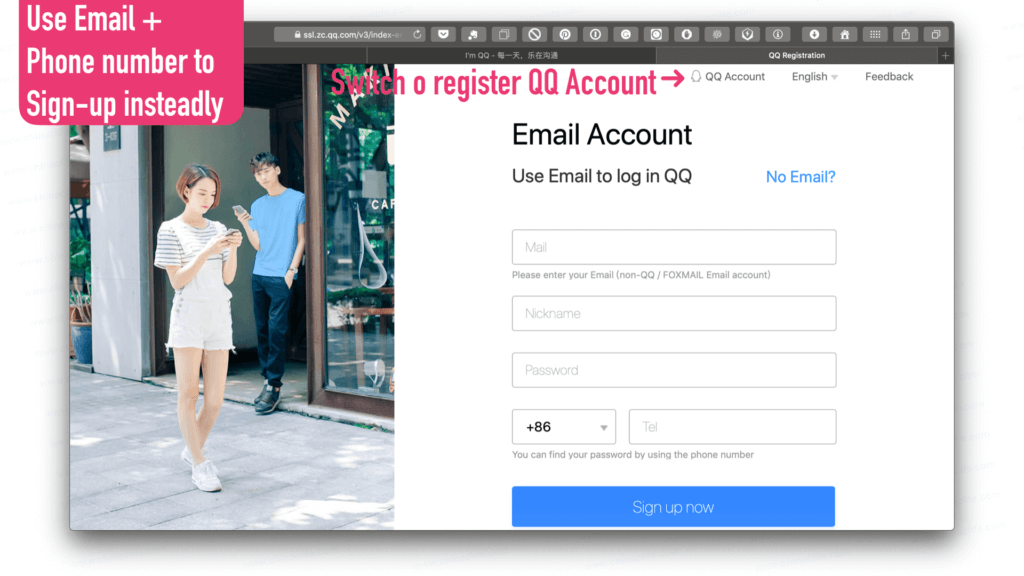 IN ADDITION
Questions & Additional
Have you got any tips from this bilingual Chinese story above?
Do you have any other questions or suggestions?
You are free to write it down in the "Comments" section below or in our groups.
Any thought from you is appreciated, valuable, and might help the rest of the residents on the planet. 😀
Additionally...
Did You Start Learning Chinese with Pinyin?
Continue to read our User-friendly Chinese-Pinyin version of this story
(Unlocked for Free Logged-in and Premium residents only).
Hope it Helps! : )
READ NEXT