HOW-TOs
THE NEWBIE GUIDE TO REGISTER WECHAT ACCOUNT 2019 WITH MOBILE PHONE 
|  新手教程2019:如何用手机号注册微信
WeiXin VS WeChat, What Are They?
| 微信 (Wēi Xìn) 与 WeChat 应用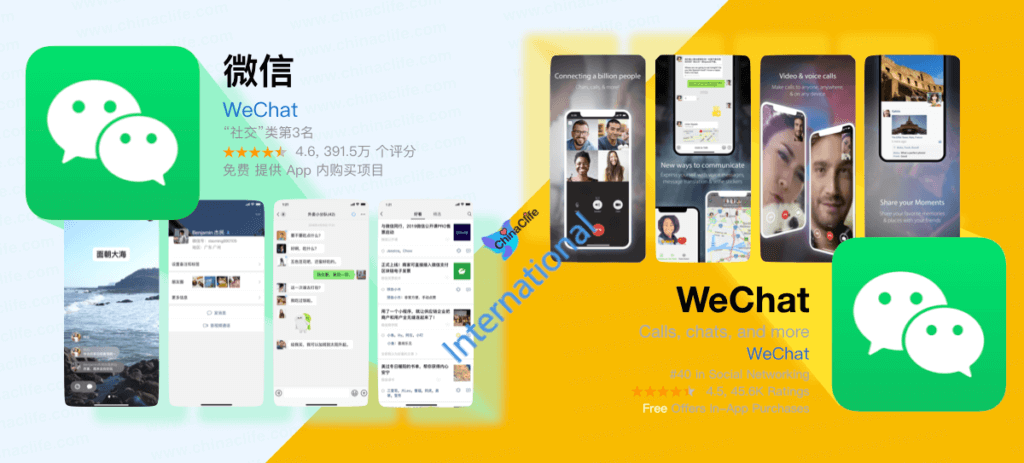 微信 (Wēi Xìn), initially as a Chinese instant message app, now is a multi-function social tool in China, with over 1 billion registered users all over the world.

微信 (Wēi Xìn),最初在中国是一款即时通讯应用,目前成为了一款拥有众多功能的社交工具,在全球已拥有超过10亿的注册用户。

Weixin (WeChat) is more than just a messaging and social tool. It could be said that Weixin integrates plenty of features into one app, similar to a combination of Skype, WhatsApp, iMessage, Instagram, Facebook, etc. Today it is broadly installed and used across nearly all ages in China.

微信 (Wēi Xìn) 更甚于一般的仅收发消息和社交的工具。可以说,微信在功能上整合了如 Skype, WhatsApp, iMessage, Instagram, Facebook 等众多功能用于一体。如今在中国几乎各个年龄层均有广泛的用户基础。
What Difference Between Weixin and WeChat?
| 微信 (Wēi Xìn) 与 WeChat 的区别?
Weixin, written as 微信 (Wēi Xìn) in the Chinese language, is developed by Tencent for Chinese users, while WeChat is its international version developed for users out of China. WeChat is a little bit different from Weixin, although most of the functions in both two apps are the same.

微信,是由腾讯为中国用户开发的版本,而 WeChat 是其为中国以外的用户开发的国际版。两个版本大部分的功能是相同的,不过 WeChat 仍与微信有一点区别。

For example, if your registered WeChat with the mobile phone numbers out of China, you could experience an international version of Weixin, that is to say, WeChat, such as with no ads before watching videos in WeChat.

举例来说,如果你使用非中国的手机号码注册 WeChat,那么你可以体验到的是微信国际版的功能,即 WeChat, 如在 WeChat 中的视频播放前无嵌入广告。

If you registered Weixin with a Chinese phone number, you can enjoy all the full functions of Weixin, such as the quick entry of Tencent's mobile games and Weixin mini-games.

如果你使用中国手机号注册微信,那么你可以享用微信的全部功能,比如能迅速进入腾讯手机游戏和微信小游戏的游戏中心入口。





BEFORE THE GUIDE
Which Version Should I Install? WeChat or 微信?
| 该安装 WeChat 还是微信?
If your mobile phone number comes from the areas out of China, it is suggested to install WeChat, the international version of Weixin. If not, you'd better install 微信 (Wēi Xìn).

如果你使用的是非中国的手机号,建议你安装国际版的 WeChat 。如果用的是中国手机号,安装微信更好。

If you are or will live in China for a while, and want to get deep into Weixin as the Chinese people did, you can install the 微信 (Wēi Xìn) app, after all, in which more functions are available in China.

如果你正好或即将在中国住一段时间,并且希望更深入的体验一下像中国人版使用微信,你可以安装微信,毕竟在中国这个版本对用户开放了更多的功能。

Don't be worry about the interface language. Both 微信 (Wēi Xìn) and WeChat support 20 different languages in localization for global users to handle with.

别担心应用界面语言的问题。微信和国际版本的 WeChat 都支持20种不同的本地化语言,方便全球用户上手使用。
How To Register WeChat Account With Mobile?
| 怎样用手机号注册 WeChat 账号?
Step 1. Launch WeChat, and click "Sign Up" button.
1. 启动微信,并点击注册按钮;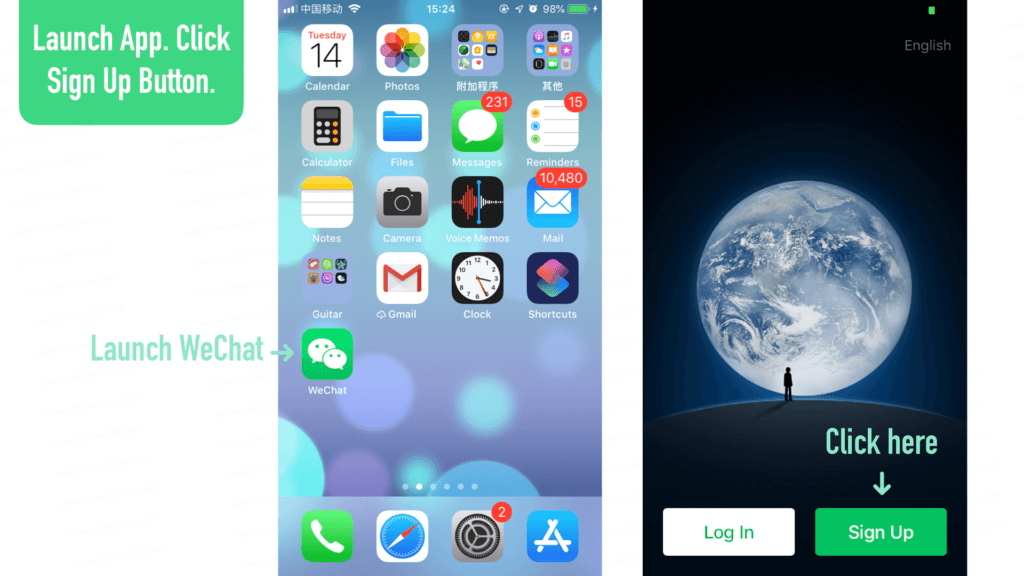 The WeChat app will auto-identify the default language configured on your mobile phone and change the interface language correspondently.

微信会自动识别你的手机系统默认语言,并匹配相应语言的用户界面。
Step 2. Input a valid mobile phone number.
2. 输入有效的手机号;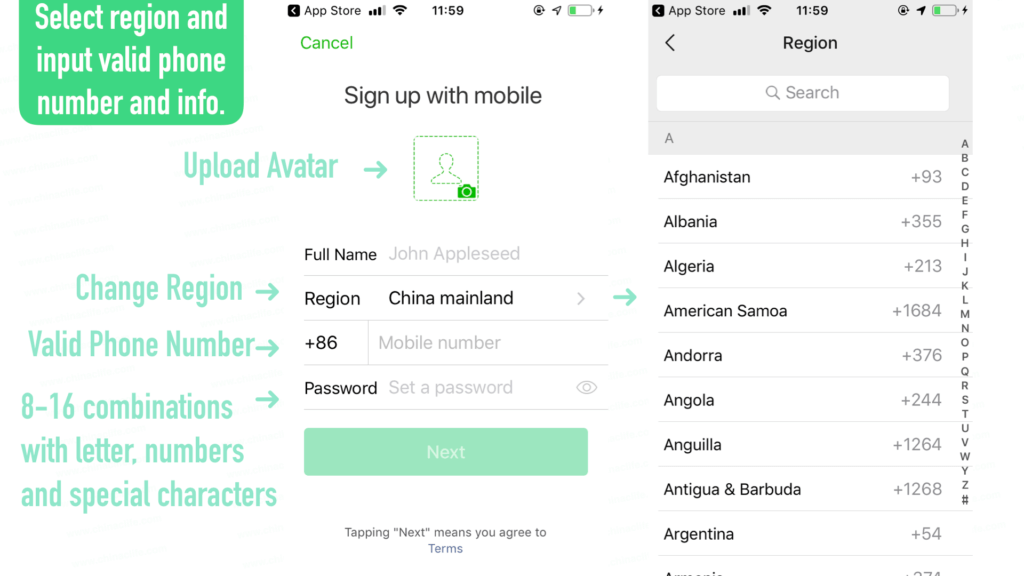 In the "Sign up with mobile" interface, click Region to change your mobile phone's area code. A list of abundant global regions is provided in WeChat.

在注册界面,选择与手机号码匹配的国家或地区。微信中可供选择的地区非常多。
Step 3. Input your exclusive password for WeChat.
3. 设置你专属的微信密码;
The password required in WeChat must be 8-16 characters and contain both numbers and letters/special characters.

微信密码要求8~16位的数字加英文字母或部分特殊字符的组合。
Step 4. Read and agree with the Privacy Policy.
4. 阅读并同意隐私策略;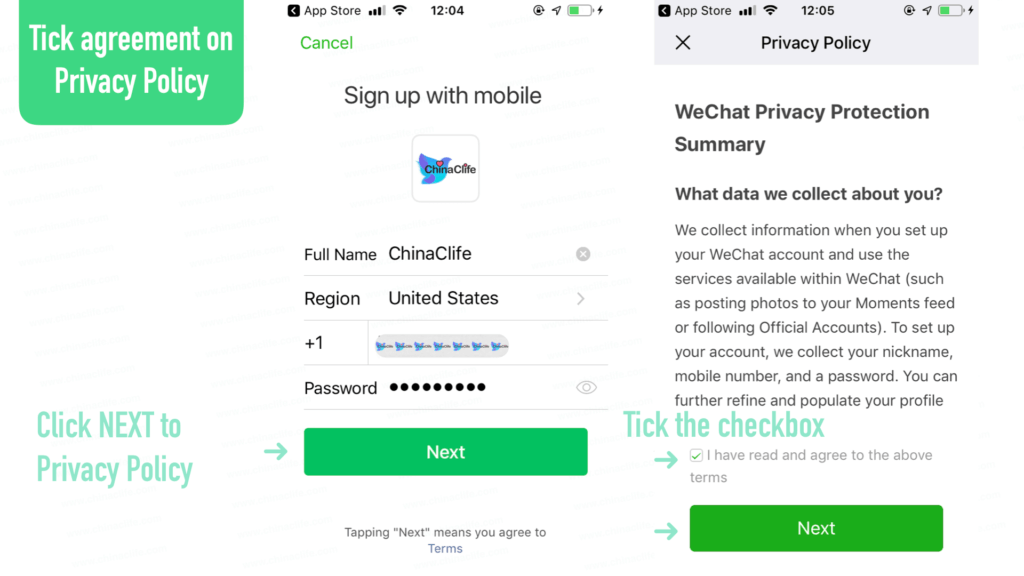 You can read WeChat's privacy policy content in details. Click "More…" text link for more consent content required to know about.

这里可以仔细阅读隐私条款,点击 More… 链接可以阅读更详细的需用户同意的内容。

Please remember to tick the checkbox that "I have read and agree to the above terms." and then click the Next button to jump to the next two-step security check.

记得勾选 " I have read and agree to the above terms " 并点击下一步按钮跳转至两次安全检查的步骤。

Sign-in to Unlock Full

Tips: The full content to show for registered users (the Residents) only. Please click login / register button on top right to unlock them.

For Registered Users Only

Tips: The full content to show for registered users (the Residents) only. Please click login / register button on the top right to unlock them.

For Registered Users Only

WHAT'S MORE?
More Stories to Be Continued…
See u soon… : )

COPYRIGHT & DISCLAIMER

All content on this page, including but not limited to text, images, photos, audios, videos, are all subject to copyright and other intellectual property protection, and should NOT be copied or reproduced in any manner whatsoever without prior written permission from the author or authors.

Some of image or photo materials might be sourced from the Internet the copyright of which might belong to its original creators as same as the signatures offered. However, some sources could not find the original creators. If you find your creation appeared on our website without your authorization, please contact us immediately, we will delete it in 48 hours or put your name on your creation as soon as possible after confirmation. We do apologize for such a case if it might happen. However, we do not accept any legal liability and legal duty. Thank you for your understanding.