Learn How to Write Heartwarming and Grateful Happy Thanksgiving Greetings/Wishes in Standard Chinese
感恩节:学会 21 句中文问候及祝福语
What's your planning on Thanksgiving Day? Are you looking for some new ideas for Happy Thanksgiving greetings, wishes, messages, or quotes? How about writing Happy Thanksgiving Greetings this time in Standard Chinese to appreciate important persons with sincerity bilingual or multi-lingual words. If so, the following heartwarming and grateful greetings and wishes in Chinese may offer some help.
English Words:
Chinese Pinyin:
Standard Chinese:
Similar Chinese Words:
问候语 wèn hòu yǔ means words or sentences for greetings in Standard Chinese.
祝福语 zhù fú yǔ means words or sentences for wishes in Standard Chinese.
Related Chinese Words:
祈祷/保佑 qí dǎo/bǎo yòu means to bless in Chinese, the former commonly used in Religious-related, and the latter more popular to use by Chinese.
Chinese Pronunciation on Google

Say "Thanksgiving wishes in Chinese"
Greetings 02.
Thanksgiving Messages for Coronavirus Pandemic
致以疫情期间的问候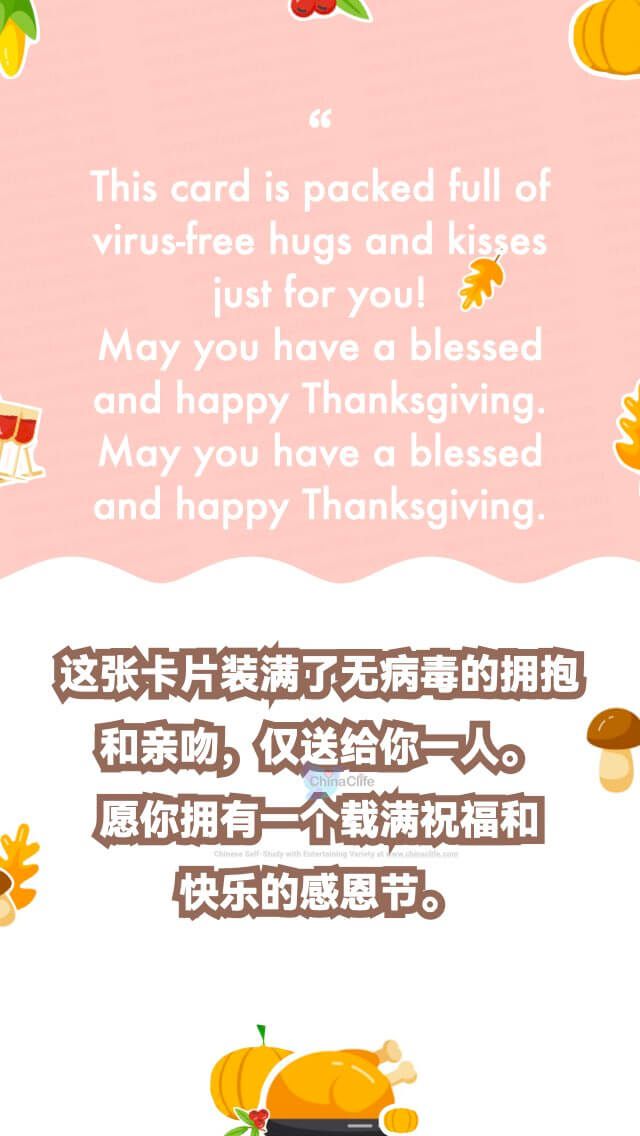 "This card is packed full of virus-free hugs and kisses just for you! May you have a blessed and happy Thanksgiving."

这张卡片装满了无病毒的拥抱和亲吻,仅送给你一人。

"May you have a blessed and happy Thanksgiving."

愿你拥有一个载满祝福和快乐的感恩节。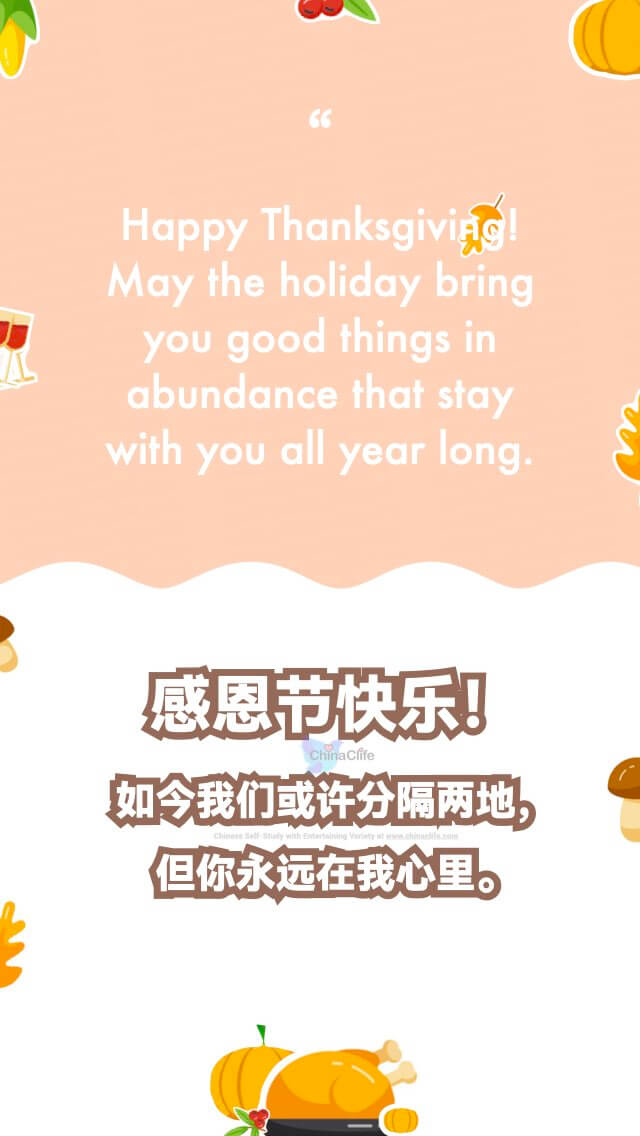 "Happy Thanksgiving! We may be apart today, but you're always in our hearts."

感恩节快乐!如今我们或许分隔两地,但你永远在我心里。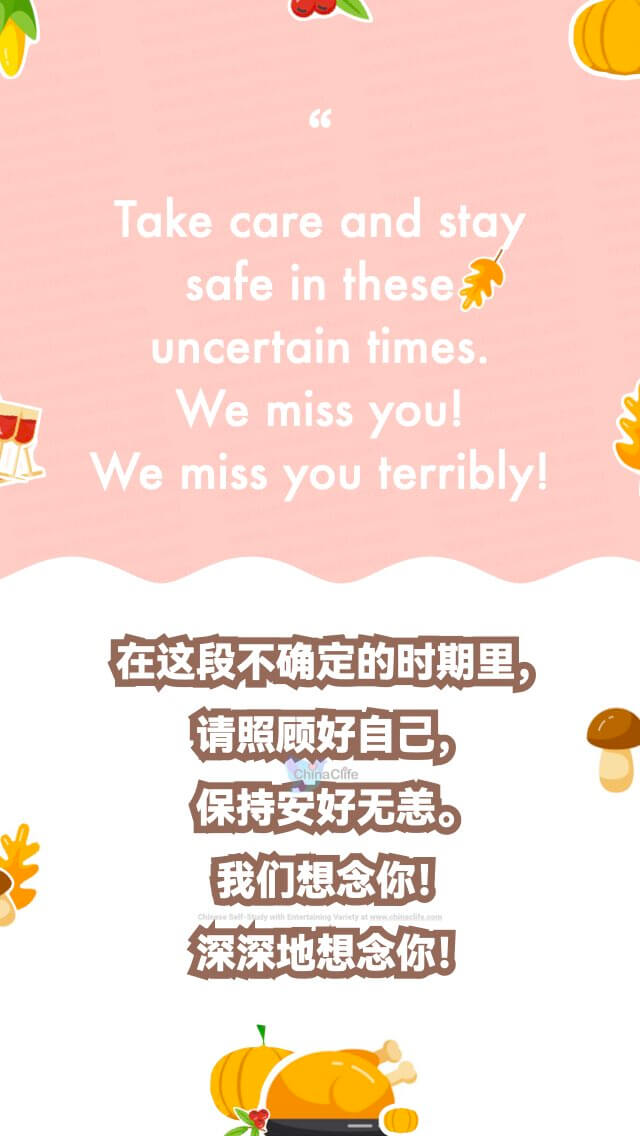 "Take care and stay safe in these uncertain times."

在这段不确定的时期里,请照顾好自己,保持安好无恙。

"We miss you! We miss you terribly!"

我们想念你!深深地想念你!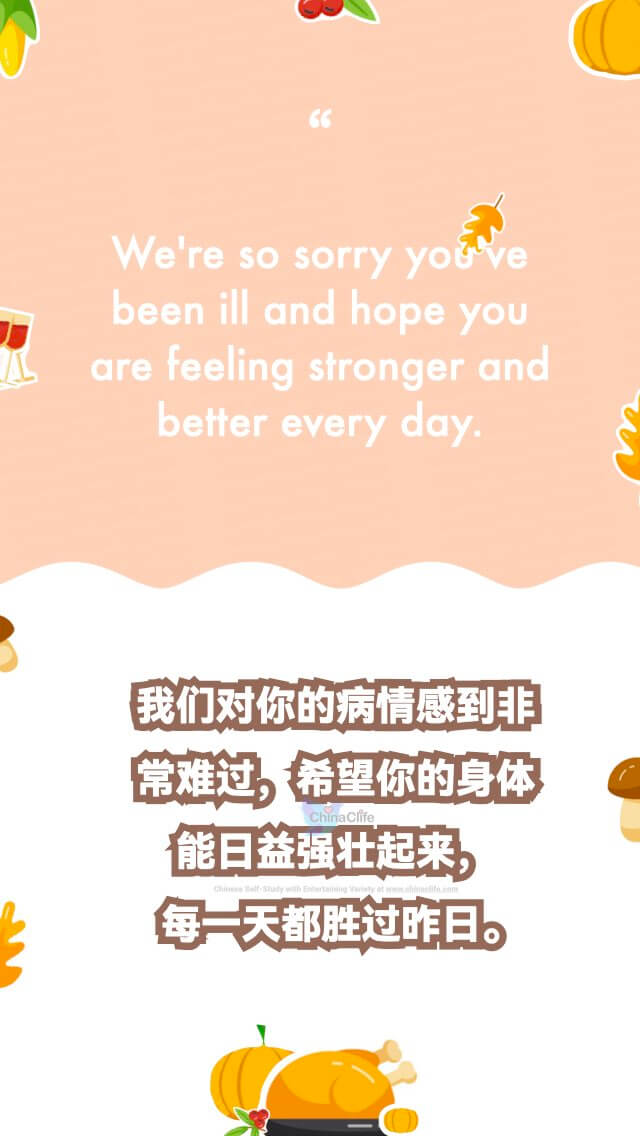 "We're so sorry you've been ill and hope you are feeling stronger and better every day. "

我们对你的病情感到非常难过,希望你的身体能日益强壮起来,每一天都胜过昨日。

"May this holiday season be a time of rest as you recover, and may the coming months bring you renewed health and happiness."
Greetings 03.
Happy Thanksgiving Greetings For Anyone
致所有人的感恩问候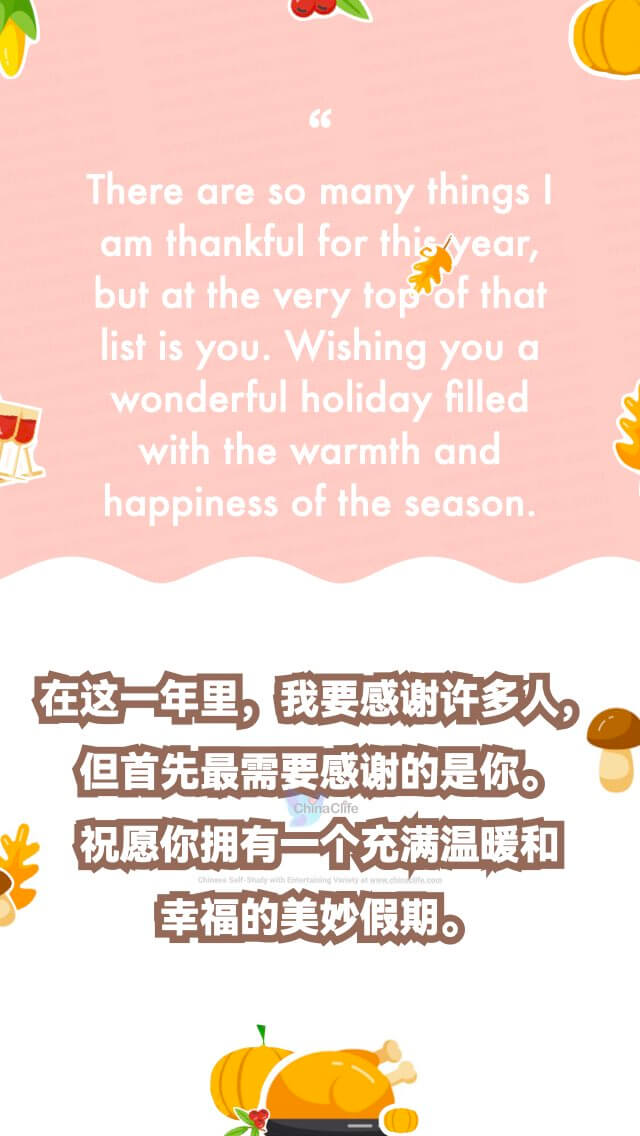 "There are so many things I am thankful for this year, but at the very top of that list is you. "

在这一年里,我要感谢许多人,但首先最需要感谢的是你。

"Wishing you a wonderful holiday filled with the warmth and happiness of the season."

祝愿你拥有一个充满温暖和幸福的美妙假期。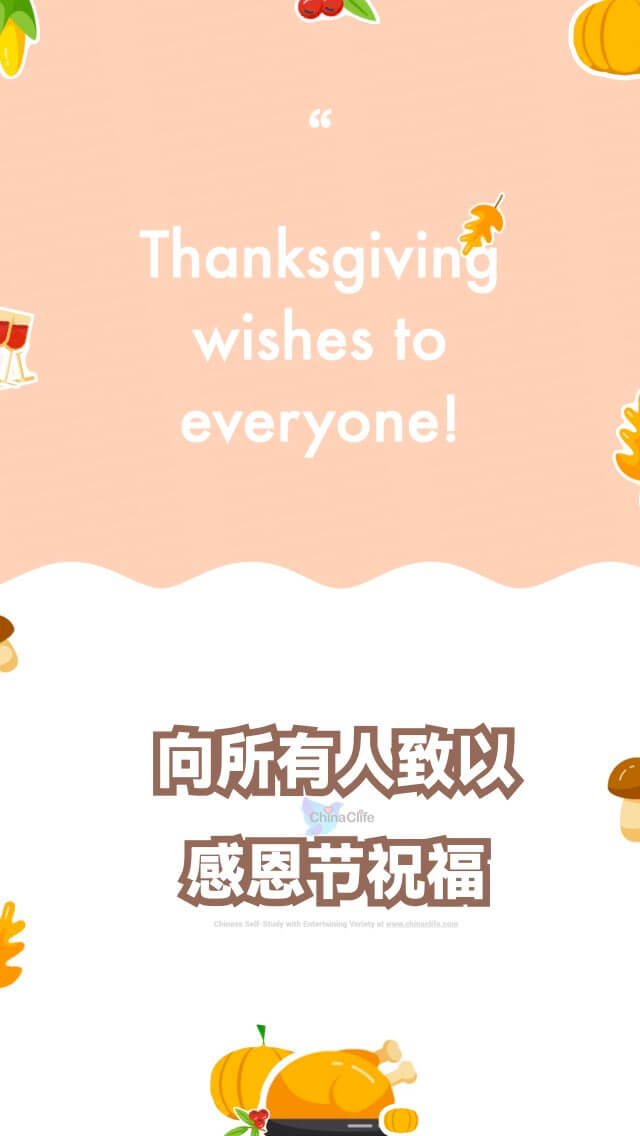 "Thanksgiving wishes to everyone!"

向所有人致以感恩节祝福!
Greetings 04.
Happy Thanksgiving Wishes For Families
致家庭的感恩祝福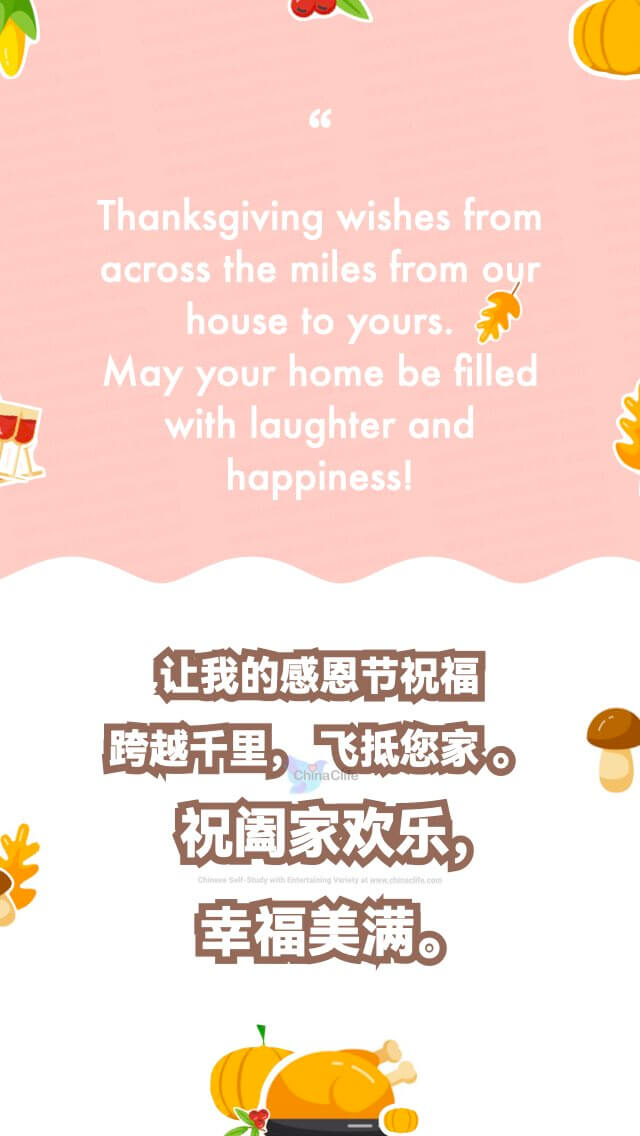 "Thanksgiving wishes from across the miles from our house to yours. May your home be filled with laughter and happiness!"

让我的感恩节祝福跨越千里,飞抵您家。祝阖家欢乐,幸福美满。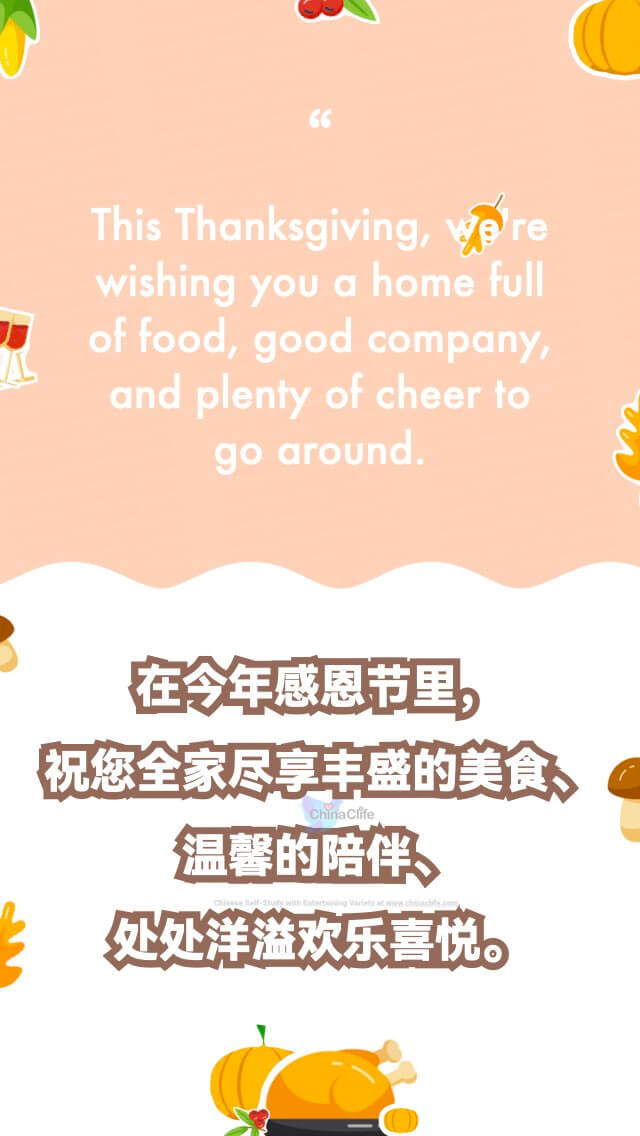 "This Thanksgiving, we're wishing you a home full of food, good company, and plenty of cheer to go around."

在今年感恩节里,祝您全家尽享丰盛的美食、温馨的陪伴、处处洋溢欢乐喜悦。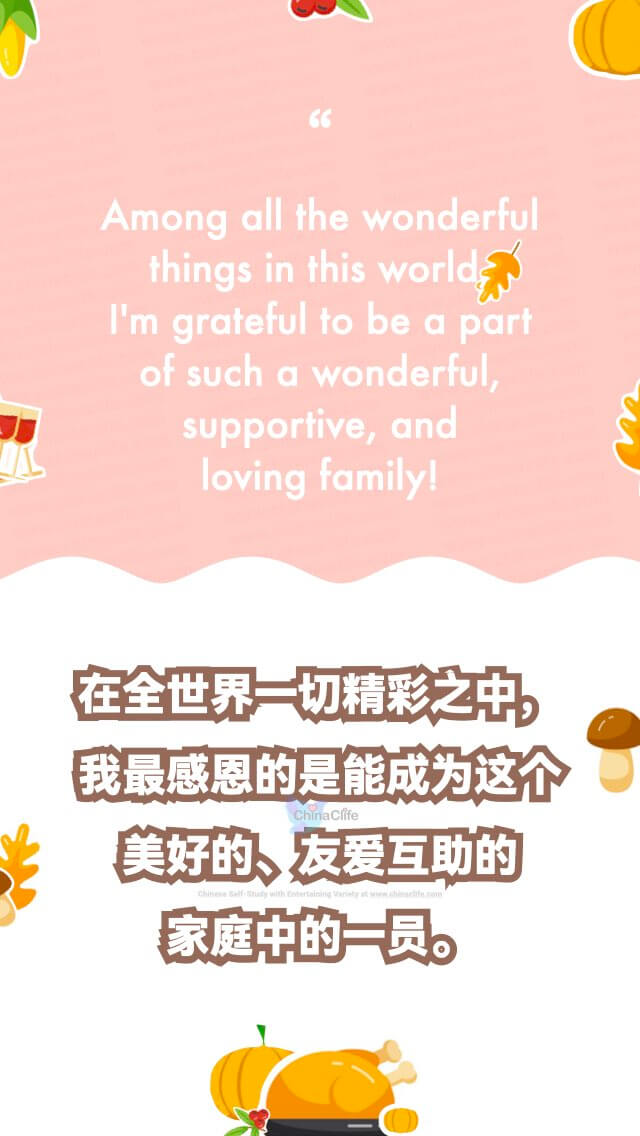 "Among all the wonderful things in this world, I'm grateful to be a part of such a wonderful, supportive, and loving family!"

在全世界一切精彩之中,我最感恩的是能成为这个美好的、友爱互助的家庭中的一员。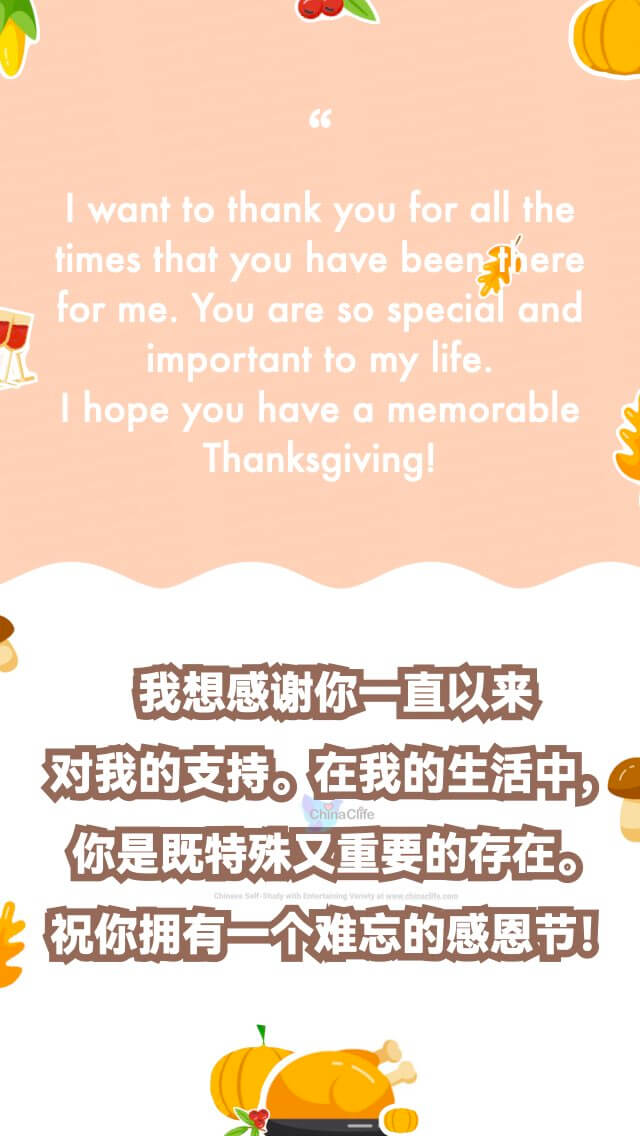 "I want to thank you for all the times that you have been there for me. You are so special and important to my life. I hope you have a memorable Thanksgiving!"

我想感谢你一直以来对我的支持。在我的生活中,你是既特殊又重要的存在。祝你拥有一个难忘的感恩节!
Greetings 05.
Happy Thanksgiving Greetings For Friends
致朋友们的感恩问候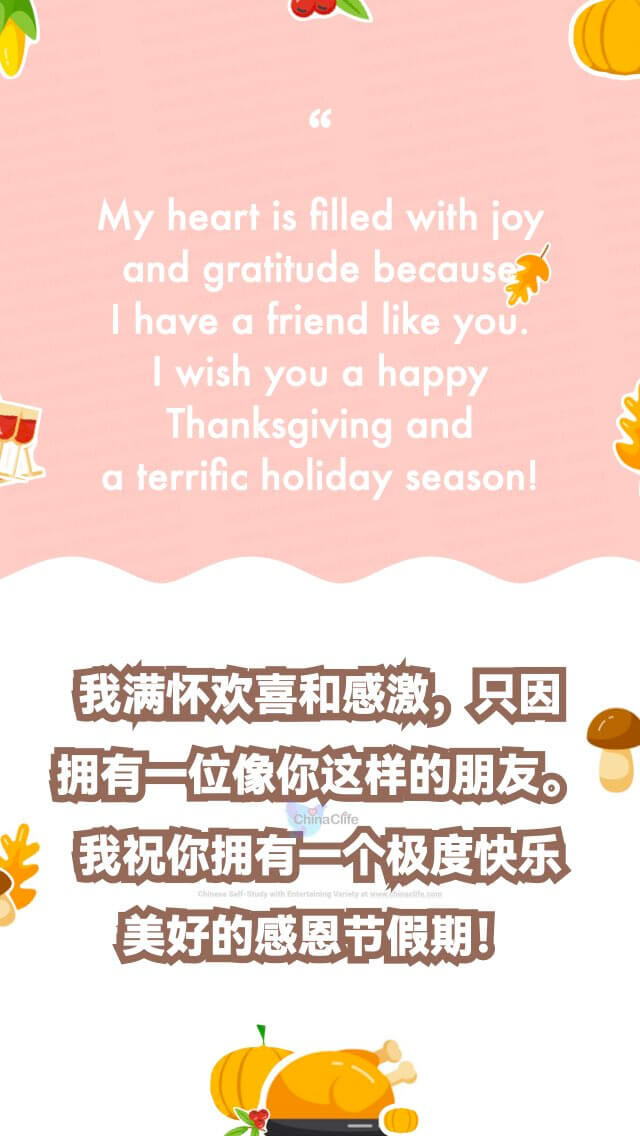 "My heart is filled with joy and gratitude because I have a friend like you. I wish you a happy Thanksgiving and a terrific holiday season!"

我满怀欢喜和感激,只因拥有一位像你这样的朋友。我祝你拥有一个极度快乐美好的感恩节假期!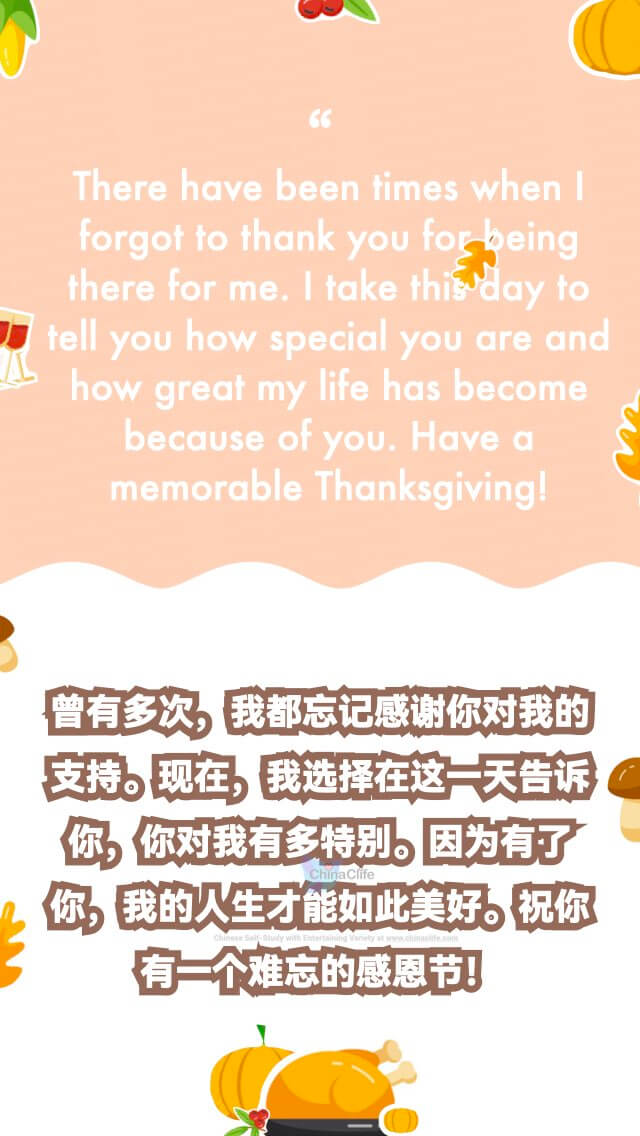 "There have been times when I forgot to thank you for being there for me. I take this day to tell you how special you are and how great my life has become because of you. Have a memorable Thanksgiving!"

曾有多次,我都忘记感谢你对我的支持。现在,我选择在这一天告诉你,你对我有多特别。因为有了你,我的人生才能如此美好。祝你有一个难忘的感恩节!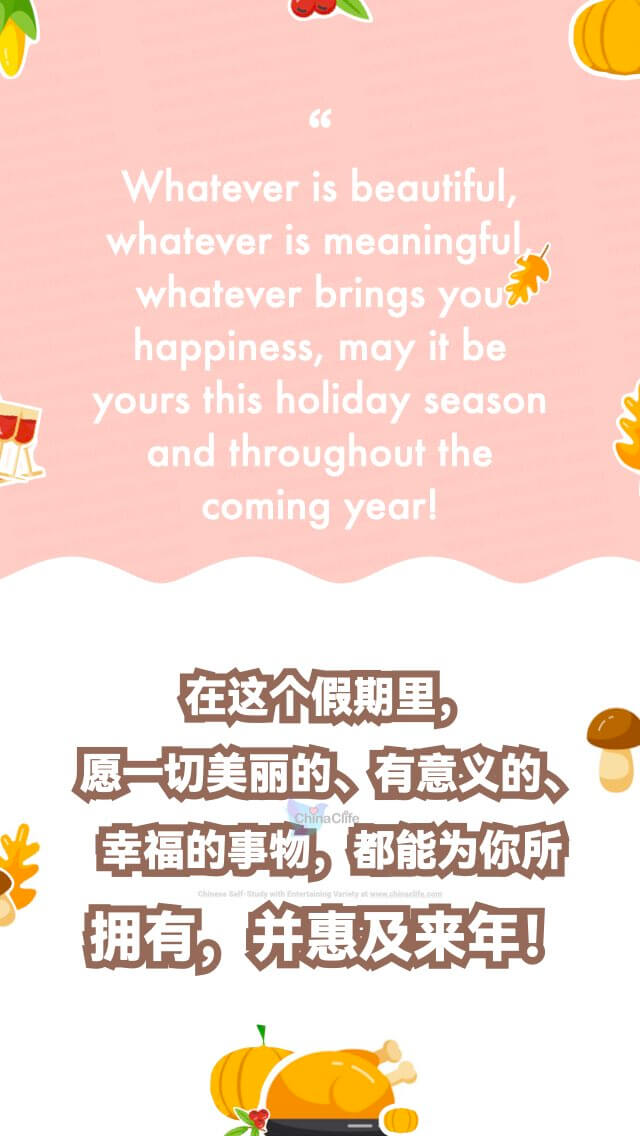 "Whatever is beautiful, whatever is meaningful, whatever brings you happiness, may it be yours this holiday season and throughout the coming year!"

在这个假期里,愿一切美丽的、有意义的、幸福的事物,都能为你所拥有,并惠及来年!
Enjoy your Happy Thanksgiving!
IN ADDITION
Questions & Additional
Have you got any tips from this bilingual Chinese story above?
Do you have any other questions or suggestions?
You are free to write it down in the "Comments" section below or in our groups.
Any thought from you is appreciated, valuable, and might help the rest of the residents on the planet. 😀
Additionally...
Did You Start Learning Chinese with Pinyin?
Continue to read our User-friendly Chinese-Pinyin version of this story
(Unlocked for Free Logged-in and Premium residents only).
Hope it Helps! : )
READ NEXT