App Guide: How to Register and Login to WeTV (Tencent Video) App on Mobile Phones?
应用指南:怎样手机登录腾讯视频国际版?
You might have heard or even used some popular Tencent apps, such as the well-known Chinese instant messaging apps WeChat and QQ. Perhaps you haven't yet known another one "WeTV" which is likely to be in line with the name of WeChat and now widely called "Tencent Video". Now comes a simple introduction of WeTV and step-by-step guide on how to register/login to WeTV.

English Words:
Chinese Pinyin:
Standard Chinese:
Similar Chinese Words:
创建账号 chuàng jiàn zhàng hào To create a new account for an app in Chinese.
Related Chinese Words:
注册 zhù cè To create a new account for an app, or known as register or sign up in Chinese.
登录 dēng lù To login to an app like Tencent Video, or known as sign-in in Chinese.
下载 xià zǎi To download an application like Tencent Video in Chinese.
安装 xià zǎi To install an app like Tencent Video.
Related App:
腾讯视频 yōu kù One of China's most popular video streaming app and platform backed by Tencent.
Chinese Pronunciation on Google

Say "Login to WeTV" in Chinese
What Is WeTV App?
WeTV 是什么应用?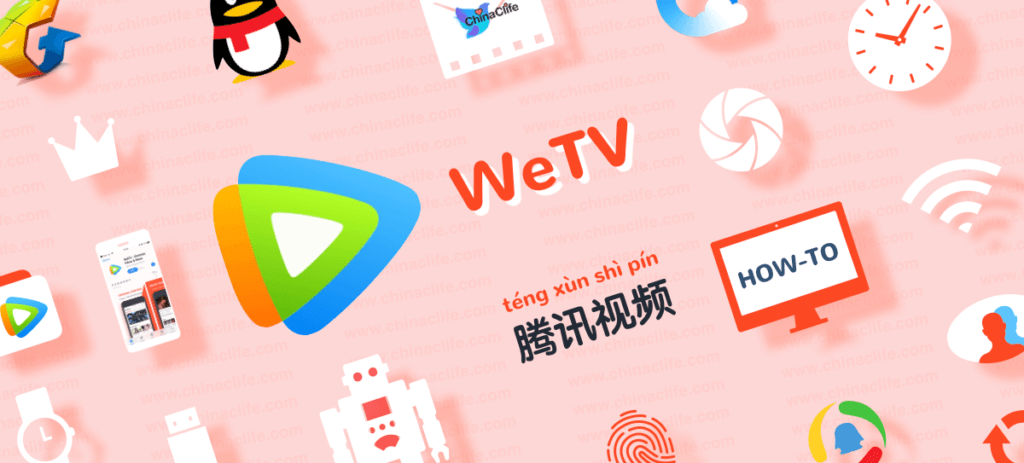 WeTV refers to the English and International version of Tencent Video app, which is another online video streaming app owned by China's Tencent company. Now it is much known with the title "Tencent Video" in Appstore overseas.
WeTV 应用,指的是腾讯视频英文版,是腾讯旗下的又一款在线视频应用。现在,在海外应用市场中称作"Tencent Video"。
However, the difference between these two apps is that WeTV (Tencent Video English/International Version) is only focusing on the market out of Chinese Mainland and international users, to stream Chinese dramas, films and TV shows online to overseas.
不同的是,WeTV 专注于海外市场和国际用户,向中国大陆以外地区提供在线观看中国影视剧和综艺的视频手机应用。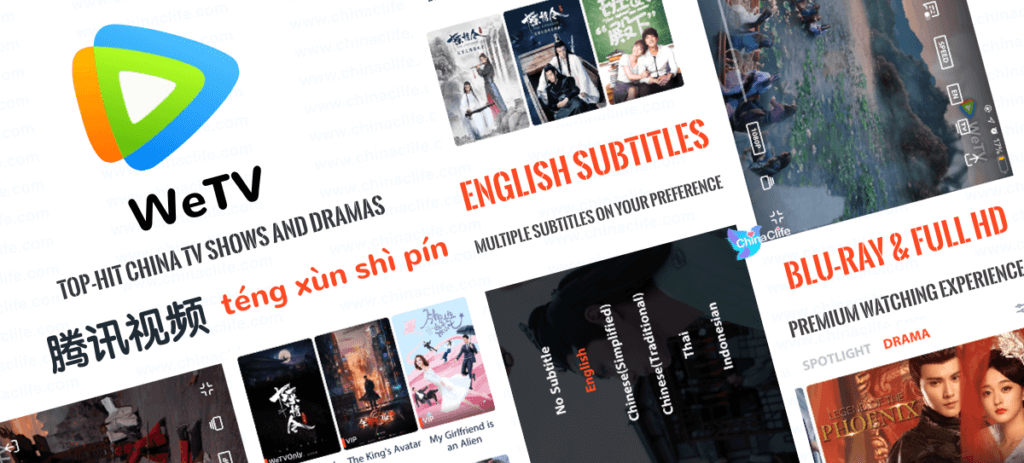 With regard to the Chinese version of "Tencent Video", Tencent's video app which offers similar video streaming services to the China market, especially the Chinese Mainland market, is called 腾讯视频 (Téng xùn shì pín) in Standard Chinese, that is, the Simplified Chinese version of Tencent Video.
而在中国大陆地区,提供相似视频内容和服务的应用叫做 "腾讯视频",即腾讯视频简体中文版。
Nowadays, Tencent Video, together with iQiyi Video and Youku are widely known as China's top three online TV and video streaming apps and platforms, then followed the fourth, MGTV. And in China, these four apps are given a collective Chinese name 爱优腾芒. Among these Chinese video streaming apps, the Tencent Video Chinese app owns probably 108 million of domestic daily active users in China, as of February, 2019, unveiled by QuestMobile Data.
腾讯视频,和爱奇艺,优酷并称为中国的三大顶级的在线视频平台和在线视频应用。紧随其后的是中国的芒果视频。在中国,这四大视频应用被统称为"爱优腾芒"。 其中,根据 QuestMobile 数据,截至 2019 年 2 月,腾讯视频在中国国内的日活跃用户数(DAU)约 1.08亿。
Which One to Register or Login? WeTV or Tencent Video Chinese?
选择 WeTV 或腾讯视频?
As an international user, here comes a question. Which app is better for you to register/login, the WeTV or Tencent Video Chinese which has more users in Chinese mainland?
作为国际用户,问题是该选择注册登录英文版的 WeTV 呢?还是选择使用人数更多的腾讯视频?哪一个应用更适合自己?
Currently, if you are not located in Chinese mainland area, and prefer an English or multi-language interface rather than Chinese, to login to WeTV English app (Tencent Video International Version) is more suitable for you. It allows users to select and switch subtitles among different languages, which depends on the source of the videos.
如果你目前并不在中国大陆地区,并且更希望使用支持英语和其他多国语言的界面更胜于中文界面,那么 WeTV 应用(腾讯视频国际版)更加适合你。它允许用户在多种字幕语言之间进行选择和切换,尽管不同来源的视频节目的字幕选项可能略有差异。
Comparing WeTV to Tencent video app, although the latter offers more abundant China TV series and varieties, only login to WeTV English app that could enable you to view English subtitles within video resources. And it is probably believed that more and more Chinese original video content with copyrights could be localized in WeTV. Thus, to sign up and login to WeTV English app to become a WeTV member, should be a very cost-effective choice for overseas.
相较于 WeTV 应用来说,尽管后者腾讯视频国内版提供的影视内容更丰富点,但是只有在 WeTV 里才有机会看到带英文或其他语言字幕的中国影视剧和节目。并且相信以后在 WeTV 内,这样经过字幕本地化的中国原创视频内容会越来越多。因此,注册并登录 WeTV 成为会员,对海外用来说是一个十分划算的选择。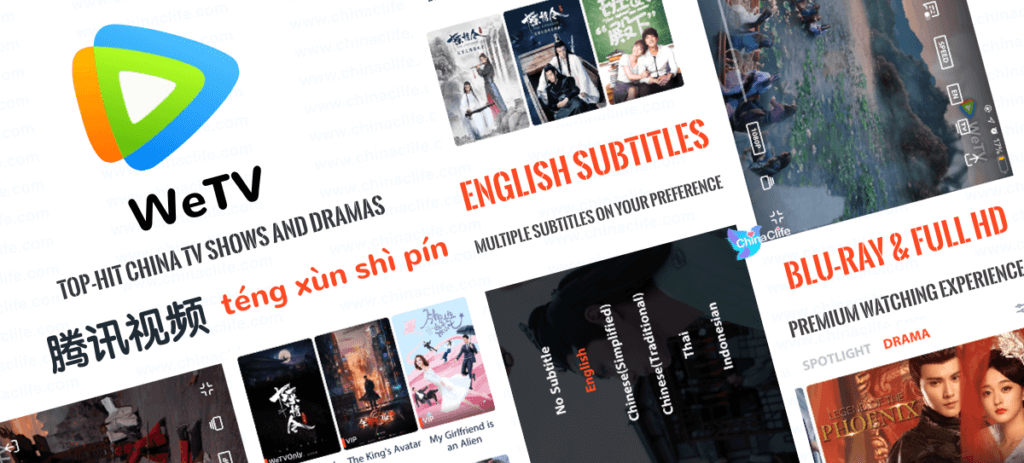 But if you could adapt yourself to the interface and subtitles fully in the Chinese language, or look for practicing Chinese language and skills, you can try the Tencent video Chinese version 腾讯视频 from China's App Store, to enjoy watching China dramas and updates as a local Chinese does.
但是,若你能够适应纯中文字幕以及中文的界面语言,或者想要练习中文,那么你可以尝试使用面向中国国内的中文版的腾讯视频应用,享受和当地人一样的在线观剧乐趣。
Continue reading this article, then get to know how to login to WeTV app (Tencent Video International Version) and become a free WeTV member.
继续阅读本文以下内容,可以帮助你了解如何成为 WeTV 的免费会员。
Languages Supported After WeTV Login / Registration
腾讯视频国际版支持的语言
At present, there are 12 languages supported in WeTV (Tencent Video) app. They are including English, Thai, Indonesian, Simplified Chinese, Traditional Chinese, Japanese, Spanish, Portuguese, Korean, Bahasa Malaysia, Hindi and Arabic.
WeTV 目前支持 12 种界面语言:英语、泰语、印尼语、简体中文、繁体中文、日语、西班牙语、葡萄牙语、韩语、马来语、印度语及阿拉伯语。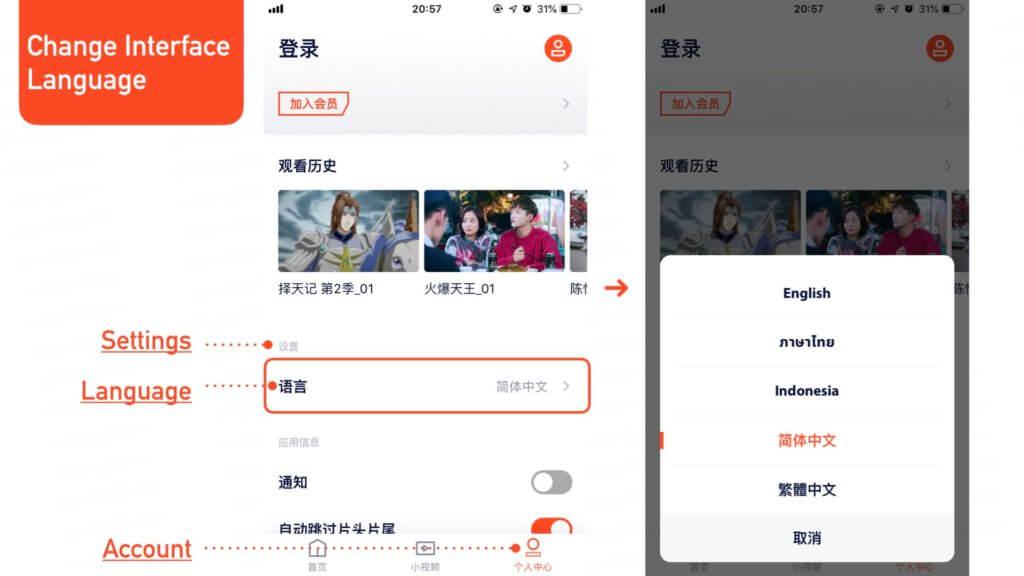 How to Switch Language Before or After WeTV Login
After launching WeTV, the app will automatically specify the interface language according to the system language set in the mobile phone.
启动应用后,首先会根据手机的系统语言来自动匹配为对应的 WeTV 界面语言。
You can also go to "Account" - "Settings", click "Language" area, and select a language from the pop-up menu, to switch the interface language as you wish, such as, English. Then you can login to WeTV English app for further registration.
你也可点击界面下方的 "账号"按钮,在"设置"区域点击"语言",在弹出菜单中选择一种支持的语言,将界面立即切换成为你想要使用的语言。然后你就可以继续登录或注册账号了。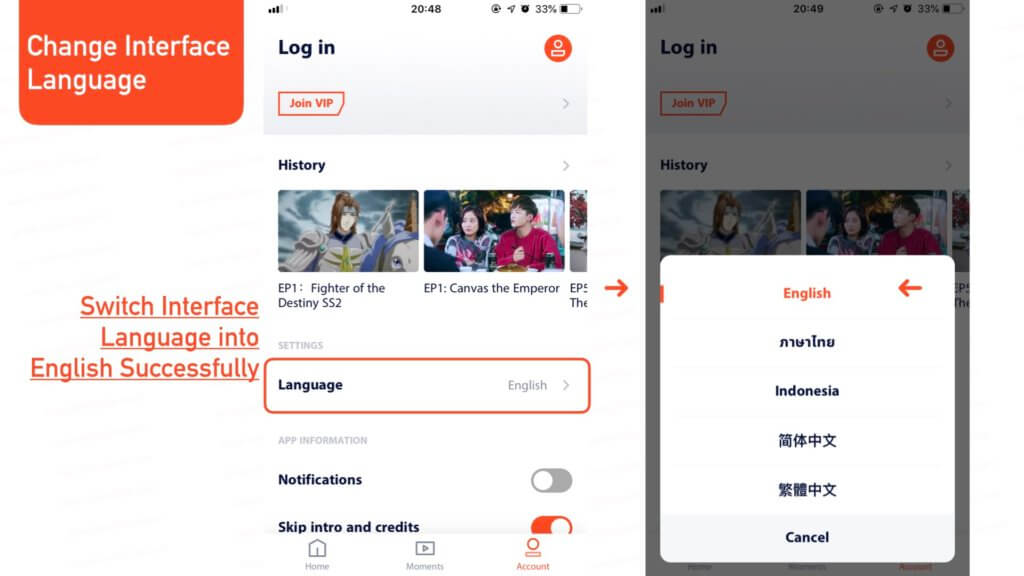 Finally, congratulations! You have Logged into WeTV (Tencent Video) app. Start watching China dramas on Tencent Video now!
IN ADDITION
Questions & Additional
Have you got any tips from this bilingual Chinese story above?
Do you have any other questions or suggestions?
You are free to write it down in the "Comments" section below or in our groups.
Any thought from you is appreciated, valuable, and might help the rest of the residents on the planet. 😀
Additionally...
Did You Start Learning Chinese with Pinyin?
Continue to read our User-friendly Chinese-Pinyin version of this story
(Unlocked for Free Logged-in and Premium residents only).
Hope it Helps! : )
READ NEXT