"Do you know what is Web WeChat? What benefits of it and how to use Web WeChat on your PC? The following bilingual story will give you an answer."
WHAT IS WEB WECHAT AND HOW TO USE WEB WECHAT ON PC?  
|  怎样使用微信网页版?
English Words:       Web WeChat

Chinese Pinyin:      Wēi Xìn Wǎng Yè Bǎn

Chinese Characters:  微信网页版

Similar Chinese Words:   
    微信在线版 (Wēixìn zàixiàn bǎn)| The web application of WeChat to launch in browser.
Related Chinese Words:   
    微信客户端 (Wēixìn kèhù duān)| WeChat's Client end.
    微信电脑版 (Wēixìn diànnǎo bǎn)| The pc or mac client application of WeChat.
    微信应用 (Wēixìn yìngyòng) | The WeChat app to be installed on a mobile phone.
Related App: 
    微信 (Wēixìn)| One of the most popular online communication tool in China.

What Is Web WeChat?
| 什么是微信网页版?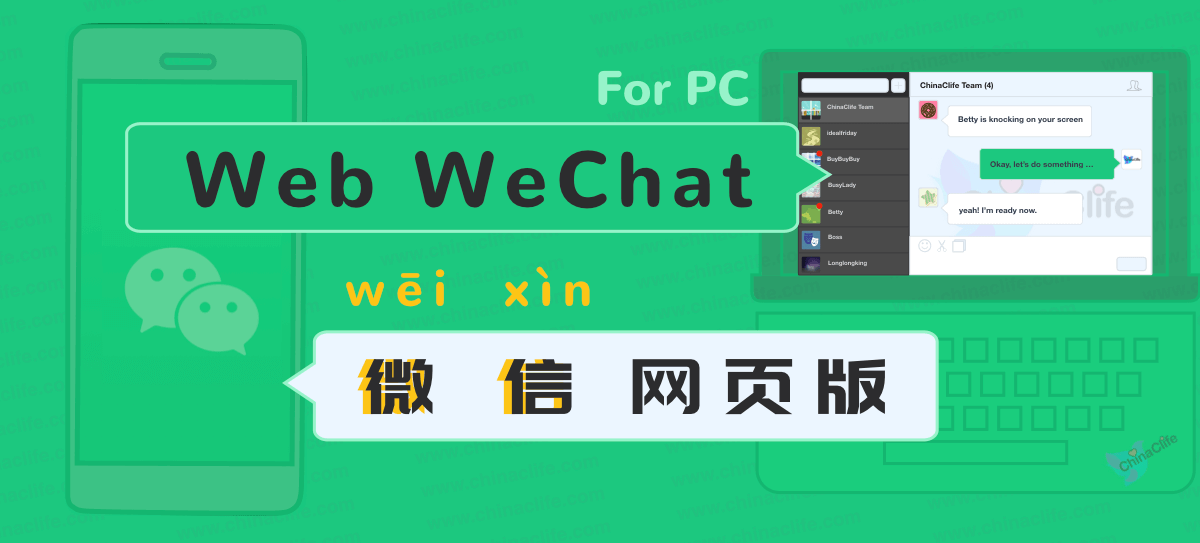 Web WeChat, also called "WeChat online version" in life, is a web application that allows you to login and use WeChat directly without downloading or installation.

微信网页版,在生活里又常被称作是"在线版的微信",是无需下载和安装,可以直接在网页上登录和直接使用微信的一种程序。

Although there are limited features and advantages in Web WeChat unlike WeChat's Client version, it is no required for users to download the WeChat application program which relieved them of tedious installation steps.

虽然微信网页版,不像客户端版拥有众多功能和优点,但它无须用户下载,免去了安装卸载应用的繁琐。

If you are unable to install WeChat program on a computer (no matter it's Windows OS device or a Macbook) but have to communicate online with others via WeChat, then logging into Web WeChat should be the most suitable choice.

若你不太方便在电脑(无论是 Windows 系统的电脑还是 Macbook)上安装微信软件,但又需要和对方通过微信进行在线沟通,那么登录微信网页版通常是一个十分合适的选择。

However, no matter in what kind of conditions, you have to obtain a WeChat account at first. If you don't have one, you are free to create one by clicking and reading the bilingual story How to Register a WeChat Account with a Mobile Phone.

不过无论怎样,你都必须先拥有一个微信账号。若还没有,你可以通过点击阅读这篇文章"怎样注册一个微信账号"来获得一个属于你自己的微信账号。
What Differences Among Web WeChat, WeChat for PC and WeChat App?
| 微信网页版、电脑版与微信应用的区别?
The big advantage of Web WeChat is to retain WeChat's basic functions, including one-to-one text chatting, group chats, file transferring, and viewing subscribed accounts, as well as logging in and using WeChat on any PC devices. It helps to break away from limitations that different devices and operating systems imposed.

微信网页版最大的特点是保留了微信最基本的功能,包括一对一文字聊天、组建群聊、文件传输以及查看订阅号,并且支持在任意一台电脑上登录和使用,脱离了不同设备和操作系统带来的限制。

Additionally, you will not miss any message in the chatting history of WeChat no matter whether you switch from Web WeChat to WeChat PC or WeChat mobile app later.

另外,使用微信网页版时,无论之后你从微信网页版切换到微信电脑版或微信手机应用,都不会错过任何一条对话消息。

For office workers or minimalists, Web WeChat is quite easy to handle. Its clean interface helps them better focus on communication online not others.

对于上班族以及偏爱极简模式的人而言,微信网页版十分方便易用,没有过于嘈杂的界面反而可以让你更专注于在线沟通。

On the other hand, there are a few differences among Web WeChat, WeChat Mobile app and WeChat for PC in addition to without installation, such as:

但在另一方面,除了无需安装外,微信网页版在功能上与正常的微信应用、以及微信电脑版还存在一定的区别,比如:
Web WeChat only allows chatting by sending and receiving text/images, not voice or video clips.
微信网页版只能以图文的形式聊天,并不能发送语音消息或者视频。
Web WeChat doesn't support viewing the Moment.
微信网页版不支持浏览朋友圈。
Web WeChat is more suitable for using on a public PC, while WeChat for PC suitable for personal computer devices and WeChat Mobile app only for smartphones.
微信网页版适合在公共电脑上操作,而微信电脑版更适合在自己的个人电脑上下载使用,微信应用只能安装在手机上。
Web WeChat mainly focuses on communication online, not on viewing and reading the contents released in users' subscribed public accounts which are enabled both in WeChat for PC and WeChat Mobile apps.
微信网页版主要侧重在线沟通,不太适合查看和阅读已订阅的公众号中的内容,而后者均可以在微信电脑版本和微信手机应用里实现。
More minor differences.
还有其他一些细微的区别。
To sum up, Web WeChat is the program aiming at pure communication on public devices. You can use it only after sign in. And it enables you to use WeChat functions seamlessly by switching from different kinds of devices.

总体而言,微信网页版本是针对纯聊天以及可以在相对公共的设备上进行使用的程序,登录即用。它可以让你在不同设备上进行无缝衔接使用。

By referring to the following method, you can launch Web WeChat easily in a browser and start conversations online with your friends.

参考以下方法,你可以在浏览器中轻松开启微信网页版,和小伙伴们进行在线交流。
Who Is Applied To This Guide?
| 本教程适用的群体?
The following guide may apply to:

以下教程适用于:

A. Those who are using non-private computers in a public environment.

A. 在公共环境和设备上上网的人;

B. Those who are not allowed to download or install program applications of WeChat on PCs.

B. 无法在电脑上下载和安装微信客户端版的人;

C. Those who have already got a valid WeChat account via registration after installing WeChat app on a mobile phone.

C. 手机安装了微信应用,并已经注册了一个的微信账号;

D. Those who are more likely to type and send text messages with a keyboard rather than typing with fingers.

D. 更习惯于用键盘输入和发送消息而不是靠手指敲击的人;

E. Those who are expecting to send files fast between mobile phones and PC and without too many other choices.

E. 在没有其他更多选择的情况下,想要快速在手机与电脑间传输文件的人;

How to Do It?
How to Use Web WeChat on a PC?
| 在电脑上,怎样使用微信网页版?
Take a Safari browser as an example. The steps within other browsers are almost the same.

以下步骤,以 Safari 浏览器为例。其他浏览器操作步骤与其类似。

Free Sign-in to Unlock Full

Tips: The full content to show for Free Logged-in and Premium residents only. Please click Log-In / Sign Up for Free button on the top right to unlock them.

For Logged-In Members Only

Tips: The full content to show for Free Logged-in and Premium residents only. Please click Log-In / Sign Up for Free button on the top right to unlock them.

For Logged-In Members Only

READ NEXT
More Stories to Be Continued…
See u soon… : )