HOW-TOs
HOW TO ENABLE WECHAT DARK MODE ON A MOBILE PHONE?
|  怎样开启微信的深色模式?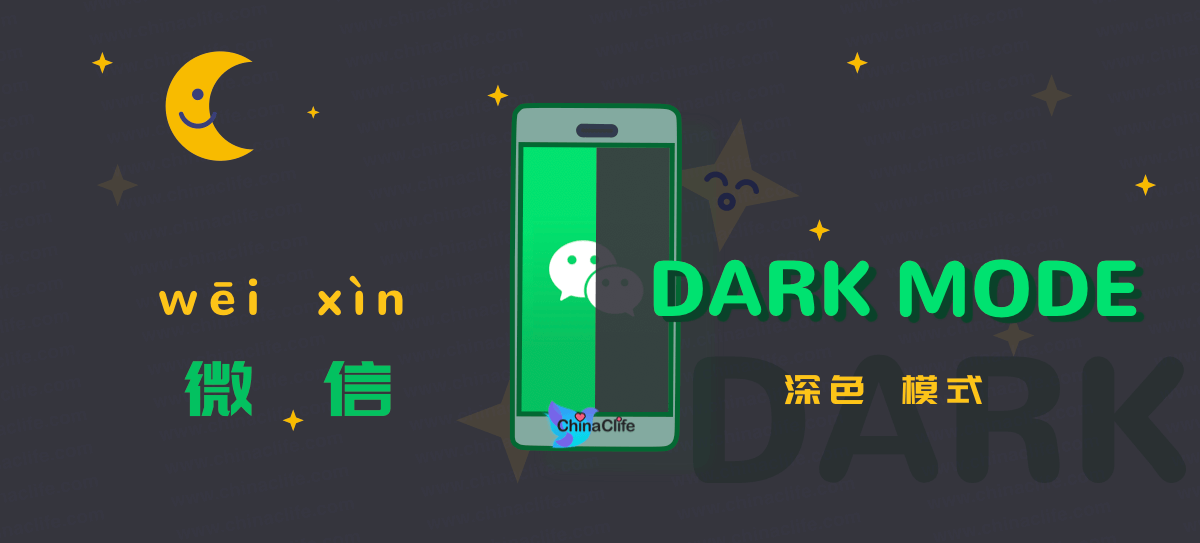 Table of Contents
"Dark Mode" in WeChat
| 微信的"深色模式"
The "Dark Mode" can be read as "深色模式 (àn hēi mó shì)" in Chinese. Some people also call it "暗黑模式 (àn hēi mó shì)" in China.

"深色模式" 在中文里被读作是"深色模式"。在中国,有些人也称其为"暗黑模式"。

Since March 22, 2020, WeChat has already updated its iOS app in AppStore to Version 7.0.12, in which it begins to support switching to the Dark mode to match Apple's system settings.

2020 年 3 月 22 日, 微信更新了其 iOS 版至 7.0.12 版。从这一版本开始,微信将支持苹果系统的深色模式。

Any users whose WeChat version installed on iPhone is lower than 7.0.12, or whose mobile operating system is lower than iOS 13, will not be able to experience the new feature of enabling WeChat Dark Mode unless they upgrade both their WeChat and iOS system.

任何已安装的微信版本低于 7.0.12 版的用户,或手机操作系统低于 iOS 13 的苹果手机用户,除非升级,否则都无法体验到开启微信深色模式的功能。

In addition, it is reported that WeChat has also started to test its Android app. It is believed that Android users can also enable WeChat Dark mode in their mobile phones quite soon.

另外据悉,微信安卓版也已经步入测试阶段。相信不久后,安卓用户也能同样在手机中开启微信的深色模式了。

HOW TO DO?
How to Enable WeChat Dark Mode On a Mobile Phone?
| 怎样开启微信的深色模式?
Let's take an iPhone device as an example, and see how we shall enable WeChat Dark mode on a mobile phone.

让我们以苹果手机为例,看看如何开启微信里的深色模式。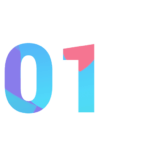 Step 01.   Launch WeChat and Go Settings
| 步骤一、 启动微信并进入设置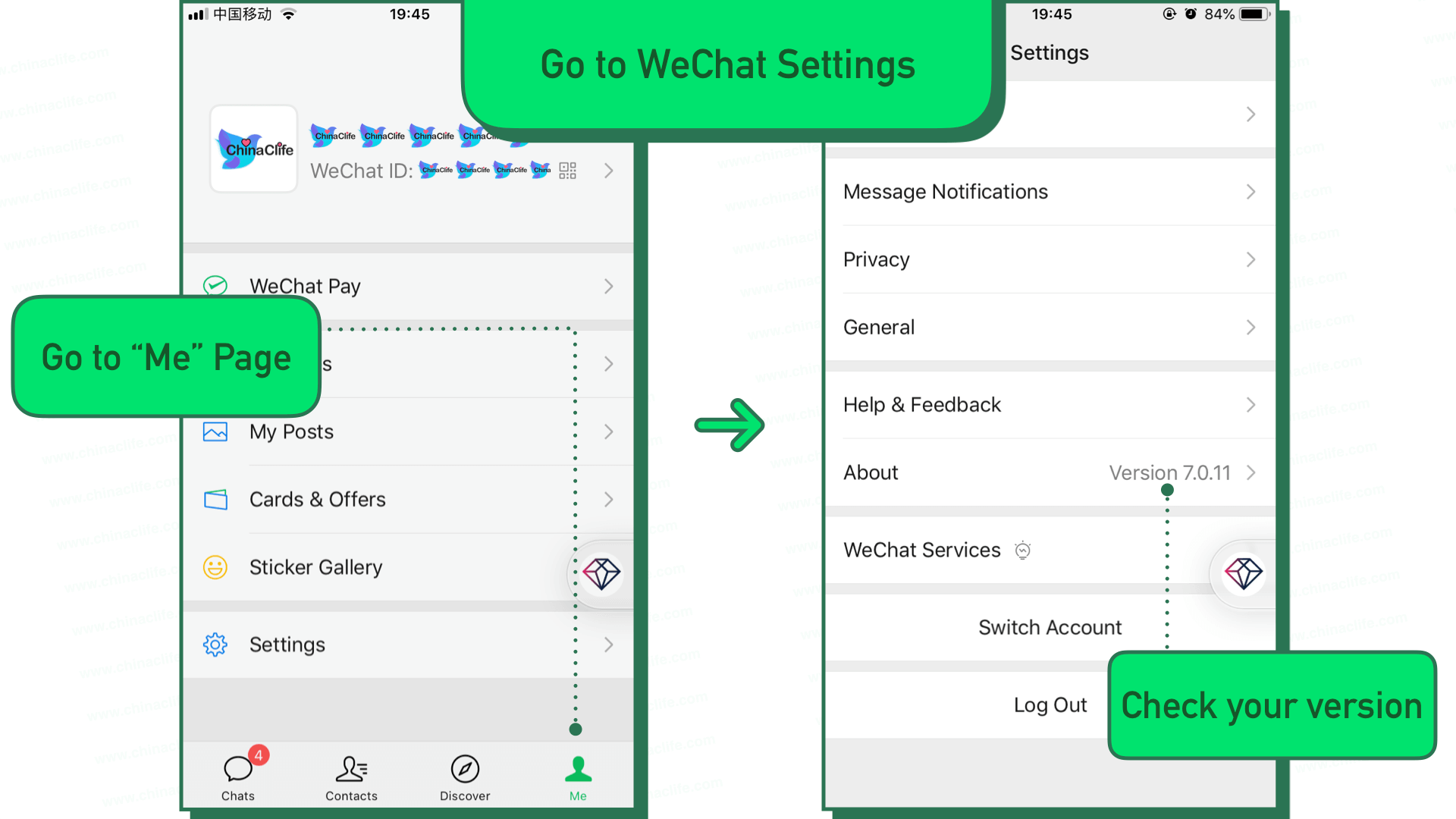 Launch your WeChat app by clicking the WeChat logo from the desktop on your mobile phone.

在手机桌面上点击微信应用的图标,打开你的微信应用程序。

Click the "Me" button from the bottom menu in WeChat, and then click "Settings" to go WeChat's setting page.

在微信界面底部,点击"我的"按钮,随后点击"设置",进入微信的设置页面。

In the MainPage of "Settings", the version info of the WeChat you've installed is always displayed here obviously as the image shows.

如图所示,在"设置"的主页面,通常会显示出你已安装的微信的版本信息。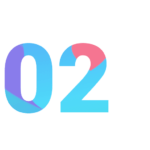 Step 02.   Check Your WeChat Version
| 步骤二、 查看微信的当前版本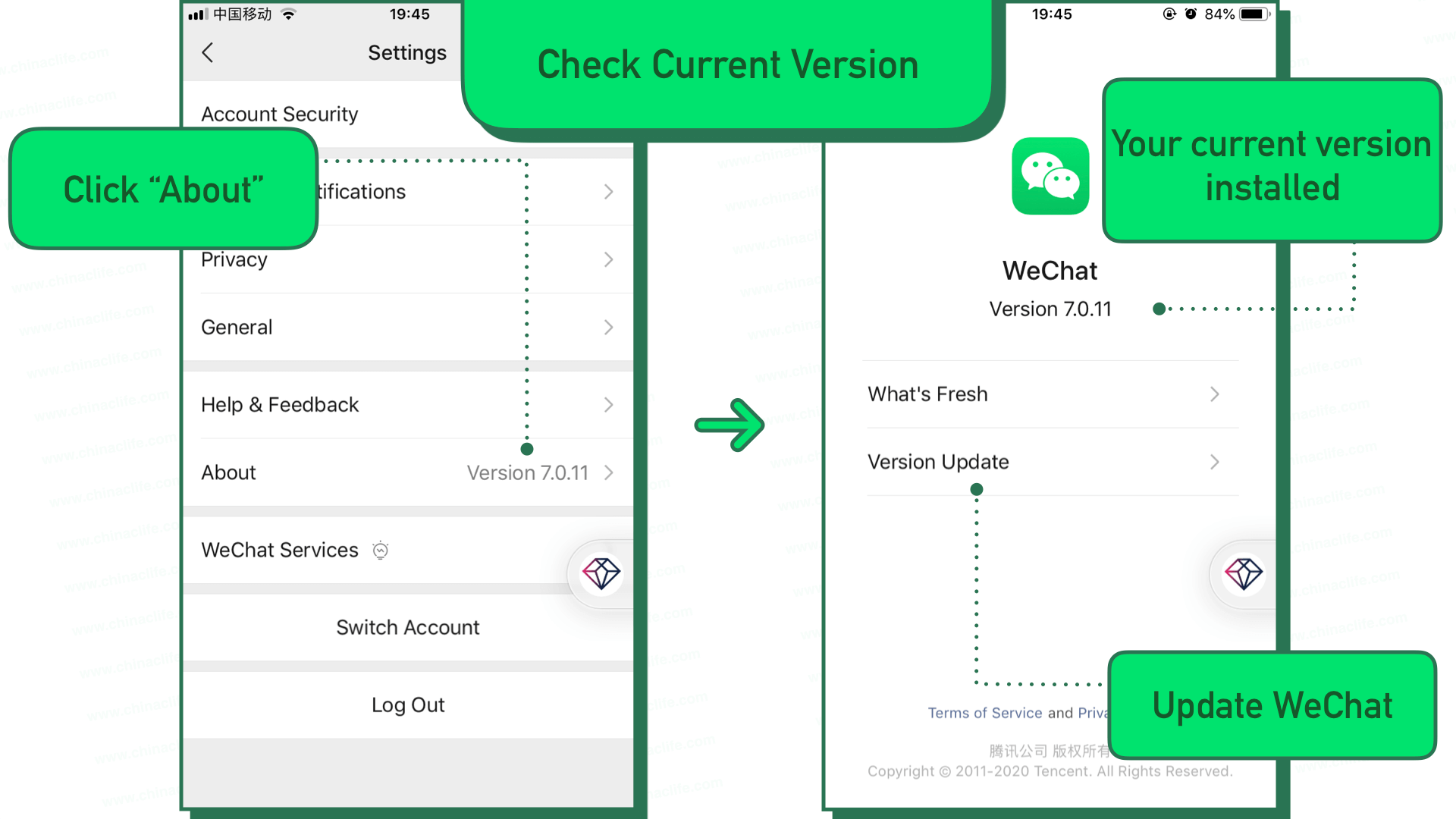 Please have a check on the version. If it is not the latest Version 7.0.12 or the laters, you have to update your WeChat app before enabling WeChat Dark mode.

请查看一下版本号。如果你的版本号不是当前最新的 7.0.12 版 或将来的版本,你需要先升级微信才能开启微信里的深色模式。

You can click the "About" button, and then one-click "Version Update" in order to upgrade your WeChat to the latest version immediately. You will be leading to Apple's AppStore after clicking.

你可以点击"关于"按钮,然后点击"版本更新",立即将你的微信升级到最新版本。点击后,你将被引导至苹果商店。

Of course, you can also take a look at the "What's Fresh" page. It will tell you what kind of new features like Dark Mode and other optimizations could be experienced in the latest version.

当然,你也可以看一看 "功能介绍"页。它将告诉你能在新版本中体验到哪些新功能,比如深色模式,以及其他一些优化。

Free Sign-in to Unlock Full

Tips: The full content to show for Free Logged-in and Premium residents only. Please click Log-In / Sign Up for Free button on the top right to unlock them.

For Logged-In Members Only

Tips: The full content to show for Free Logged-in and Premium residents only. Please click Log-In / Sign Up for Free button on the top right to unlock them.

For Logged-In Members Only

READ NEXT
More Stories to Be Continued…