HOW-TOs
SIMPLE SKILLS: USE WECHAT GROUP NOTICE TO NOTIFY ALL GROUP MEMBERS
|  利用微信群公告通知所有群成员的简单技巧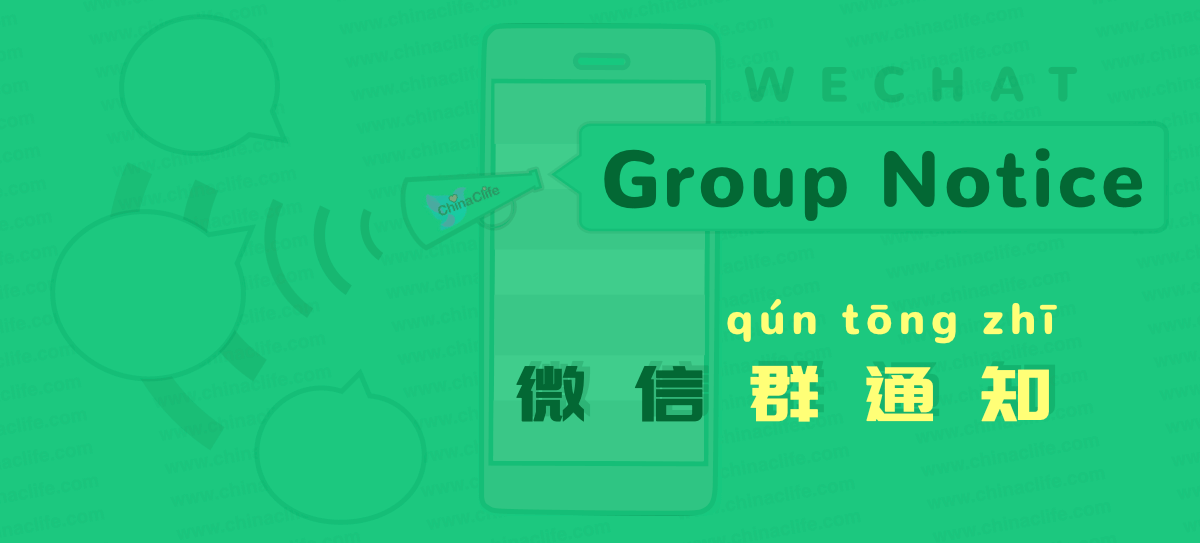 Table of Contents
What Is "WeChat Group Notice" ?
| 什么是"微信群公告"?
When you chat with Chinese colleagues or clients using WeChat group, you can go directly using WeChat Notice function to quickly edit and send a text message into the group, and then get all group members notified at one time.

使用微信群和中国同事或客户聊天时,可以直接利用微信群公告功能快速编辑、发布一条文本消息,然后一次性通知到群内所有成员。

In WeChat app, only Group Admin is able to edit and send Group Notice messages.

在微信应用内,仅有管理员可以编辑和发布群公告消息。

Use WeChat Group Notice better and reasonably, which can help complete group notifications with less effort. Only one message is required to @ everyone (using @all) in the group, especially suitable for who is running at least one WeChat Group, publishing announcements or tasks, calling for events, consulting group members about advice or suggestions, etc.

合理善用微信群公告功能,可以耗费最少的力气完成群内通知,仅需一条消息就可@所有人,尤其适合微信社群管理、发布公告或任务、活动号召、向全体成员征询意见或建议等等应用场景。

Furthermore, the new version of WeChat released in March of 2020 also enhances the Group Notice function. It allows Group Admin to promote a normal Group Notice into a "WeChat Group To-Do" message, and remind each individual of reading details by an eye-catching notification, to avoid any missing or omitting of important things.

2020 年 3月后发布的微信最新版本,更进一步增强了微信群公告功能。微信群管理员可将已发布的群公告设置为"微信群待办"消息,以强提醒的方式通知全体群成员阅读公告,避免遗漏或错过任何重要消息的可能。
Who Is Applied To This Guide?
| 本教程适用的群体?
The following guide may apply to:

以下教程适用于:

A. Those who have already got a valid WeChat account.

A. 已拥有一个有效的微信账号;

B. Those who have already created a WeChat group and is the Admin of this WeChat Group.

B. 已创建至少一个微信群,并且是该群的群管理员。

HOW TO DO?
How to Post A WeChat Group Notice and Notify All Members?
| 怎样发布群公告并通知所有人?
Take WeChat for iOS devices as an example. The steps are quite similar within WeChat for Android devices.

以下步骤,以 iOS 版微信应用为例。安卓版微信应用的操作类似。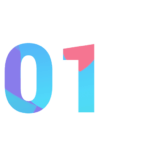 Step 01.   Start a WeChat Group Notice
| 步骤一、 新增一条群公告内容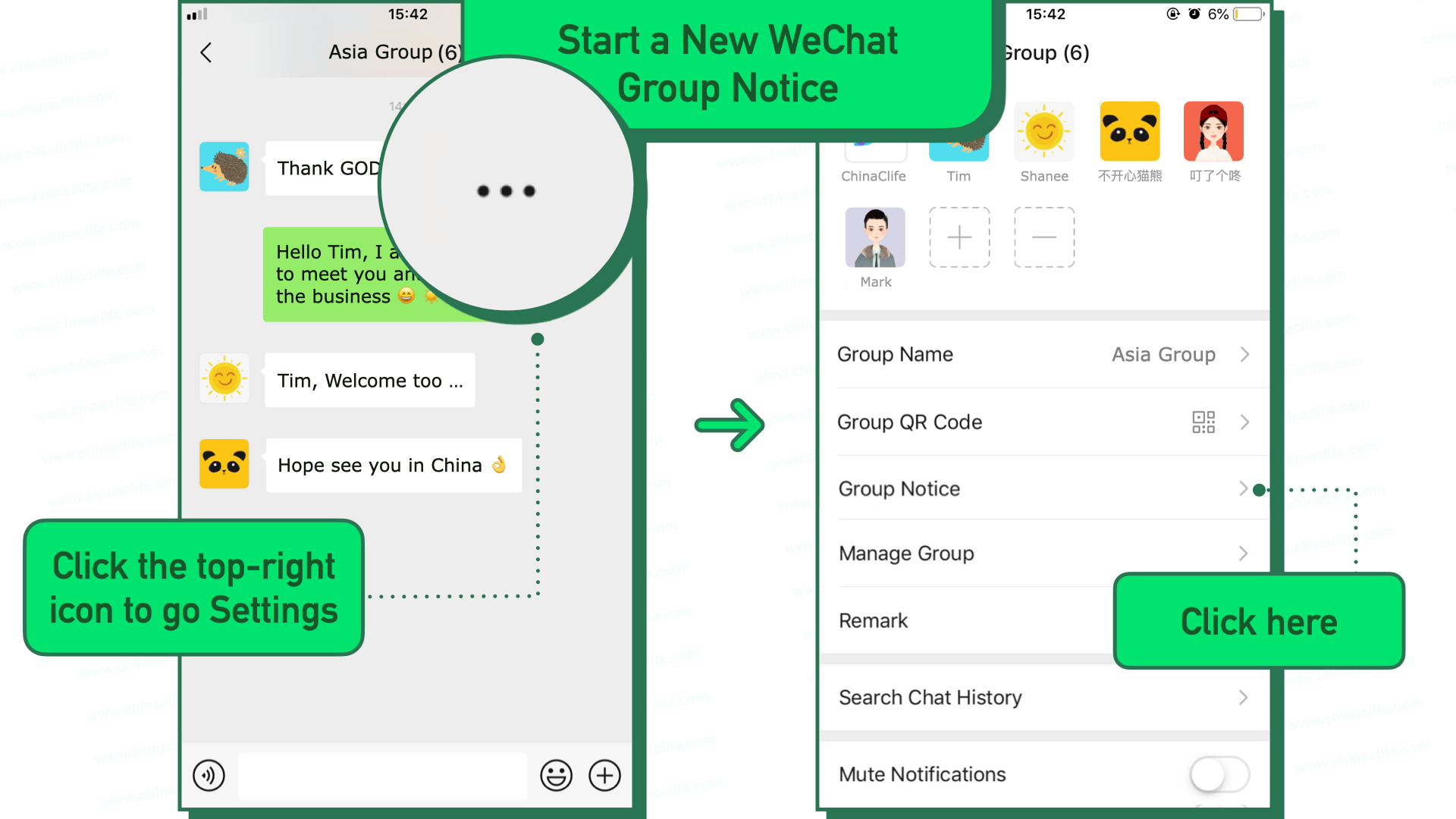 Go inside a WeChat Group chatting, click the top-right icon of three dots on the screen to enter the group setting.

进入微信群,点击群界面右上角的三个小圆点图标,进入群设置界面。

Then click the button "Group Notice" on the setting to start inputting content of your Group Notice. WeChat allows you to input mostly 2000 Chinese characters, or 4000 letters, digits, and other characters in the notice.

点击页面中的"群公告"按钮,进入公告编辑界面输入公告内容。微信支持在群公告中输入至多 2000 个中文汉字,或 4000 个英文字母、数字和字符。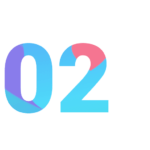 Step 02.   Send Notice in WeChat Group
| 步骤二、 发布群公告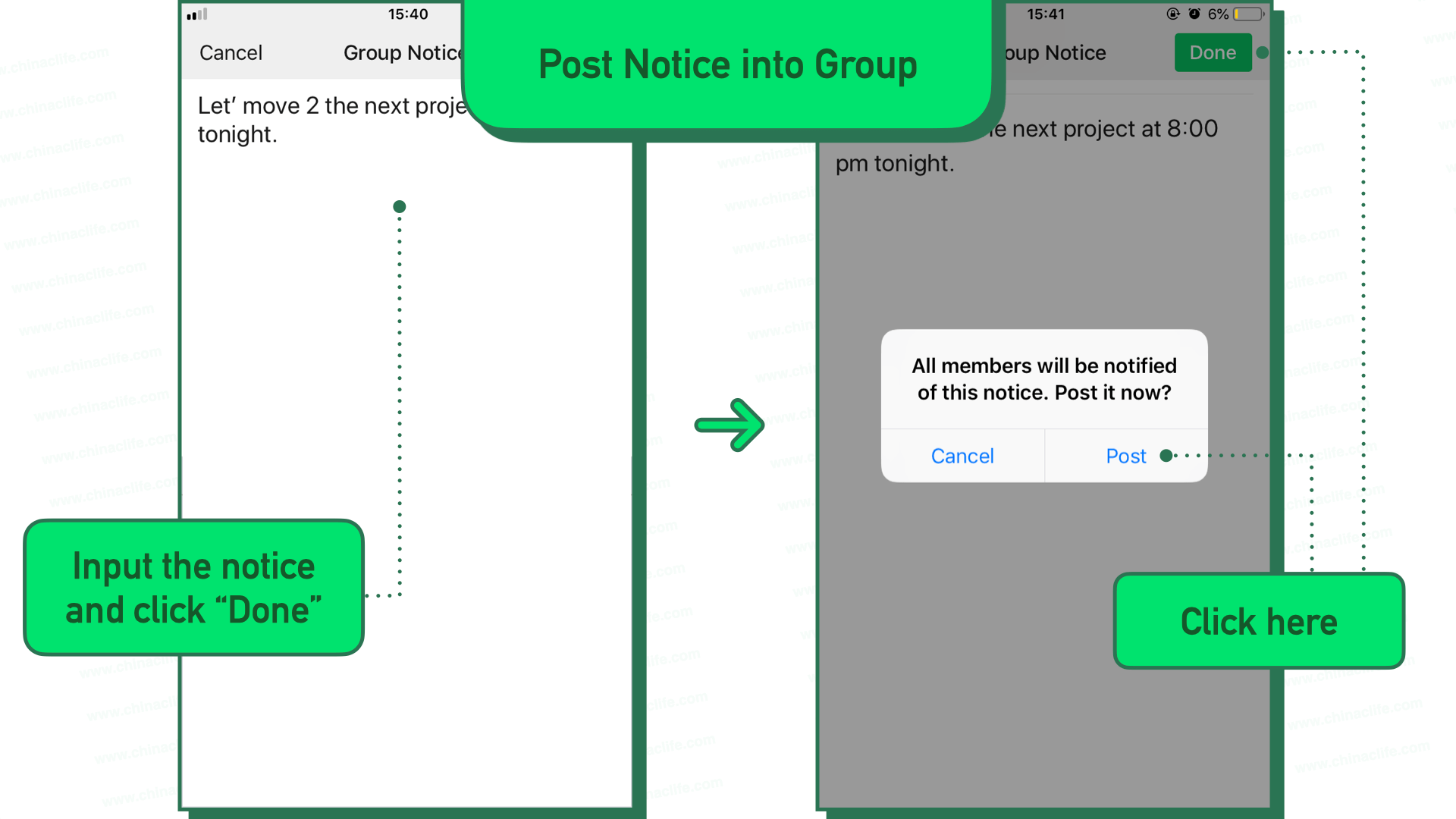 Click "Done" and then the right "Post" in the following confirmation pop-up to send a Group notice into the WeChat group.

编辑完毕后,点击"完成",并在随后出现的确认弹窗内点击右侧的"发布"按钮发布群公告。

Once it is sent successfully, a message with @ all in the beginning will appear in the group chatting interface.

该群公告将在发布成功后通知全部群成员(@所有人)。

Free Sign-in to Unlock Full

Tips: The full content to show for Free Logged-in and Premium residents only. Please click Log-In / Sign Up for Free button on the top right to unlock them.

For Logged-In Members Only

Tips: The full content to show for Free Logged-in and Premium residents only. Please click Log-In / Sign Up for Free button on the top right to unlock them.

For Logged-In Members Only

READ NEXT
More Stories to Be Continued…
See u soon… : )